Just this past year I attended my very first Whole Grains Council Conference. It was an amazing experience listening to so many intellectuals from diverse fields─ everything from journalism, farming, marketing, and culinary arts to dietetics, food science, ethnography, and medicine. They all came together for one goal: improving the health of the nation through the nutritional powerhouse that is whole grains. It was thrilling to be amongst so many people who were passionate about making healthy eating an accessible, affordable, adventurous and exciting experience.
One speaker who particularly stood out to me was June Jo Lee, an ethnographer for the Hartman Group who studies food culture in relation to health, identity, taste, and desire. During her presentation, she identified "5 Key Food Culture Trends" and went into depth about how these trends are shifting what and how we eat. You can watch her entire 40 minute presentation here via YouTube if you wish.
1. Demographics
It was pretty cool to see what a melting pot America has become. Americans now come from an even greater array of ethnicities and it is influencing the way we eat by introducing new flavors. In fact, this has helped create foodies who are looking for a blend of global foods and flavors.
2. Modern Eating
June pointed out something that I've definitely noticed, but hadn't considered the full impact of. There has been a major shift in meal consumption patterns. It used to be the norm that most meals would be made and eaten at home with family three times a day on a set schedule. Now the trend is to have on-the-go, outsourced meals, often consumed alone and eaten whenever hungry.

This new change has also led Americans to expect customized meals. Americans no longer feel that their meals are limited to 'mom's cooking' or their own knowledge in the kitchen, nor do they feel the need for meal planning. In fact, 63% of people (and 78% of Millennials) typically decide what they want to eat within an hour of eating because they have adapted to this new 'made to order' lifestyle.
3. Higher Quality Food Experiences
The Hartman Group found that while 52% of Americans do not want to spend time or energy even thinking about cooking, 46% still demand better flavor and 42% desire simple and real ingredients. This is why we are seeing so many companies popping up, including ours, which enjoy preparing food for people who demand high quality flavors and ingredients. We love filling that gap.
4. Digital Food Life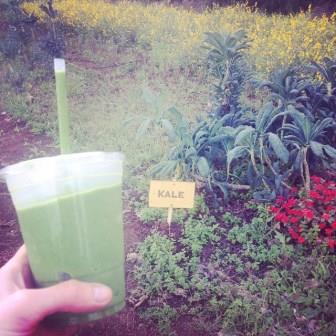 Now this is something that everyone has to have realized…especially if you have a Pinterest or Instagram account. Food is now shareable visual content. I too have fallen victim to this trend (as evidenced by this Kale smoothie pic). Instagramming and finding that perfect filter for your pic has become part of the food experience. It's not only fun to share images, but it also inspires us to be more adventurous with our cuisine when we see other food experiences from our friends.

Another way new technology has changed the way we eat is that it allows us to find new restaurants, bakeries, or shops and view their ratings and comments from real customers. This leads us to try new places and foods we may not have otherwise considered. The smart phone has also given us the unique opportunity to place a food order with a touch of a screen. (Insider alert: keep an eye out for the Great Harvest App that will be coming soon!)
5. Health and Wellness
Lastly, my favorite trend that is changing how Americans eat is the link between food and how we feel, and also how it will affect our health and longevity. People are now realizing that they don't have to sacrifice how they feel for flavorful food. They are establishing that demand for healthier food and companies are following their guidance. Here at Great Harvest, we are constantly striving to improve the quality and variety of our products. In fact, just several years ago we launched an entirely new sandwich line with diverse flavors, more vegetarian options, and simple sauces and spreads to complement our scratch made breads.

So in short, Americans want healthy food that is also an enjoyable, adventurous experience. They don't want to plan for meals or cook, and they want pretty, fresh, made-from-scratch foods with unique and exciting flavors—did I mention they want all of that on demand?

It's not a bad thing. In fact, I think it is great that Americans are raising their standards for food in terms of quality and nutrition. They are now highlighting the fact that they should listen to their bodies and eat when they are hungry, as opposed to allowing a clock to dictate when they eat. I am still a fan of cooking and having family meals. However, I think it is good that Americans are being honest with themselves when they do not have the time to plan, shop, and prepare healthy homemade meals. When they can't do homemade, they are deliberately choosing quick healthy options as opposed to greasy fast food.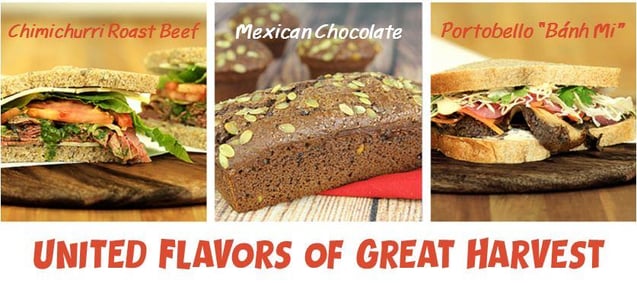 Here at Great Harvest, we are also raising our standards for food (read about our ongoing commitment to real food here). We have integrated new ways of preserving the exceptional quality and nutrition of our products. For example, testing wheat for chemicals and working to prevent GMO wheat from entering Montana, where our wheat is sourced. You can also see how the trend toward global flavors and exciting food experiences is reflected in some of our newer products, including breads like Anadama and Hummus Bread, goodies like Mexican Chocolate Bread, and savory sandwiches like Chimichurri Roast Beef and Portobello "Bánh Mi."

What do you think about the five key food culture trends that are shaping American food consumption? What else would you like to see change in our food culture here at Great Harvest? Weigh in below in the comments.
Hungry? Find your local Great Harvest here:
You may also be interested in these posts on food trends:
Work cited: Lee, June Jo. "Whole Grain Trends and Consumer Attitudes." Whole Grains Breaking Barriers. Boston, MA. 9 Nov. 2014. Lecture. (Download a pdf of the presentation here).