Treat your family this weekend to an iconic dish and a legendary product come together to make the ultimate French Toast.
At Great Harvest, Cinnamon Chip bread is the go-to bread recommendation for French Toast.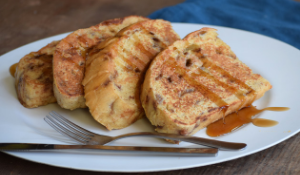 This recipe requires a loaf of Great Harvest's Cinnamon Chip bread. Contact your local Great Harvest to see if you can reserve one, or see about getting one shipped to you.
It doesn't take much to make this bread shine – slice it thick and dip it in this simple batter for a breakfast that is sure to please. Serves 4 people.
Ingredients
2 tablespoons granulated sugar
1 teaspoon pure vanilla extract


1/3 cup Half & Half


8 slices of 1-inch thick Great Harvest Cinnamon Chip Bread (about ½ a loaf)


Butter, as needed (about ½ stick) for cooking and serving, if desired


Maple Syrup or honey for serving


Powdered sugar


Method
Preheat oven to 200° to keep French toast warm if needed.
Whisk eggs, sugar, and vanilla together in a medium sized bowl that is large enough for dipping the bread slices. Add Half & Half and whisk again until well combined.
Preheat a skillet to medium-high or an electric plugin griddle to 375°.
Melt approximately 1 tablespoon butter on preheated skillet.
Working a few slices at a time, dip Great Harvest Cinnamon Chip bread into egg mixture and carefully place on skillet. Cook for 2 - 2 ½ minutes until golden brown and flip. Continue cooking for another 2-3 minutes until second side is golden.
Serve immediately with a pat of butter, a drizzle of maple syrup, or honey and a dusting of powdered sugar. If necessary, place on a sheet pan and keep warm in the oven while cooking the remainder of the slices.
Let us know in the comments section below if you enjoyed this recipe!