How do you initiate change and generate more sales and profitability at a thirty-eight year old small business?
Sometimes you just have to start over.
Not necessarily in the literal sense, but to really create new products and generate that WOW experience that keeps customers coming back to Great Harvest week after week my job is not to think about what we have done but about what is possible.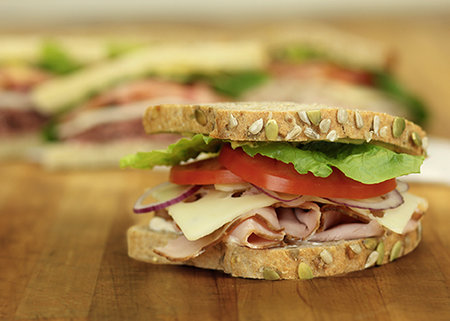 In the case of our sandwiches, the revamp was one of the major reasons I decided to come to Great Harvest in the first place. For the better part of a year, I have been creating, formulating, testing (and tasting!) new sandwiches that are now available to each and every local bakery team in the Great Harvest family. We first introduced sandwiches as a franchise sponsored program thirteen years ago and they have served to add to the bottom lines of so many of our bakeries over the years.
Our sandwich program has always been rooted in the belief that it begins with the absolute freshest, healthiest, and tastiest bread on the planet. But where you go from there is absolutely limitless. Since it is 2014 instead of 2001, I wanted to start fresh and end fresh, with spreads, sauces, and vegetables that are the gold-standard of any sandwich shop in the country – and are repeatable and trainable here at Great Harvest University and at every local Great Harvest bakery with their doors already open. I blogged about the first initial tasting of a few of them we did a year ago here.
All told, we now have eight new sandwiches that are available to be added to existing product lines and that will be trained to new franchisees here at headquarters. They are bold, they are fresh, they are in some cases spicy, they focus on fresh herbs and global flavors, they have much less added fat because we eliminated butter, much of the mayonnaise, and all the cream cheese. They truly keep you coming back for bite after bite.
In the culinary world one thing we talk about often behind the scenes is palate fatigue. If you think about a dinner trip to a large-portion chain restaurant you probably know what I mean: one can only stay interested in a gigantic hubcap-sized plate of creamy pasta or a wedge of cheesecake as big as your head before you wrap it up and take it home.
What we are trying to achieve with these new sandwiches is that the ingredients and textures are so balanced and interesting that by the time you get to the last bite you are disappointed and immediately begin to think about the next lunch trip to Great Harvest. We love the interplay of acidic and spicy, crunchy and soft, meaty and creamy, and most importantly we ask how do they play off the bread? We believe we have a winning combination of new sandwiches that are unique in the marketplace in their flavor, composition, and creativity - and nobody bakes fresh whole grain bread for their sandwiches every day in every location the way we do.
Some of the highlights include the succulent Italian: Shaved Genoa salami and smoked ham layered with a roasted red pepper and olive tapenade flecked with garlic and fresh basil, creamy provolone cheese and a light Dijon vinaigrette. This one is truly addictive.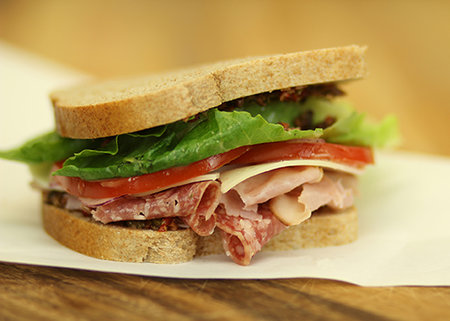 I modeled the Baja Chipotle Turkey after the amazing fish tacos I ate every day during mutliple trips traveling on the Baja Peninsula of Mexico – the combination of smoky chipotles, lime, yogurt, pickled red onions, and crisp shaved cabbage nestled atop the turkey and pepper jack cheese make this one of the most interesting sandwiches anywhere.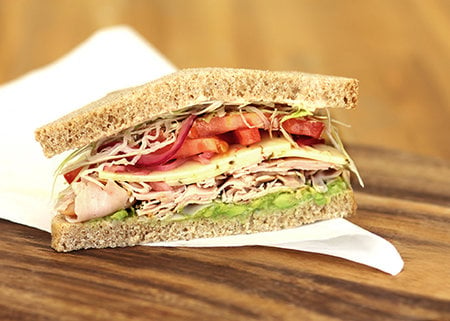 We also now have what I think is the best and most unique vegetarian sandwich in the country, a roasted three seed and chickpea hummus that has even meat lovers craving it. A nutritious and satisfying veggie sandwich that is layered with interesting textures and colors - I absolutely adore this one.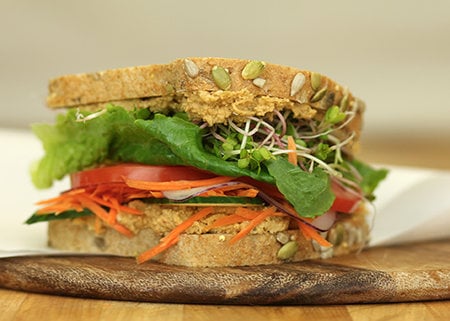 We have also completely reformulated the sandwich training system for new bakery owners and incorporated it into Great Harvest University so that franchisees are exposed to the new sandwiches from day one. We decided to really take a look at what was needed to train our new owners to serve their customers in a fast, efficient, friendly, and expectation exceeding manner each and every day. We are now training this new program for the second time in Dillon as I write this and it is going amazingly well. We cannot wait to open even more bakeries with these new and exciting sandwiches that are among the best in the business.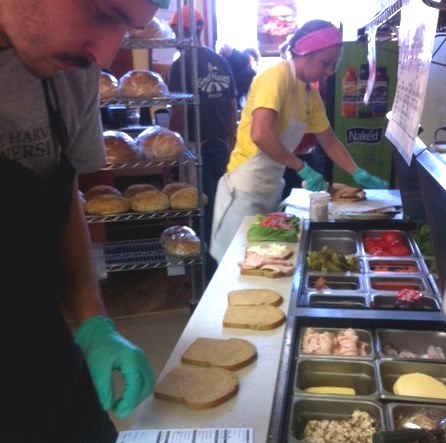 Have you tried any of the new sandwiches at your local Great Harvest? Let me know what you think in the comments section below.