Does anyone else procrastinate the task of reading industry reports? Especially the 200 page reports full of statistics?
Maybe I'm the only one...
This week I grabbed the September 2012 Mintel Group U.S. Bread industry report off my book shelf. (I think it was the dread of being "lapped" by the 2013 report that motivated me.) Once I got into it, I was kicking myself for not reading it in detail sooner.
What did I learn?
Overall Bread Market
For this report, "bread" includes your typical loaves of bread, but also rolls, buns, croissants, tortillas, taco shells, tostadas, bagels, and English muffins. This is a large and mature food category, but with niche markets, especially for healthy breads, that are growing within the larger category.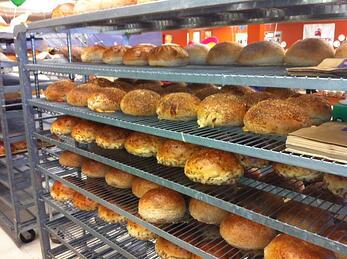 Overall sales grew rapidly at the beginning of the recession in 2008 from high commodity prices and a shift to eating more often at home. Since then, sales dipped in 2009 as the recession lengthened. Since then sales have grown a bit each year.
This report forecasts growth in the upcoming years, primarily in whole grain products and products that are used to make meals in home.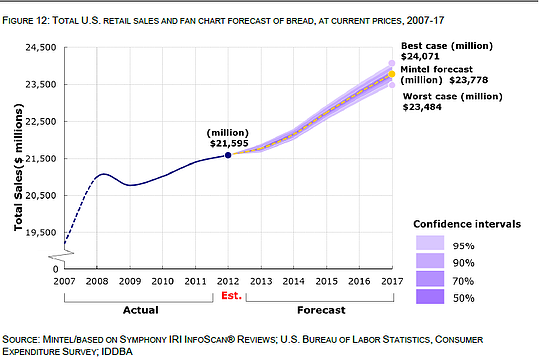 This forecast is based on the strength of a couple strong trends that show up in their research.
Important Consumer Trends
1. Health & Wellness. Over half of Americans are "watching their diet," creating a strong Health & Wellness trend. People understand that products high in fiber are good for them (it was the #1 factor in a question about health-related attributes.) Bread market growth will come from whole wheat and multi-grains breads in the future.
I know sometimes I feel that the message about the difference between processed white flour and fresh-milled whole wheat flour isn't being understood in the market. Nutrition can be complicated and it's easy to think all carbohydrates are the same, even though there is a big difference between highly processed food and real whole grains. But this data gives me hope and tells me that the whole grain message is getting through. Only 14% of consumers in the survey said that whole-grain and whole wheat are never a factor influencing a bread buying decision. More importantly, 29% and 25% of consumers also say they are spending more on whole grain and wheat breads, which are the longest purple bars in this chart: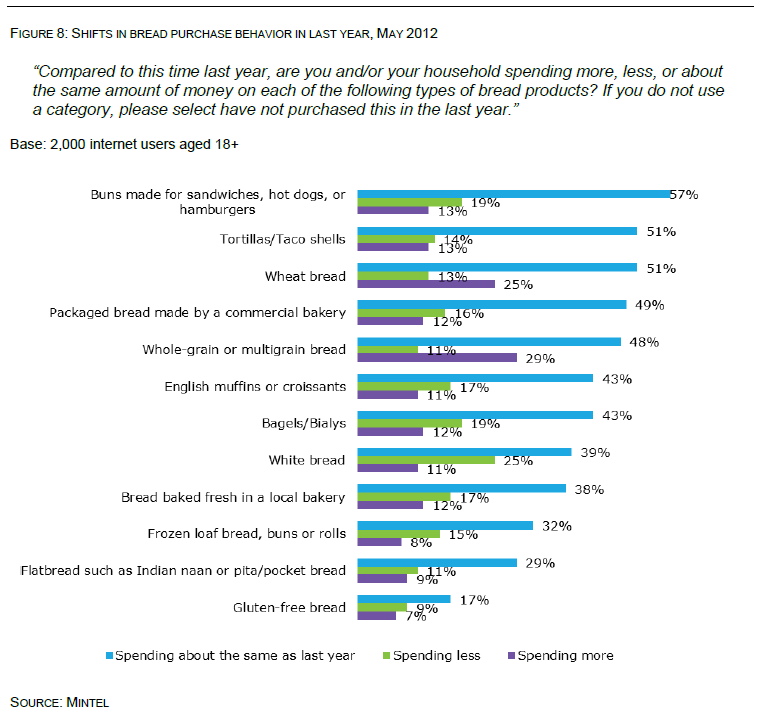 In addition, 53% of the respondents' listed "all natural (no artificial preservatives, additives, colors, sweeteners)" as an influential attribute in "most" or "every" decision about which type of bread to purchase. And 83% of bread shoppers believe that "whole-grain and multigrain bread is generally healthier than white bread."
2. Baby Boomers. Yep, this trend has been important for several years and it may seem like old news, but it's not going away yet. The 55-65 age segment is growing twice as fast as the overall U.S. population and the 65-74 segment is growing 5 times as fast. Do you see where I'm going with this? It's about fiber again. In a separate Mintel study, they found that 73% of the people they interviewed over the age of 65 "make a point to eat foods that naturally contain fiber."
3. Do-It-Yourself (DIY) trend. This trend ranges from home improvement to crafting to cooking at home and is an important trend in the U.S. Sometimes DIY projects are driven by saving money, but not exclusively (e.g. my friends' craft rooms!) In another Mintel report (American Lifestyles – U.S., January 2012), 47% of respondents to a comprehensive lifestyle survey indicated they are "cooking more at home to save money."
Taking this to the extreme, you could hypothesize that the DIY trend leads to people baking their own bread at home, and shouldn't be considered a growth prospect for the bread market. But since I have baked bread and appreciate all the art, science and work behind the perfect loaf, I have to say that I don't think DIY will hurt bread sales in the future.
On the contrary, I think people are more likely to pick up a loaf to accompany a meal they'll make at home. I think a few passionate souls may bake their own bread, but not the majority of families.
Whole Wheat and Other Niche Markets
Funny, but I sometimes forget that whole wheat bread is a niche. Just because it's the only bread I eat, doesn't make it mainstream. This report was a good reminder.
Key takeaways about speciality niches:
Gluten-free diets have been around for a few years and have a fairly high profile in the media. The chart above shows that there is still demand for gluten-free bread, though the niche is not growing as fast as the others in this data. It will be interesting to see if the numbers are different in the next report.
Demand for baked locally, when divided among age groups, is higher than average among two age groups: 25-34 year olds and 65+ years. For all ages, 62% of respondents consider this factor in at least some of their bread purchases.
A preference for organic bread is higher among 18-34 year olds, so this could be a sign of future market trends. For now, most 18-24 year old also say that price is more important to them than nutrition, which makes sense based on their age, yet seems a bit contradictory with their preference for organic.
But Does It Taste Good?
It's good to know that some things never change too. When asked about a variety of factors used in making a bread purchase, 91% of consumers chose "Taste I really enjoy" as very or somewhat important. Additionally, 62% "prefer the taste of whole-grain or wheat bread over white bread."
Conclusion
My overall takeway is a reminder that data is good. It sparks us to ask questions and consider other perspectives. It often confirms what we already think we know, but also challenges our assumptions. And that feels good.
I hope I can remember this when the next thick industry report hits my desk!
Are you considering opening a small business in your community?
Maybe a Great Harvest Bread bakery is right for you.