When you think of holiday meal traditions, what food comes to mind?

For me, it's my Grandma Opal's fresh baked rolls. She always called them "buns." I recall the sight of those buns cooling on the counter, but most of all, I remember the smell as they came out of the oven.

And when I think about any childhood meal, not just holidays, there was always a plate of sliced bread on the table and either a yellow tub of margarine (yikes! but remember this was the 70's and 80's) or peanut butter. And of course I had sandwiches for lunch and toast at breakfast.

And now I work at a place where I'm surrounded by and talking about bread all the time.

This bread-centric environment also makes me extra sensitive to attacks on my beloved rolls and bread — first it was the low-carb diet and then later the gluten-free trend. Sometimes it can feel like everyone is avoiding what I've always thought was the perfect food. Unfortunately, I can fall into the trap of remembering the negative comments of a few while overlooking the quiet appreciation & love of a much larger group.

In order to get some perspective on the real story in the bread market today, I turned to the Mintel 2014 Bread and Bread Products Report. This 135-page report has compiled data from several large consumer activity databases, plus two recent surveys of U.S. adults. I found lots of encouraging and useful news for anyone interested in the Bread Business.
Is bread still a staple?
The bread market is growing and actually grew more than expected in the last Mintel report I reviewed. Two years ago, they predicted the bread market would be about $22 billion in 2014 and might grow to $24 billion by 2017. But the market reached that $24 billion goal in 2014. Here's the updated forecast for market growth: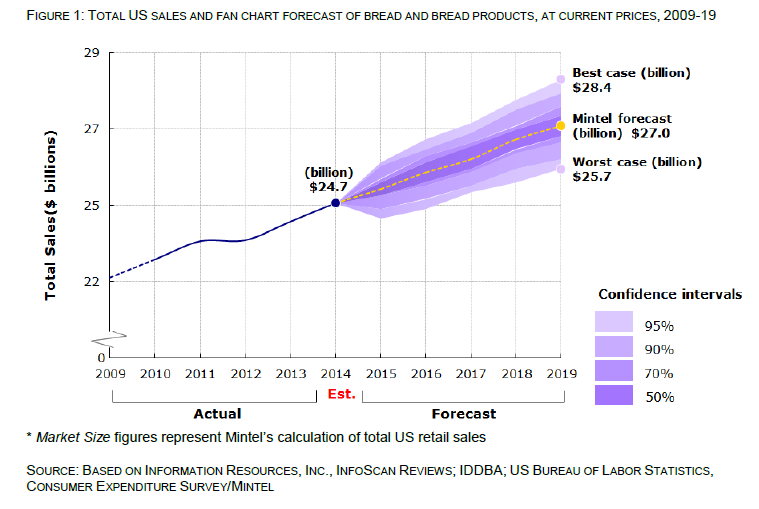 This chart shows you the main categories of "bread products" that make up the bread market for this report, and the importance of your typical loaf of sliced bread within the category.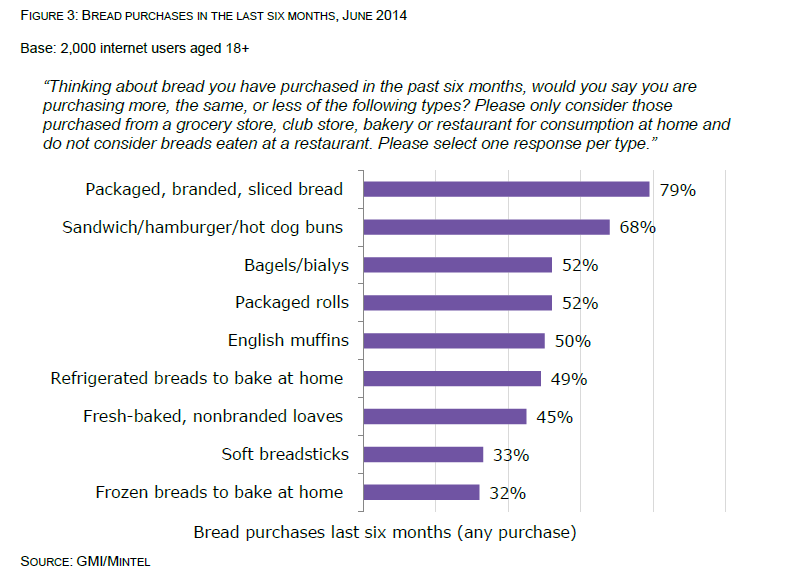 And this Mintel quote is good news:
"Close to eight in 10 respondents report buying packaged, branded, sliced bread in the last six months, more than any other type of bread. Packaged, sliced bread brands are a household staple."
Why do people buy bread?
Americans love sandwiches and the research confirms this is the #1 use of bread, followed by toast in second place.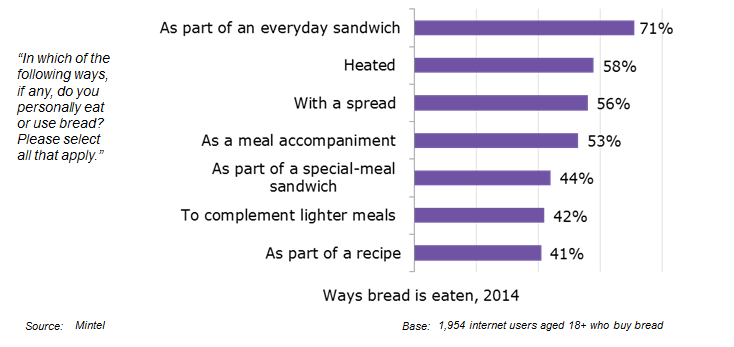 People are also looking for healthy food options, and some breads (like whole wheat bread with a healthy fiber content) definitely fill that need, but I was still surprised to see "eating more healthfully" as the #1 reason given by the consumers who were choosing to eat bread more often.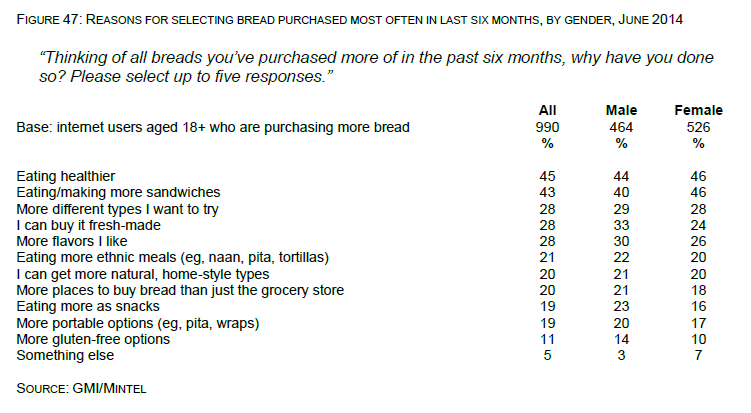 On the other hand, the top two reasons given by people who are eating some types of bread less often are also health-related -- "too high in carbohydrates" and "too high in calories." This may seem contradictory, but not when you consider that the entire bread market includes a wide variety of products -- some healthy and some not.

Where are the best growth opportunities in the bread market?

For brands that are in this for the long haul, it's important to understand how Millennials feel about your products, because their purchasing power is on the rise. (Millennials are people born between 1977 and 1994, so they are presently 20-37 years old.)

In looking at the chart, it's interesting to note where the Millennials' bread uses are above the results for all users: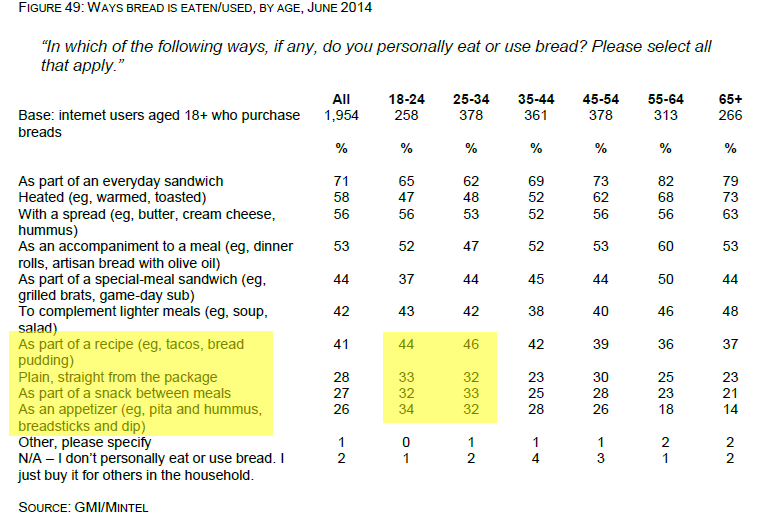 This looks like a golden opportunity for highlighting how to use bread as a snack and an appetizer. Some other results in the study that support the importance of snacking and appetizers:
47% of the people eating more or the same amount of "seasonal bread" (e.g. pumpkin bread) in the past 6 months are eating it as a snack between meals and 53% are eating it as an appetizer.
42% of the people eating more or the same amount of "egg-based breads" (e.g. challah) in the past 6 months are eating it as a snack between meals and 44% are eating it as an appetizer.
48% of the people eating more or the same amount of "flavored/artisan breads" (e.g. rosemary) in the past 6 months are eating it as a snack between meals and 55% are eating it as an appetizer.
Millennials also care more about the flavor and nutrition of the bread they eat.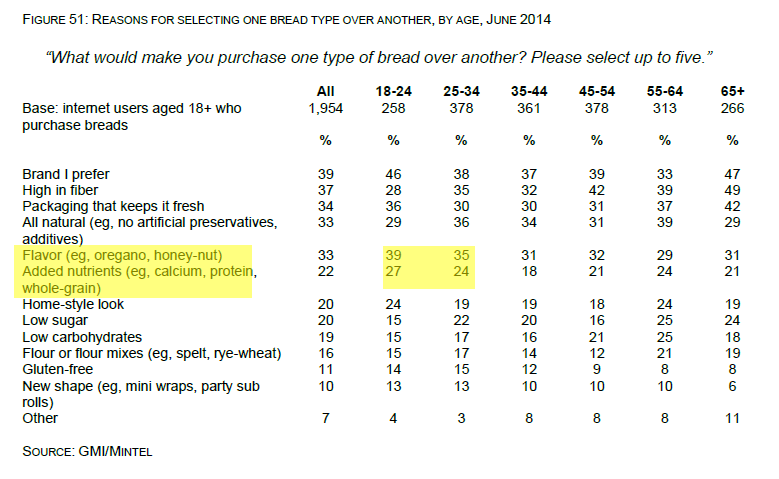 What about gluten concerns?

Notice that in the "reasons" chart above, it was near the bottom. In addition, it's also not a significant factor in choosing one variety over another:
Only 11% of those surveyed chose "gluten-free" as a reason for purchasing
one type of bread over another.
Many more people indicated these as the important factors in choosing a type of bread:
Brand I prefer
High in fiber (especially important for 2 age groups: 45-54 and 65+)
Packaging that keeps it fresh
All natural (no artificial preservatives, additives)
Flavor (especially important to Millennials)
Added nutrients (e.g. whole grain)
Gluten concerns also rank low in the reasons reported by the group eating bread less often. It is not even in the top five reasons given by the people who are eating bread less frequently.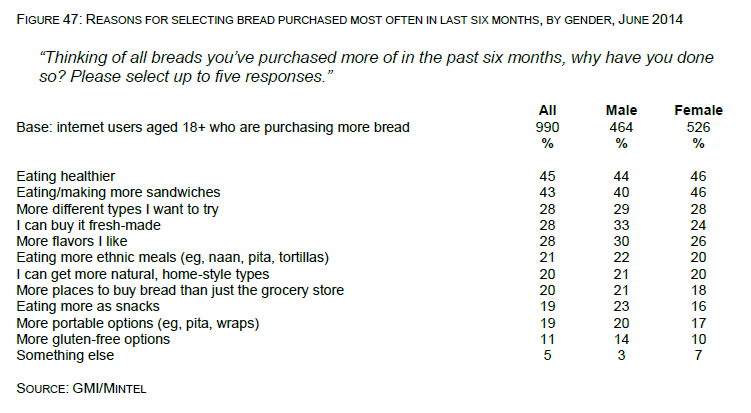 What's the takeaway?
The data on bread consumption trends provides an interesting perspective. In the Bread Business, we hear a lot from the people who already know us when they walk into our bakeries. They come because they like what we are doing, what we make, and what we're about. It's easy to assume their perspectives are the same as the rest of the country, but I don't think they are. The views of our current customers matter, of course, but what's great about this report is that it highlights the views of all of our potential customers. Everyone out there who loves bread or doesn't, whether they just aren't in the habit of eating bread, assume all bread is too high in carbohydrates and calories, haven't been exposed to our brand, don't know about the fiber content in our bread, or aren't happy with the packaging's ability to preserve freshness. Addressing their concerns in our neighborhood bakeries looks like a great opportunity for local bakery owners.

And, as all of us who are bread-centric know, finding new ways to make healthy, delicious bread part of everyone's meal traditions is more than good business….it's just plain good.

If you enjoyed this, you may be interested in these related posts on Bread Business trends: