The good news is spreading – whole grains are good for you and the American consumer is beginning to understand this and adapt their buying habits and tastes accordingly. There is a shift in demand in the bread industry from white bread to more premium, healthy whole wheat and whole grain breads. Whole grains are better for you and they are proving to be a force to be reckoned with in the bread market.
Great Harvest Bread Company is a leader in whole grains not just because of the availability of whole grain products in our stores, but because of the superior quality of our whole grain products. We are committed to sourcing the best wheat in the country and we mill our own whole wheat flour fresh every day. Like fresh milled coffee, fresh milled wheat is a superior ingredient. We pride ourselves in delivering the tastiest, freshest and highest quality whole grain products on the market.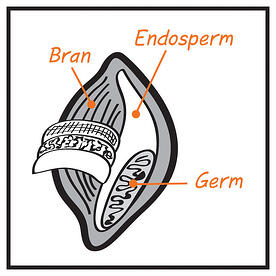 We confidently stand behind the flavor and quality of our whole grain products, but do appreciate that there are delicious white flour based breads and sweets that should be a part of our store menus. Because of this, we are often asked, "What percentage of my bakery menu should be comprised of whole grain products?"
Our answer is, "As much as possible!"
Here are a few factors to consider when deciding how much of your menu should be comprised of whole grain products:
What does my market demand? While whole grain demand is strong across the entire country, in some markets the demand for traditional white flour based breads and sweets remains strong. While we have seen bakeries in the Northwest that are able to offer near exclusively whole grain products on their menus, bakeries in the Southeast tend to demand a more balanced menu with both white and whole wheat flour products. That said, just because your market has traditionally preferred white flour products to whole grain products, it doesn't mean you don't have an opportunity to earn some whole grain converts! Consider introducing customers to their favorite white flour products in a whole wheat base, such as whole wheat cinnamon rolls, pumpkin chocolate chip and more!
What are YOU as a business owner or future owner passionate about? Many times we see that bakery owners are most successful at selling the products that THEY love. If whole grains are your absolute passion, it's likely that you'll have more whole grain products on your menu and be successful at selling them. A passionate owner who shares free slices of whole grain products with their customers at the bakery's breadboard will have better luck selling whole grain products than an environment featuring predominately white flour based products on the counter and menu.
What is seasonal right now? Although we have whole grain products that are great in EVERY season, some seasons lend themselves especially well to a whole grain menu. January, the month of healthy resolutions, is one of those months. Bakeries should take advantage of this opportunity and highlight whole grain favorites and consider introducing new whole grain products, as well. Is cinnamon chip your number one product? Consider introducing it in whole grain two days a week this month to offer those with healthy resolutions some additional choices.
We love whole grain products and the answer is that we always want to see our store menus featuring healthy, milled fresh daily whole grain products. Although the percentage varies from store to store, we do pride ourselves in being the whole grain headquarters and encourage bakeries to make as many whole grain products as possible.

What's your favorite Great Harvest whole grain product?