In my last post I admitted that I had procrastinated in reading a thick bread market report, but then found some great data about whole wheat breads once I dug in.
So for this post, I went searching the office for another industry report. I found the Sandwiches, Subs and Wraps report from the Mintel Group. Lucky for me, this one was only 130 pages!
Right away I noticed that the demand for "better for you" (BFY) products that was prominent in the bread market was again important for the sandwich market. Seems pretty obvious, right? Still, nice to see the data behind it when many Great Harvest bakeries are selling whole grain sandwiches.
Some less obvious insights also stood out in the sandwich report data:
The 2nd most common sandwich found on menus is a breakfast sandwich, experiencing 21% growth from Q2 2009 to Q2 2012.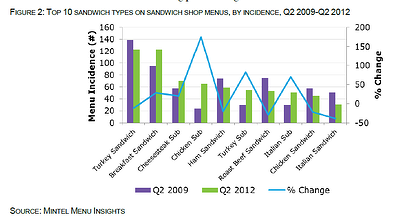 Gender differences: Men are more likely to dine-in or eat while in transit and women tend to order to-go, but eat at their destination (home or work.)
A new trend emerged from the recession, labeled "Brand Review." Here's how Mintel describes it:
"For a long time, consumers had a group of favorite restaurants they were loyal to. But the recession forced consumers to reevaluate their spending habits, and in turn, give other brands a second look, sometimes changing brands for good. This practice began with price as a focus but has extended to overall value, as defined by the customer and their changing needs."
This is a great opportunity for brands that can communicate their value proposition effective to existing and potential customers. Brands that are socially responsible, know where their food comes from, and provide tasty & healthy options add value along dimensions that are important to customers today.
The sandwich market is predicted to grow 24.6% between 2012 and 2017. There is a lot of opportunity for whole grain sandwiches here.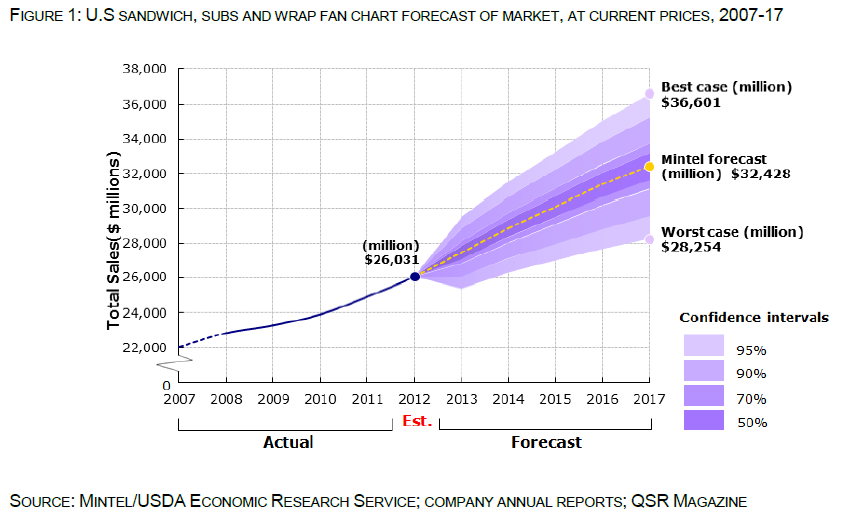 A traditional sandwich is the most commonly ordered item in sandwich shops. Is this surprising to you too? I thought it would be a sub sandwich.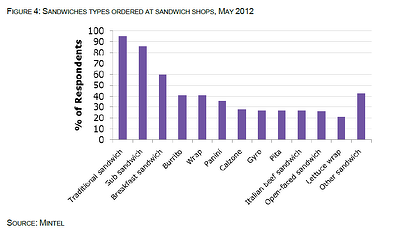 Pricing: The average price for a sandwich is $7.55. Of course there is a wide range of prices around this average, but the largest price increases have been for chicken sandwiches and turkey subs at 21% growth over 3 years. (In the not surprising category, type and quality of ingredients as well as demand are the factors that influence sandwiches pricing.)
Beyond these 6 surprises, there was more great information that confirmed what we see every day in the Great Harvest bakeries that also sell sandwiches -- whole grain sandwiches are a great way to introduce more people to whole grain bread, and our customers seem to agree.
When we surveyed Great Harvest customers a couple years ago, sandwiches were the one of the favorite products:
As I mentioned in my post about the bread market research, the Do-It-Yourself (DIY) trend is presently strong in the U.S. Making sandwiches at home is a competitive threat for traditional sandwich shops, but for a local retail bakery like Great Harvest, we watch it working in our favor all the time. The DIY fan picks up a loaf of Dakota or Bacon Cheddar Beer bread to make their own gourmet sandwiches at home and amaze their friends and family. Many of our customer share photos of their creations on their favorite social sites (we've captured some on this Pinterest board), and we love to see these!
What are the important factors for choosing where to buy a sandwich according to this report?
A convenient location selling good value, healthy and tasty sandwiches made with quality ingredients: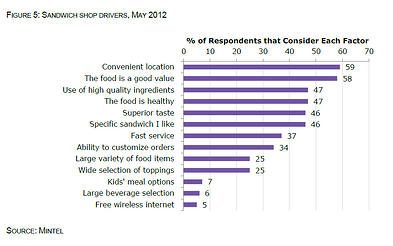 We also know that our customers care about their health and wellness. The Mintel report confirmed that this isn't unique to Great Harvest customers:
"Customers have become more aware of the healthfulness of the items they consume and seek out better-for-you (BFY) alternatives. This shift in consumption is positive for the sandwich segment, which offers items perceived as better-for-you compared to other restaurants cuisine types, contributing to the strong and steady growth of the sandwich niche despite tough economic times…Fresh produce and whole grains are increasing in popularity…Simple flavors are being replaced by complex and sophisticated pairings, making BFY items tastier."
In addition to the standard customer requests such as more coupons and loyalty programs, consumers also would like to see "more ethnic items with exotic ingredients and flavors." Women were more likely to list this as a suggestion than men. Comparing by income, exotic dishes are also the most popular with affluent consumers. Scott, our Corporate Chef and frequent blog contributor, loves to hear that. He's been hard at work producing some great new sandwich recipes like Chimichurri Roast Beef, Baja Smoked Turkey (with chipotle sauce), and Portabella Mushroom Bahn Mi. And we've enjoyed being his taste testers :-)
Overall, this report confirmed several assumptions about the sandwich market and added valuable insights from the data. Hopefully you found a nugget of useful information as well! (If you did, please let me know in the comments below!).
Did you enjoy this post?