It's finally summer! And here in my northern state, that means farmers' market season. I know some of you lucky shoppers get farmers' markets all year round -- I'm definitely jealous. I enjoy meeting my local farmers and, of course, fresh food always tastes better to me.
It turns out, I'm not alone. In a report by Mintel published earlier this year, the top 2 reasons for consumers buying local are:
#1: "It's fresher" 65% of all respondents
#2: "It supports the local economy" 63% of all respondents.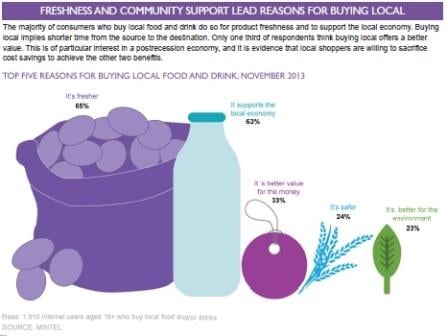 In reading this report, I was looking for information applicable to a local retail bakery or local food business, and I came across loads of interesting charts and statistics! The local movement started out with food, but has evolved to impact many choices we make as consumers. Here are some of the tidbits about the local trend that stood out to me and which I thought you might enjoy:
For the respondents represented in the chart above that are age 55+, supporting the local economy was more important than freshness. Conversely, freshness is more important for 18-34 years old. The 35-54 year olds rate them equally important.
Consumers age 65+ are significantly more likely than average to buy food and drink from local retail businesses.
The likelihood of buying locally produced food and drink doesn't vary significantly across household income levels.
50% of consumers surveyed believe that local food costs more than other food – an even split.
21% of U.S. respondents are willing to pay more for local food and/or drinks.
41% of U.S. consumers say locally sourced ingredients influence their restaurant choices.
Farmers' markets have grown steadily for several years: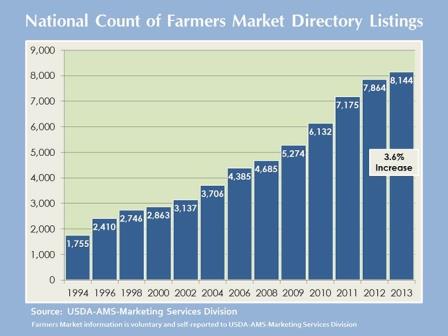 When asked to rank the top 3 factors that influence purchasing decisions for food and drink, 15% of people chose "locally produced." The top 3 factors were:
1. Value (e.g. good price for what you get)
2. Low price
3. Brand I've been happy with in past
30% of U.S. consumers have a checking or saving account at a credit union (fueled by dissatisfaction towards big banks).
Baked goods are the 2nd most frequently purchased local food:

78% of US consumers agree that it is important for people to 'give back' to their local communities, with 32% saying they strongly agree.
In the 21-34 year old segment of the U.S. consumers interviewed, there is an above average interest in local alcohol, compared to all ages. Craft beer brewers across the U.S. are focusing on flavors that connect the beer to the local environment (NPR.org). In fact, the 3rd most important attribute for consumers when choosing a craft beer was "locally made" (50%).
Larger distributors are taking notice of the local movement and creating some innovative new partnerships to help them take advantage of this market. For example,
Absolut vodka
is working with local business partners to open micro-distilleries across the world, including eight U.S. cities. Using local ingredients and the same recipe, they hope to combine the strength of a global brand with local appeal.
This data shows a ton of opportunity for local retail bakeries and businesses. Even after many years in business and selling a staple like bread, it's strange to think of what we do as "on trend" but I guess it is!
What are some of the best examples of the local food movement in your neck of the woods? Let us know in the comments how you are integrating local products into your local food business, or if there are exciting new products and partnerships that you've seen tapping into the local food trend.
Many of our own Great Harvest local bakeries find ways to incorporate local foods into their baked goods, such as using beer from local breweries in their Bacon Cheddar Beer Bread, and sourcing local produce for various scones, breads, and muffins. Contact your local retail bakery for more information about their menus and ingredients.
If you enjoyed this post, you may also be interested in these: