Making a difference could be considered synonymous with "give generously to others," part of the Great Harvest Mission statement. Many small business owners find ways to connect to their communities through donating or community outreach. It's a win-win proposition for all involved— the community receives support for a project it cares about, and the giver receives the benefits of a benevolent heart. (Read more about the health benefits of giving here).
Honoring Veterans With 5 Minutes— Every Friday.
It's noon, on a Friday afternoon in Warrenton, Virginia. All business at the Great Harvest Bread Company comes to a halt. A solemn silence stands where the hustle and bustle of customers stood just moments before. Employees join customers in the lobby of the bakery.
Pablo Teodoro, owner of the bakery located on Main Street reads the following:
"Welcome neighbors, as many of you know, we cease business for just about 5 minutes each Friday at noon in order to remember the ultimate sacrifice of a service person.

We do this by reading a short biography and then we sing the National Anthem in their honor.

Our nation has no shortage of heroes.

These men and women made a decision at some level that that our country— including its people— was worth dying for.

We cannot thank them in person, but we can give them the respect they deserve."
After the brief introduction, a biography or obituary of one of our service personnel is read. Then, all participants sing our National Anthem. Pablo calls the brief, moving, ceremony a "National Anthem Dedication." It is a perfect tribute to an individual who has given their life for our country.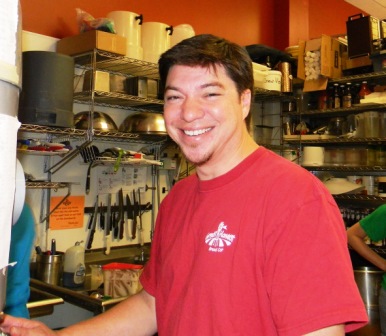 New "National Anthem Dedication" Tradition Resonates in VA
Pablo was inspired to create the tribute because he realized that men and women die every day for this country. They die to protect the freedom we enjoy, our American ideals and values. He was struck by how most of us are detached from the foreign conflicts and the dangers that our service personnel endure. Political beliefs aside, he feels strongly that we should support our service personnel.
As Americans, we often go about our daily lives without a thought given to the wars in Iraq or Afghanistan. Pablo wanted to bring awareness of the great sacrifice these men and women make, to his employees and his community. (See local coverage of the "National Anthem Dedication" here).
Has it made a difference? In the few months since Pablo has been observing the dedication, he's seen employees of his local retail business become more aware of the sacrifice that service members make for their country. Some people in the community are so moved by the ceremony, they come every Friday to participate in the dedication. The American Legion performed a flag dedication and donated a flag to be used at the bakery. A great example of giving that leads to more giving.
Especially poignant was the Friday that a woman was present for the singing of the National Anthem, dedicated to her son. Her son died 5 years ago in Iraq, at the age of 23. Hearing his name and biography read, and knowing that he is remembered by his community, hopefully offers her some small comfort.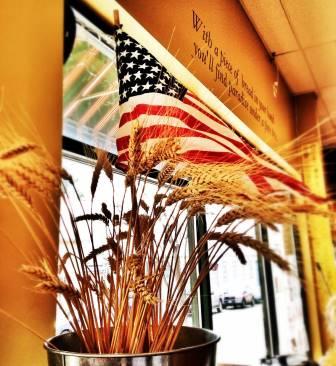 Create Your Own Tradition of Giving This Memorial Day
As we approach Memorial Day, can we learn something from Pablo's visible expression of his heartfelt gratitude for these brave men and women? I think so. Try to connect with a family member of one who died in service to our country. Thank them for their loved one's service and ultimate sacrifice.
Visit the Warrenton, VA Great Harvest Bakery website here, and view their designated weekly heroes here on their Facebook page.
Are you looking for a way to give back to service members in your community this Memorial Day?
Discover a variety of ideas at whitehouse.gov, including:
How do you give generously? If you have a special way of making a difference in your community, on Memorial Day (or any day) let us know!