I have an absolute love affair with appetizers. I often go to restaurants, order 2 or 3 starters and have an amazing, delicious experience only to be totally disappointed when the entrée arrives. Why is this? Appetizers are meant to be dazzling in their simplicity and convey so much flavor in just a few bites that my palette never fatigues and my taste buds are left wanting more. Give me a huge seared rib eye steak on a plate and I am bound to be bored halfway through. But give me a plate with a single piece of perfectly crisped bread topped with lusciously balanced ingredients, dazzling colors, and a drizzle of sauce and I am hooked and ready for more.
As we find ourselves in the thick of the holiday entertaining season, it is the perfect time to put some stand-out appetizer ideas in our arsenal. Appetizers that are easy to execute and which take full advantage of the concept of mise en place so that they can be assembled and delivered to the coffee table in front of the fire in minutes. This roasted beet appetizer fits the bill.
Easy to execute and ready in minutes— the perfect appetizer for entertaining!
I make no secret of my love affair with beets. When I was growing up, beets were some nasty thing in a can that were a last resort at the back of the cupboard. Nowadays, beets of all shapes, colors, and sizes are enjoying a culinary renaissance surpassed perhaps only by kale. They are sweet and sultry and add an earthy backdrop to dishes that can't be beat. (Get it? Hee-hee). When beets are roasted whole in the oven, uncovered, they take on an almost magical quality that is miles away from either the boiled or canned versions.
These fresh roasted beets are definitely NOT your grandmother's beets.
I took my inspiration for this crostini when I was in my local Dillon, MT Safeway recently and saw burrata available here for the first time. Burrata is fresh mozzarella's creamier, more decadent cousin that is totally spreadable— the perfect foil to roasted sweet beets. Here in small town Montana we only have access to red beets, but I love golden and Chioggia (candy stripe) varieties as well. The added bonus is that the colors of this appetizer are perfect for the Christmas season with the bright red beets, white burrata, and green pistachios and herbs. The reduced balsamic vinegar syrup drizzled on at the end is a classic chef trick that adds a sweet tart finish and makes for a stunning presentation.
Vibrant red and green colors make a beautiful addition to your holiday table.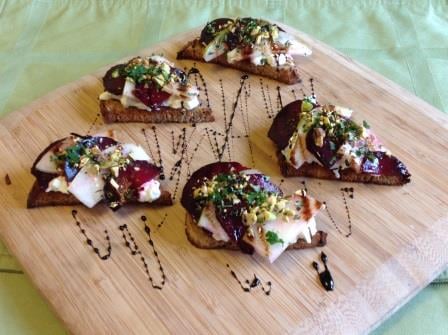 Roasted Beet, Pear, Burrata and Pistachio Crostini with Balsamic Reduction

Ingredients

8 slices Great Harvest savory bread cut in half to make triangles (I used Oregon Herb)
1 medium-sized beet
Olive oil as needed
Kosher salt and black pepper
1 teaspoon red wine vinegar
1 8 oz package burrata cheese (or if unavailable, fresh mozzarella or goat cheese)
½ of a ripe pear, cored and sliced thin
1 tablespoon chopped fresh thyme
1 teaspoon chopped fresh flat leaf parsley
2 tablespoon chopped roasted, salted pistachios
1 cup balsamic vinegar



Method

Preheat oven to 400 degrees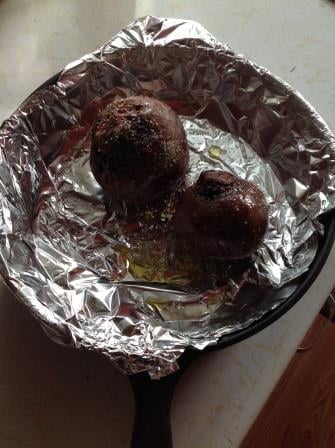 • Place beet in foil-lined cast iron skillet and drizzle with olive oil and a generous amount of kosher salt. Roast uncovered in the preheated oven about 45 minutes until just tender when pierced with a knife. Remove, let cool, peel, and slice into half-moon shaped pieces. Place in a bowl and toss with a drizzle of olive oil, the red wine vinegar, and a sprinkle of salt and pepper. Reserve.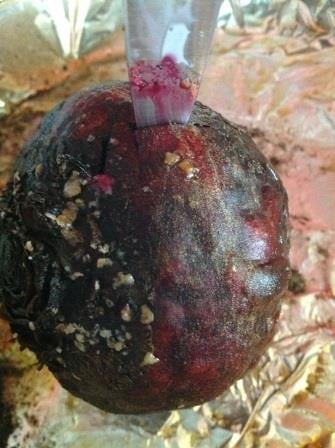 • Pour the balsamic vinegar into a small saucepan and reduce until a light syrup consistency is formed. Cool completely. Be careful as it can go from reduction to a burned mess quickly.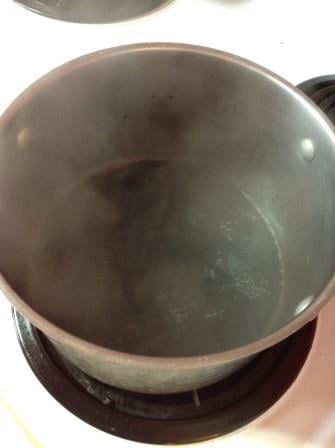 • Place bread slices on a sheet tray and brush with olive oil, sprinkle with salt and pepper and bake in the oven along with the beets for 8-10 minutes until brown and slightly crispy, turning once. Reserve.
• When ready to assemble, spread burrata on the crostini, shingle 2-3 beet slices on each one, alternating with pear slices. Top with the herbs, pistachios, and a pinch of black pepper and kosher salt. Drizzle with the balsamic reduction and serve immediately.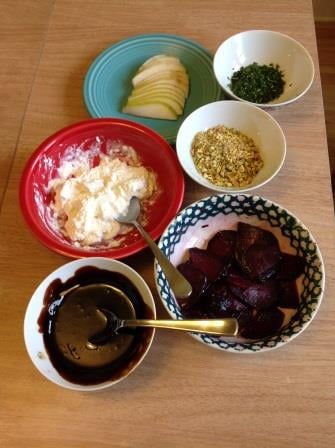 Let us know how it works for you in the comments!
Looking for holiday appetizers? Here are some more recipes you may enjoy:
See more recipes here: