Bread and cheese is easily one of the greatest culinary combinations on earth. In this recipe I used one of my favorite breads for slathering, Great Harvest Nine Grain.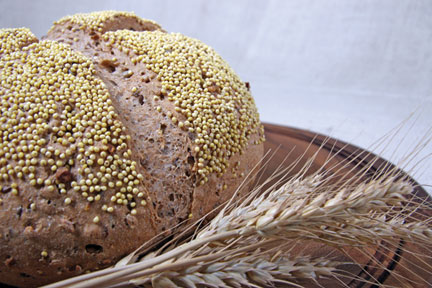 It works amazingly well because it can stand up to grilling and spreading and adds complex crunchiness on the palate. Add in some fresh tart berries and a crisp crackly puff pastry crust and you have a perfect summer appetizer favorite for a crowd. The savory punch of fresh herbs such as the thyme in this recipe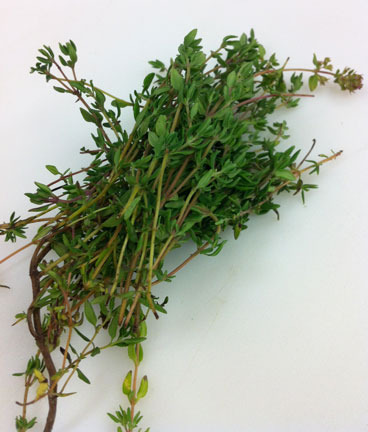 really complements berries.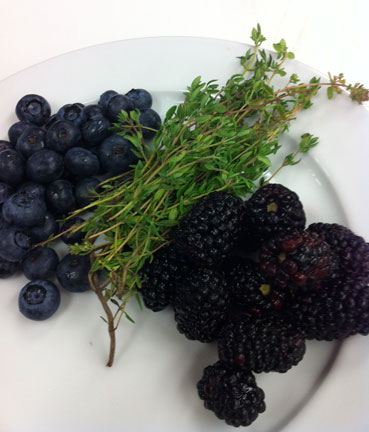 Blueberries and blackberries work equally well in this case, as does substituting fresh tarragon for the thyme. This is one of the simplest recipes around and has huge impact. When that first cut is made, the melted cheese starts oozing,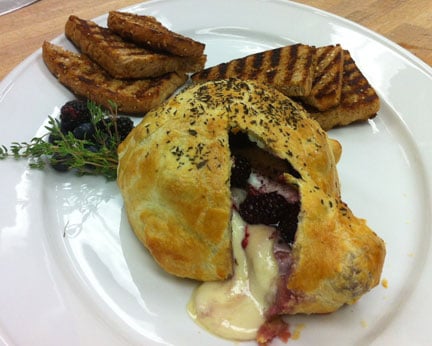 the warm berries release their juices all over the plate, and the heady aroma of the unexpected herbs hit your guest's nostrils the party will really get started!
Ingredients
Serves 6 as an appetizer
1 mini wheel of brie cheese, approximately 5 inches in diameter
1 sheet frozen puff pastry (available in most supermarkets)
1 egg, beaten and mixed with 2 tsp. water
1 cup fresh blueberries or blackberries
1 Tbs. + 1 tsp. chopped fresh thyme
Kosher salt and freshly ground black pepper
Slices of whole grain Great Harvest bread, such as Nine Grain
Olive oil
Method
Preheat oven to 400 degrees.
Allow puff pastry to thaw at room temperature until pliable but still cold. Working on a floured surface, roll out the pastry sheet in all four directions until it is roughly 1 ½ times the size of the original.
Brush pastry all over with the egg wash and lay ½ of the berries in a circle on the pastry approximately the size of the brie wheel. Sprinkle ½ of the thyme on the berries and sprinkle with a pinch of kosher salt and black pepper. Lay brie wheel on top of the berries and repeat with the berries, herbs, salt, and pepper on the other side.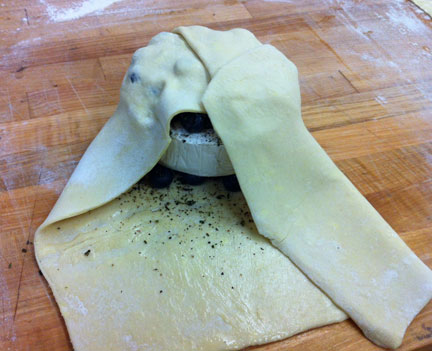 Working in a circular direction around the brie, fold up the sides of the puff pastry and press together to completely enclose the cheese. Brush both sides with egg wash and place folded side down on a parchment lined or well sprayed sheet tray. If not baking right away, place in the refrigerator for up to one hour.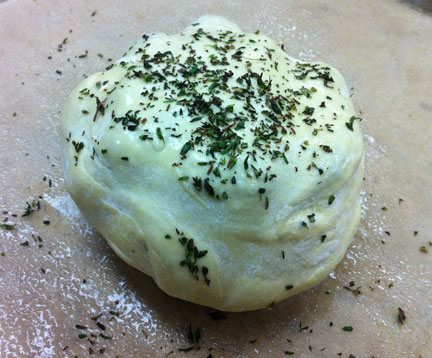 Bake at 400 degrees for about 15-20 minutes, or until golden brown and puffy.
While brie is baking, brush both sides of your whole wheat nine grain bread with olive oil and sprinkle with salt and pepper. Grill or broil until lightly charred.
Place brie on serving platter and surround with the bread slices. Oh oozy deliciousness!