Mise en place. What sounds like a foreign term to many might just be the single most important way to organize your business, your life, and your cooking. It is a term drilled into us in the culinary industry from the very beginning. "Got your 'mise' ready to go?" or "How's your 'place' looking today?" These are everyday questions among cooks, chefs, and culinary students around the country. It is the underlying force behind a restaurant or hotel kitchen's success on any given day. It is also an efficient way to run your life from the moment you get up in the morning and it is also the perfect way to run your small business.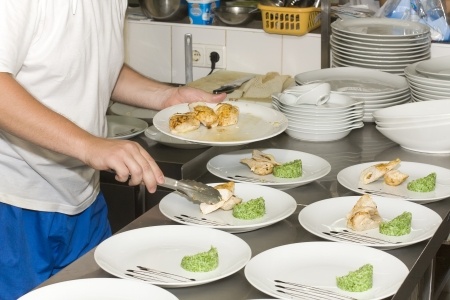 So what exactly does it mean? Quite literally it means "Putting in Place." At the most basic level, in the cooking world it refers to having ingredients and tools so ready to go before they are needed that it becomes second nature to assemble a final dish. Have you ever wondered how a restaurant can have just three people cooking, but offer a choice of 25 menu items and get them to your table in a matter of minutes? It's mise en place. By the same token, have you ever been to a giant hotel or catering operation and wondered how in the heck they prepare 2,500 meals for a single event and get the food out in relative harmony in an acceptable amount of time? Mise en place.
It is the act of preparation, of forward thinking, of delegation. It is being so prepared for the moment you are above the moment, seeing through and around the task at hand. It gives you vision to see the big picture because you don't have to worry about the small stuff. It is thinking ahead, making lists, crossing things off, and obsessing about the details to the point of driving others around you slightly nuts. It is a sixth sense. It is also what makes Chefs oftentimes difficult to deal with outside of (and sometimes inside of) work. We like things just so, the way we think they should be. To be fair, we are often open to suggestions...except when we're not…
I was driving in my truck to work one day recently and this story about using the culinary concept mise en place to organize like a Chef came on NPR. It brought me back to those hot sweaty days in the uber-competitive restaurant kitchens of Chicago and the hallowed halls of my alma mater, the CIA (featured in the NPR article). I just knew that I had to do a blog post on mise en place since it speaks so much to how we at Great Harvest try to train our bakery owners to run their small businesses and train their employees.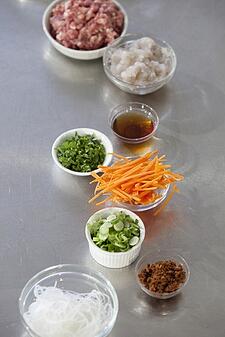 When I cook or when I bake, I don't even consider beginning the first steps until my pans are hot if necessary, my oven is preheated, all of my ingredients are chopped and lined up like little soldiers in bowls, on trays, or on little plates. My tools are clean and ready for action. My brain is mentally prepared for the steps necessary to complete the tasks and to have all components of the meal ready in the right sequence.
This is the perfect time of year to begin thinking about using mise en place in your own kitchen as the holidays are fast approaching. The Thanksgiving meal is a million times easier to execute with a solid foundation of "things in place." Have your ducks in a row so to speak. I begin on Tuesday and very soon my mother's second fridge in the garage is a sea of little bowls, plastic wrapped plates, and sheet pans loaded with chopped vegetables, herbs, cubed butter, cheeses, and sauces.
I remember when I worked as the chef at Gray Wolf Ranch in Washington, I would cook Thanksgiving dinner for as many as 100 people and inevitably someone would wander into the kitchen on Thursday afternoon and remark on how calm and relaxed it seemed. That's because by the time the turkey is roasting away in the oven, everything is pretty much done. The hard work happens on Tuesday and Wednesday when there is no pressure. The potatoes are peeled and cut, the beets are roasted and peeled, the stuffing is done and in a pan, the salad garnishes are chopped and the dressing is made.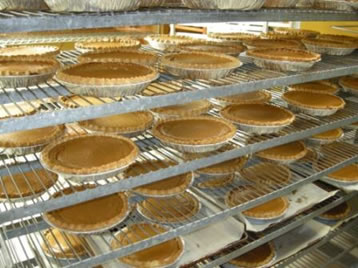 The very best bakeries in our system function within a religion of mise en place – although they likely don't know the term. They have simply built a business predicated on preparation. Prep lists and calculators, ordering and inventory systems in place, a zero waste mentality when it comes to production, ingredients prepped ahead of time so very little measuring is happening at 4:00 am when everyone's not quite awake – these are all hallmarks of a successful Great Harvest franchise. They start thinking about July's menu in May and they get their holiday plan ironed out in September. Here at Great Harvest Franchising, we have all the tools necessary to help our bakery franchise owners implement repeatable systems to achieve the ultimate mise en place.
Just today, while writing this post, I was on the phone with Steve Arnold, a new owner of the Minneapolis Great Harvest, which is one of our oldest— and busiest —franchises. Talking with Steve about daily production volume, he mentioned his typical Friday production consists of making 17 different varieties of bread; 800 loaves in total. That's aside from all of the hundreds of other sweets and sandwiches. Mind you, that's his normal Friday, not a holiday weekend. Steve was also the store manager for over a decade prior to assuming ownership of his bakery, and you better believe he has perfected the art of mise en place in order to be able to successfully pull off that volume of production.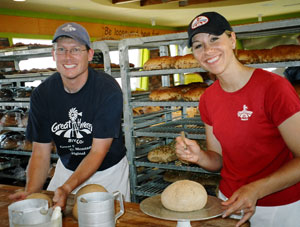 If you think like a chef, the best way to run a small business is to fill in the cracks. Be everywhere but be nowhere. As a small business owner you should have the ability to be everything, but on a daily basis have to be nothing. The best owners and the best employees are like duct tape – you can stick them anywhere from day to day, and know that you can count on them to hold. You want to coach as a player and direct as an actor like Clint Eastwood and Spike Lee. See things from the inside. As a chef, we are always the quarterback and the choir director. Mise en place gives you the flexibility and the tools to fill any of these roles successfully. The more you are prepared, the more you can be above the game, pulling the strings from on high and see the big picture.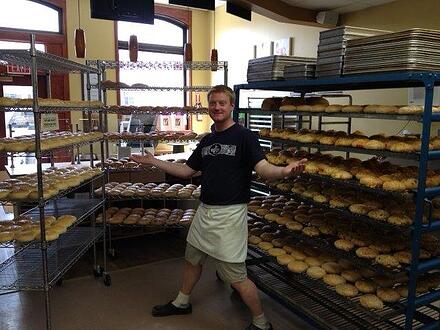 My challenge today for everyone is to see what elements of "mise en place" they can put into effect in their home life and their business. It is a freeing way of thinking— I can guarantee it.
As the holiday season approaches and you start putting your menus together, consider some of our seasonal recipes:
Don't forget to pre-order your Thanksgiving rolls!
Find your local Great Harvest Bakery here: