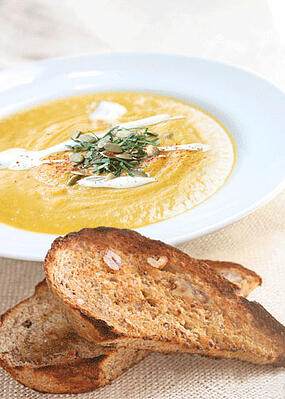 When I think fall flavors, apples, caramelized onions, and roasted squash come to mind. And the perfect fall comfort food?
Soup, of course.
My secret to the incredible flavor is cooking the onions very slowly until they are meltingly soft and a deep milk chocolate brown color. And then I don't add any cream, except as an optional garnish.

If you make pureed soup frequently, an immersion blender is highly recommended. You can buzz soup directly in the pot - saving time and a lot of mess.
For a vegan option, swap the butter for olive oil, replace the chicken broth with vegetable stock, and leave off the optional crème fraiche.
Serves 4-6 as a main course
Total Time: 1 hour
Active Time: 25 minutes

Preheat oven to 350 degrees
Ingredients
1 whole butternut squash, about 2 1/2 pounds
2 tablespoons canola oil
2 onions, sliced
3 tablespoons unsalted butter, divided
2 granny smith apples, peeled, cored, and quartered
1 leek, split crosswise, cleaned, and sliced thin
4 stalks celery, diced
4 cloves garlic, chopped
1 quart low sodium chicken broth
2 cups of water, approximate
1 bay leaf
2 tablespoons fresh thyme, divided
1/2 cup crème fraiche or sour cream
Milk, as needed, about 1 tablespoon
1 tablespoon sliced chives
Pumpkin seeds for garnish
Kosher salt and black pepper
Method
Split the squash in half lengthwise and scoop out the seeds. Place squash halves on a parchment or foil lined sheet tray and rub cut sides with canola oil and salt and pepper. Turn cut side down and roast in 350 degree oven for approximately 30 minutes until soft and lightly browned. Allow to cool slightly and scoop flesh from the skin. Discard the skin.
Meanwhile, in a large pot set over medium heat, melt 1 tablespoon of the butter and add onions. Season with salt and pepper. Cook slowly, stirring occasionally until deeply caramelized, about 30 minutes. Adjust heat as necessary. Remove onions from pan, add 1 tablespoon of the butter and the apples. Cook over medium heat until apples are golden brown and slightly soft, turning as necessary. Add leeks, celery, and garlic and sweat a few minutes until slightly soft. Add the squash, the chicken broth, the water, the onions, and 1 tablespoon of the thyme. Season with salt and pepper. Cover the pot and simmer over low heat for 25-30 minutes until the vegetables and apples are completely soft. Remove the bay leaf.
Carefully transfer soup to a blender in batches and puree until very smooth. Adjust consistency with water if necessary. Return soup to pot, add remaining thyme, taste for seasoning, and adjust as necessary.
Mix crème fraiche or sour cream with chives and thin with a touch of milk until it is a consistency you can drizzle. Season to taste with salt and pepper.
To serve, ladle soup into bowls. Drizzle with crème fraiche mixture and top with pumpkin seeds. Serve with grilled or toasted Great Harvest Bread from your local bakery.
If this recipe sounds good to you, please use the buttons at the top of the post to share it with your friends and family.
Want to see more recipes?
If you don't want to miss future recipes from Chef Scott: