Spring has definitely sprung here in Dillon, MT and my culinary mindset has shifted from comforting winter foods to grilling (although I grill even when it's below zero here), smoking, backyard barbecues, camping, gardening and ingesting as many fresh, bright, and green spring vegetables as I can.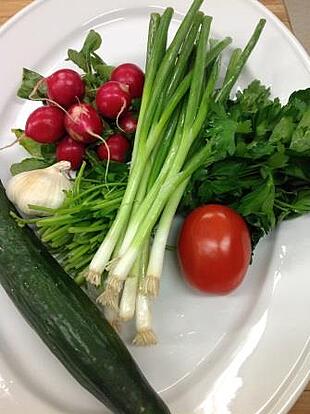 Some of my favorite foods begin to appear this time of year — including asparagus, artichokes, radishes, greens of all varieties, peas, and fresh herbs. Sadly, local produce here in Southwest Montana is still months away (the garden is tilled and ready for planting but there is still a possibility of snow!).
Thankfully, the grocery store can keep us well-stocked with spring vegetables from slightly warmer climes. As you know, I am a huge fan of anything on top of toast — and crostini are really just kicked up crispy toasts that beg to be topped with all sorts of delectable things.
For this recipe, I was inspired by the Provencal tradition of fresh, healthy, and delicious chickpea salads and spreads that are often served with crusty bread. My love of chickpeas and hummus is well-documented. They are loaded with protein and fiber and are low in fat.
We have a new roasted three seed hummus sandwich out in our stores now and we are getting ready to release a hummus bread packed with pureed chickpeas, sesame, garlic, and cumin. They really are a wondrous ingredient that can be utilized in so many ways in the kitchen — I adore the contrast between their slightly crunchy exterior and their luscious creaminess. I wanted both features to shine in this recipe so we settled on smashing roughly half of the chickpeas to achieve textural contrast.
Chickpea and Spring Vegetable Crostini
For Crostini:
Ingredients
12 Slices of Great Harvest bread, larger slices cut in half – I love a multigrain loaf for this
2 T Extra virgin olive oil
1 Clove garlic, minced (I love my Microplane for this – if you don't have a Microplane, stop reading and order one right now)
¼ tsp Dried thyme leaves
¼ tsp Kosher salt
Freshly ground black pepper
Method
Preheat oven to 375 degrees
In a small bowl, stir together oil, garlic, thyme, salt, and pepper.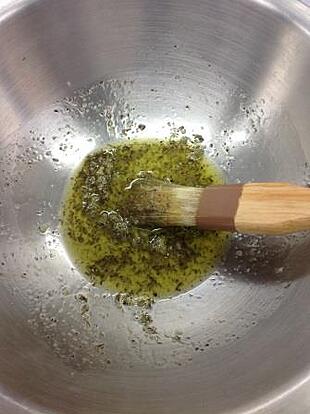 Brush bread slices on one side with oil mixture and place on a sheet tray.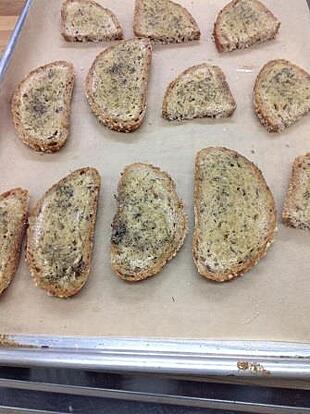 Bake in oven for 15-18 minutes until golden brown and crisp but not hard. Reserve.

For Vegetable Topping
Ingredients
1 15 oz can Chickpeas (Garbanzo beans)
2 Cloves garlic, minced (I use Microplane)
1 Roma tomato, seeded and diced small
2 Radishes, sliced thin
2 Scallions, sliced thin
¼ C English cucumber, diced small
½ C Green peas, thawed in water and drained
1/3 C Extra virgin olive oil
2 T Fresh mint, divided
2 T Italian (flat leaf) parsley, divided
Juice of ½ lemon
1 6-oz Package of fresh goat cheese
Method
Place chickpeas in medium mixing bowl and smash them slightly with the back of a fork so roughly half of them are smashed and half are left whole to retain texture.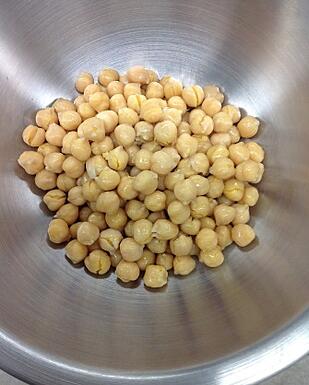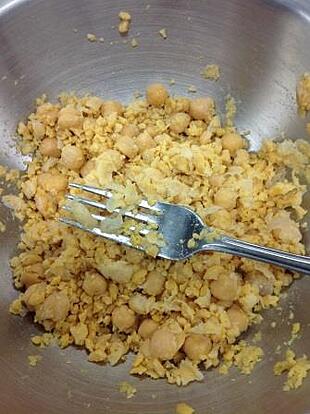 Add garlic, tomato, radish, scallion, cucumber, green peas, and olive oil, 1 T of the mint and 1 T of the parsley.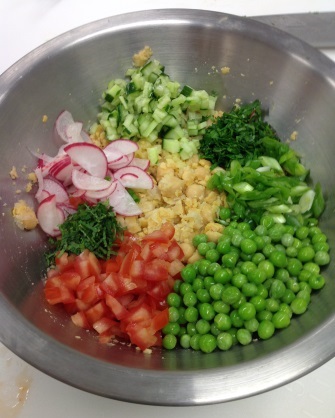 Squeeze in the lemon juice and stir to combine all ingredients.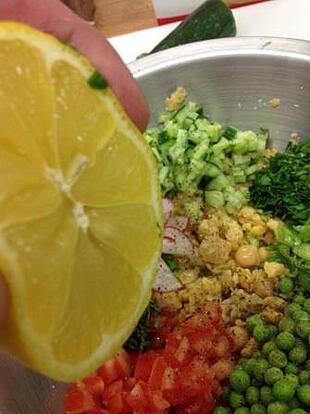 Spread goat cheese on each crostini. Evenly divide topping amongst the crostini, arrange on a platter and sprinkle with reserved mint and parsley. Drizzle with a touch more olive oil if desired.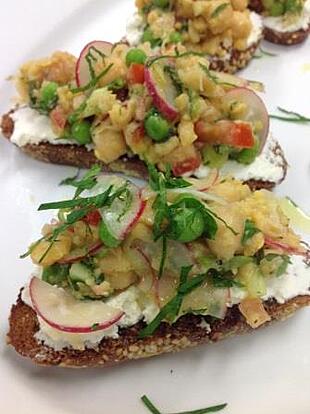 Was this recipe a success with your in-home taste testers? Let us know what you think of it in the comments below.
Pinterest users: you may want to check out the pin of this recipe.
If you liked this fresh spring crostini, here are a few related recipes you may also enjoy from Great Harvest's own Chef Scott Molyneaux:
Get even more of Scott's recipes here: