Need a new idea for a wonderful appetizer?

Perched atop almost any Great Harvest savory bread, this simple yet delicious appetizer pops with the bright flavors of the Mediterranean diet and is incredibly healthy.
The white bean relish can easily be prepared well in advance and placed on the bread just before serving – or in a beautiful bowl so your guests can serve themselves. Take advantage of the olive/antipasto bar at your local supermarket for the olives and artichoke hearts in this recipe – it allows you to buy just what you need and mix and match as desired. The different herbs are essential for flavor impact and presentation, but feel free to swap out the fresh oregano for almost any herb such as thyme, rosemary, or basil. Dried herbs are not an acceptable substitution in this case.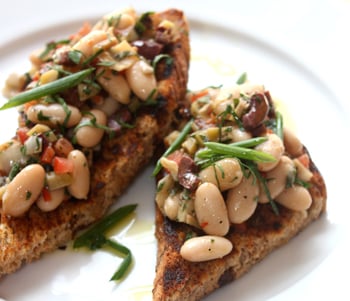 Serves 4-6 as an appetizer
Ingredients
1 15 oz. can cannellini beans, drained and rinsed well
1 cup mixed artichoke hearts and assorted olives, diced small
2 cloves garlic, minced
1 plum (roma) tomato seeded and diced small
1 Fresno pepper or other small red pepper, seeded, white veins removed and diced small
1 tablespoon fresh oregano, chopped
2 tablespoon fresh chives, sliced, divided
1 tablespoon fresh flat leaf (Italian) parsley, chopped
Juice of half lemon
2-3 tablespoons extra virgin olive oil
Kosher salt and freshly ground pepper
8-12 slices Great Harvest savory bread from your local bakery
Extra virgin olive oil for brushing
Method
In medium mixing bowl, combine beans, olives and artichokes, garlic, tomato, pepper, oregano, 1 tablespoon of the chives, parsley, lemon juice, and olive oil. Stir well to combine and season with salt and pepper. Allow to macerate at least 30 minutes at room temperature or up to 2 hours in the refrigerator.
When ready to serve, preheat grill, broiler, or cast iron skillet to medium high. Brush bread slices with olive oil and grill or toast.
Top each slice with white bean mixture, place on a serving platter, drizzle with a touch of olive oil and sprinkle with remaining chives.
Interested in other recipes from Scott and our most creative customers? Check out the Recipes page of our website.