As the weather warms up I start to really think of evenings out in the backyard with the grill fired up and friends and family gathered around. Appetizers and beverages are the key to my guest's experience and this one fits the bill perfectly. Paired with Great Harvest bread hot and crispy right off the grill, this simple recipe is fantastic as a summer appetizer when tomatoes are at their peak or a great way to add life to tomatoes that need a little help.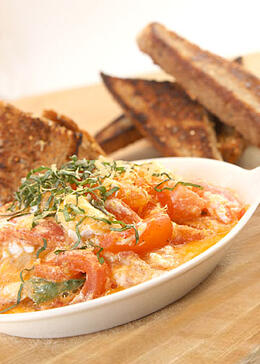 We love to serve this out on the deck while the steaks are sizzling on the grill. The classic combination of sweet and tart tomatoes, basil, and creamy goat's cheese is one of the biggest crowd pleasers there is. The slight pop you get from the lemon zest really makes the tomatoes sing. If you do not have access to a grill, the bread can be nicely browned in a skillet with just a touch of olive oil.
Everyone who has tried this dish has absolutely loved it. Let me know what you think!
Serves 4 as an appetizer
Total time: 25 minutes Active Time: 25 minutes
Ingredients
1 tablespoon + 2 tablespoons extra virgin olive oil
3 cloves of garlic, sliced very thin
4 large ripe tomatoes
1 teaspoon grated lemon zest
1 6-ounce package fresh goat cheese, crumbled slightly
½ cup torn fresh basil leaves
4 large basil leaves, rolled and cut into thin strips
Kosher salt and freshly ground black pepper
8 slices of 1-inch thick Great Harvest Bread, such as Dakota, Nine Grain, Sunflower or Honey Whole Wheat
Method
Preheat barbecue grill to medium-high heat.
To peel the tomatoes: Using a small paring knife, make an "X" through the skin at the base of the tomato. Using the paring knife or a small scoop or melon baller, remove the core from the opposite end. Prepare a medium bowl with ice water. In medium pot of boiling water, blanch the tomatoes for approximately 20 seconds until the skin just begins to come off. Using tongs, immediately plunge the tomatoes into the ice bath. Once cool, carefully remove skin.
Cut the tomatoes into finger-width even wedges and reserve.
Brush bread slices with olive oil and sprinkle with salt and pepper.
Preheat a large sauté pan to medium heat. Add the remaining two tablespoons of olive oil and the slivered garlic. Lightly toast the garlic until it just begins to brown around the edges. Add lemon zest and tomatoes. Season with salt and pepper, and sauté until tomatoes begin to soften and just start to lose their shape.
Add the goat cheese and fresh basil. Toss lightly, being sure to leave small chunks of goat cheese. Place into a serving dish and top with the remaining basil strips.
Grill bread lightly on both sides and serve alongside tomato mixture. The slices of bread can be cut into 2-3 smaller pieces for serving.
Get more delicious recipes: