As a chef, I often get asked what some of my favorite foods are to cook and eat. Admittedly this is one of the most annoying questions to get since as a chef I pretty much love every ingredient out there (sweet pickles and cheap yellow hot dog mustard are really the only things I find repulsive for whatever reason.) My favorite dishes really depend on season, weather, and mood. I blame my food obsession mostly on the massive right frontal lobe head injury I suffered in a sledding accident when I was seven and the subsequent discovery of Gourmand Syndrome by Swiss researchers in the early 1990's that firmly links such injuries with an unnatural (albeit in my case incredibly useful) fixation with the culinary world. My brother the neurologist would probably tell you said head injury explains a lot about me… As far back as I can remember I have absolutely loved to eat and rarely meet an ingredient I don't like.
But what is one of my current obsessions? I can confidently say that one of my absolute favorite vegetables is the often underappreciated kale in its many varieties. It doesn't get nearly the attention or the credit that it deserves. Everyone has tried and true recipes for more common vegetables like broccoli and asparagus, but kale is a nutritional powerhouse that is great in many applications either cooked or raw in salads. It even makes awesome baked "chips."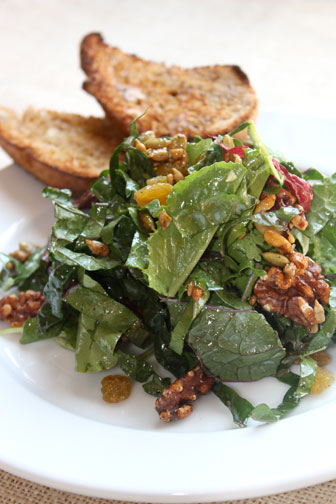 During a photo shoot here in Dillon this week, I made an autumn focused salad that utilized a couple different varieties of kale. Most folks that tried it either never really eat kale at all or had certainly never thought to put it in a salad. Kale is one of the absolute healthiest foods you can eat on earth and is loaded with potassium, vitamin A, vitamin C, magnesium, and is high in fiber. A true superfood! There are many varieties of kale that work really well, but my favorite types are Lacinato (also called Tuscan kale, black kale, and dinosaur kale) Redbor, Red Russian, and the most common grocery store variety Curly.
Here are a couple of my favorite ways to use kale:

Sautéed Kale with Toasted Garlic, Shallot, Chili, and Lemon
Serves 4 as a side dish
Many recipes out there call for blanching the kale first in boiling salted water, but I find that not only does this leach out some of the vital nutrients in the greens, but it makes the final result way to soggy for my taste. I choose instead to treat it like spinach and do a quick sauté to preserve color, texture, and nutrition. The result is absolutely delicious. This basic recipe works with almost endless additions. Try adding a chopped tomato or pine nuts towards the end of cooking, or adding a couple anchovies to the oil with the garlic.
Ingredients
2 bunches kale, leaves stripped from their stems and sliced into half inch strips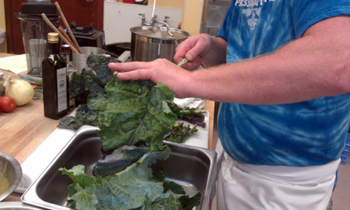 2-3 Tbs extra virgin olive oil
3 cloves garlic sliced very thin
1 large shallot or half an onion, diced small
1 tsp (or more to taste) crushed red pepper
Zest of 1 lemon
Juice of 1 lemon
1 tsp kosher salt
Method
Preheat a large sauté pan over medium heat and add olive oil and garlic. Cook until garlic is lightly browned around the edges. Add shallot and sweat for a minute until soft and slightly translucent. Add crushed red pepper and lemon zest, stir to combine, and immediately add the kale. Add the lemon juice and season with salt. Cook over medium heat, stirring frequently until kale is wilted but still vibrantly green and crisp tender, about 7 minutes. Adjust seasoning with salt if necessary.
Kale Salad with Candied Pumpkin and Sunflower Seeds, Walnuts, and Golden Raisins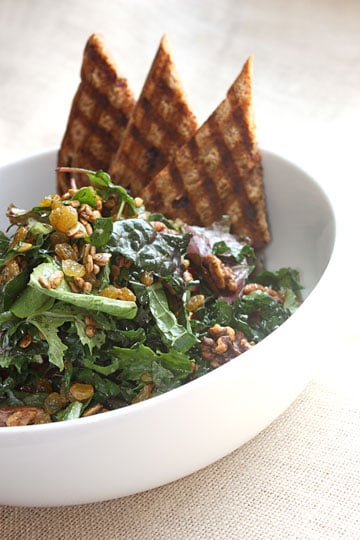 This salad is awesome as we head into fall and the kale harvest is at its peak. Did you know that hearty greens such as kale actually get sweeter after they have had a first frost before being picked? Don't throw away the leftovers of this dish, as it marinates in the fridge it becomes an entirely different and delicious experience.
Serves 6 as a side dish
For the Dressing:
Ingredients
1 Tbs Dijon mustard
1 clove minced garlic
1/3 C red wine or sherry vinegar
2 tsp honey
1 cup olive oil
2 tsp chopped fresh thyme
Kosher salt and black pepper
Method
Whisk together mustard, vinegar, and honey in small mixing bowl. Slowly drizzle in olive oil while whisking to emulsify. Add thyme and season to taste with salt and pepper. This will make more than you need for the salad. Store in a jar with a tight fitting lid in the refrigerator for up to one week; shake well before using.
For the Candied Seeds and Nuts:
Ingredients
½ C pumpkin seeds
½ C sunflower seeds
1 C walnuts
1 Tbs canola oil
¼ tsp cayenne
¼ tsp allspice
½ tsp black pepper
1 tsp kosher salt
1 Tbs honey
Method
Preheat oven to 350 degrees
On a parchment or foil lined sheet tray combine seeds, nuts, oil, and spices. Roast for 10-15 minutes, remove from heat and add honey. Using a rubber spatula, stir to completely coat. Return tray to the oven and continue to roast until honey is evaporated, about five minutes more. Remove from oven and let cool. Break apart with your hands as necessary.
For the Salad and Assembly:
Ingredients
2 bunches kale, ideally different varieties/colors, washed and dried; stems removed and cut into ½ inch strips
½ cup golden raisins
1 cup seed/nut mixture (see above)
½ C vinaigrette (approximate, dress to taste)
Kosher salt and black pepper to taste
Method
Toss all ingredients together and mix well. Serve either in a large salad bowl, or on individual plates – or, of course, accompanied by Great Harvest bread from your local bakery!
Want to see more recipes?
If you don't want to miss future recipes from Chef Scott:
Please use the buttons at the top of the post to share it with your friends and family.