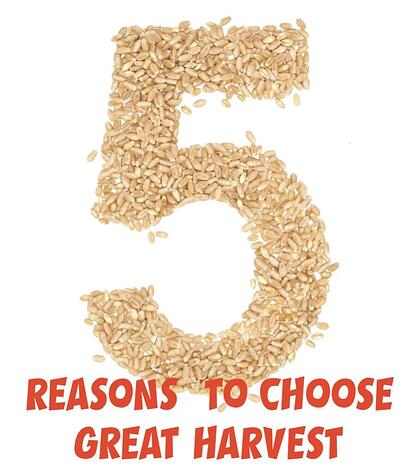 Thinking about starting a business? There are many franchise concepts out there to choose from, and we're glad you are looking at Great Harvest.
Here are the 5 key factors that distinguish Great Harvest from other franchise concepts:
1. BRAND
Great Harvest is an authentic brand. We have established a solid reputation for delivering on our Mission Statement: Be Loose & Have Fun. Bake Phenomenal Bread. Run Fast to Help Customers. Create Strong & Exciting Bakeries. And Give Generously to Others.
Our grain comes from family-owned farms in Montana's Golden Triangle, famous for its favorable growing conditions. Before shipping, each kernel undergoes extensive testing to ensure it has what it takes to become the best bread on the planet. Every Great Harvest bakery starts from scratch each morning with this exceptional grain as the centerpiece. First, the grain is hand milled into nutrient-rich flour. We do this on site at each of our 200+ bakeries, every day. Fresh, simple ingredients are then added to hand-craft Great Harvest's phenomenal tasting bread. It's a difference you can taste, straight out of the oven.
Each Great Harvest bakery is unique. Yet, they are all designed to offer a fun and inviting experience for customers. The owners and staff know their regular customers by name, and greet all who enter with enthusiasm and a free slice of bread.
Both the franchise and our owner group believe in giving back to the community. We donate 100% of gross sales from our training bakery to local charitable organizations and high school scholarships in Dillon, MT, home of our franchise headquarters. Our owners share their time, money, and baked goods with hundreds of charitable organizations (local and national). Great Harvest delivers on our commitment to generosity.
2. PROVEN BUSINESS CONCEPT
Our business model is demonstrably profitable. After 30 years of franchising, we have over 200 individually owned and operated bakeries in the U.S. Our Franchise Disclosure Document (FDD) provides one of the most detailed financial performance representations of any franchise system. We want to give you the best information possible as you decide if our franchise will meet your financial expectations.
Our Freedom Franchise concept gives owners the ability to customize their bakeries and product lines, but still provides guidance on implementing proven systems. Our opening menus and First Year Guidelines are designed to set new owners up for success. This allows you to optimize your core operations while you get used to wearing all the business owner hats -- marketer, bookkeeper, leader, employee counselor, etc -- before adding complexity to your new business.
3. COMPETITION
We have no direct national competitor. Our objectives are to: 1) change people's behavior around daily bread consumption, and 2) build awareness that there is a better option than buying "pseudo artisan" bread from the supermarket.
4. DEMAND
We have a loyal customer following. The core of what we do and who we are has remained consistent for over 30 years, but that does not mean that we have rested on our laurels. We continuously focus on research and development. Our Corporate Chef is a CIA graduate with over 15 years of experience. He keeps us relevant in terms of ingredients and product offerings. Our new sandwiches, breads, and goodies developed under his oversight have been hugely successful with customers. He also serves as a consultant to bakery owners, assisting with operational efficiency.
Great Harvest has also made adjustments to meet consumer changes in behavior. With more people eating out rather than at home in recent years, we have developed a robust sandwich line and incorporated more single-serving goodies. Our bread remains at the center of everything we do. The hearty goodness and freshness of the bread enhances our sandwiches and sets each one apart.
5. TRAINING & SUPPORT
Our franchise staff provide extensive training, support, and guidance to new and existing franchisees. Some of the highlights include:
Full location support service including demographic, psychographic, and traffic analysis for each territory. We also negotiate leases. We provide services in-person in-market, as well as by phone.
Your own personal consultant for every step and aspect of new business startup.
Comprehensive training program for new owners, including 40 hours of online coursework and 120+ hours of in-classroom and hands-on training at the franchise training facility in Dillon, MT. We also contribute approximately 210 man hours on the ground with you at opening.
Three in-person visits and weekly calls with your personal business consultant for the first full year of operation.
Expert Choice Program for qualifying bakeries over one year old. Bakeries may select from a menu of support service options to choose what would most benefit their store's performance.
Dedicated resources for Marketing, including turn-key solutions for marketing materials, help with design and layout for new stores or remodels, personal consultations, and more!
Licensed Dietitian on staff for help with nutrition label compliance and personal consultation.
Wheat testing and purchasing for all of our bakeries.
Group buying program.
Customized software solutions.
Bread tasting for quality assurance.
An owner group that facilitates constant learning and sharing amongst themselves.
And much more!
Want to learn more about why our franchise concept is different?
You may also want to read these other posts about the Great Harvest franchise: