If you want to know where your food comes from, is there any substitute for traipsing through the field with the guy who toils each and every day to raise it, sticking your hand in the soil as he talks about varietals, growing conditions, field slope, and the year's rainfall? At Great Harvest we often say we know our wheat farmers. After 900 miles and 14 hours in my truck driving from farm to farm a couple of weeks ago, I can confidently say that we do. Or at least that I do. As Great Harvest's Corporate Chef, part of my job is to source, test, and buy the best Montana-grown wheat every year and ship it all over the country to be milled into fresh whole flour each day.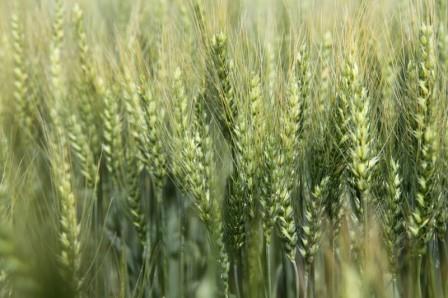 I was there right at the cusp of harvest time when some of the wheat is golden, drying and waving softly in the breeze. Some of the wheat was being harvested, and some was still lush and green. It was truly amazing to go straight to the source and see our wheat growing in the field. To be able to shake the hands of people from families that in many cases homesteaded on the land in the 1800's and have been growing wheat for four generations. Now that is experience. At almost all of the family farms I visited, I was met by a father and son team. They farm the land together and truly make it a family affair.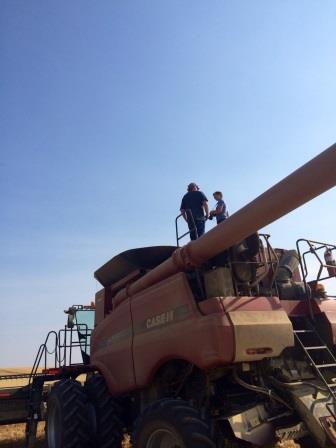 I crouched in the fields and tasted wheat berries right off the stalk that in a few months could very well be in a blend of wheat headed to stores in Michigan or Colorado, or even as far away as Vermont or Hawaii. The farmers were incredibly welcoming and think it is the coolest thing in the world that they grow wheat for loaves of wholesome, delicious Great Harvest bread. It is a mark of pride for them that instead of their grain just ending up on a commodity-carrying freight train destined for some far-off generic mill that it is milled daily by the mom & pop owners of bakeries that are family business owners just like themselves.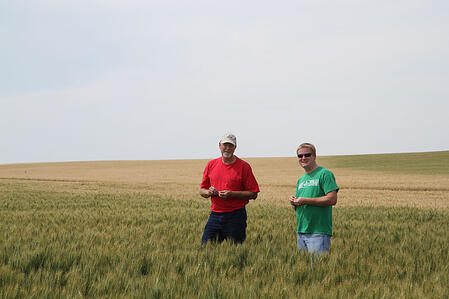 Wheat is truly amazing. It is one of the most adaptable crops on earth and it grows where almost nothing else will— with very little input. The majority of our wheat-farming families grow their crop with no irrigation. They rely on the rain from above, just like agrarians have been doing for thousands of years.
As we walked through the fields we talked about the levels of moisture for the year, how the protein content will shape up, the test weights of bushels, and all of the things that can affect the bake-ability of the wheat. One of the most important services we offer to our franchisees is the wheat testing and blending program so that —for the most part— our baking process can be consistent. Part of what makes that successful is knowing what is happening out there "in the field" from year to year.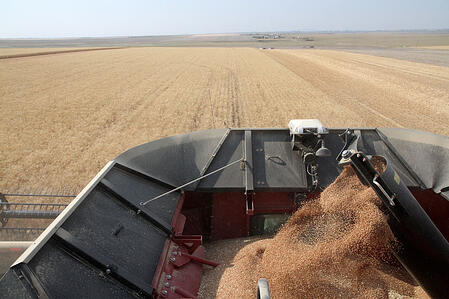 I have the task of baking with more different kinds of wheat every year than anyone else in Great Harvest; well over a hundred test lots a year. Many of them don't work. Some of them do. We buy from some of the same farmers every year and some only from time to time when the conditions on their land are just right. This provides me unparalleled insight into the science and art behind baking whole wheat bread with no additives or conditioners and relying solely on the "magic" locked inside each wheat kernel.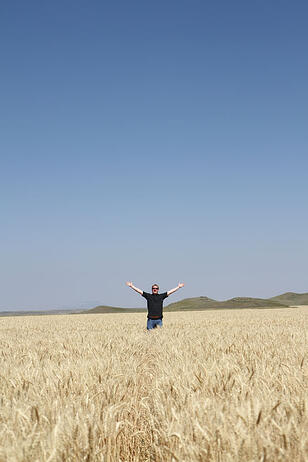 To be able to bring it all back home and go meet the faces behind the names on the bags of test samples was utterly amazing. I sat in the living rooms of our farmers and looked at pictures of their grandkids. I had lunch with their families and their hired hands. I rode in the combine for hours while they harvested and talked about varietals, crop prices, their neighbors, and what their kids are studying in college and graduate school so that they can return to the farm and be even better wheat farmers than their parents. I wandered through the fields as they plucked wheat berries and squeezed them till the juice ran out, talking about how many more days or weeks they would wait to cut that particular field, when it was "just right."
I also had a professional photographer in tow. She would stop at nothing to get the perfect shots for Great Harvest's marketing materials, which will highlight these amazing growers and their farms. She rode around with the farmers on their ATVs to get to hard-to-reach spots on the land. She perched precariously atop the combine while we were harvesting, hanging on with one hand and shooting hundreds of shots with her camera in the other— all so we can try to convey the power of this raw ingredient and the starkly beautiful, wholesome places where it grows on family-owned farms.
From the earth to your table through the magic of the Great Harvest bakery franchise system— by way of family wheat farms. Now THAT is real food. Grown, milled, and baked by real people for you and your family. How cool is that??
Read more about farms on our blog here.