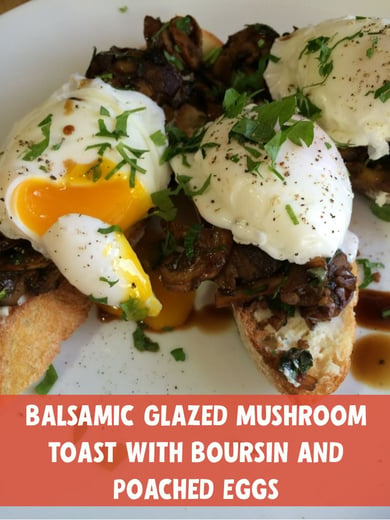 Toast. The word conjures up all sorts of images: the ubiquitous accompaniment to breakfast at the local diner, a quick on-the-way-to-work vehicle for nut butter, avocado, butter and jam... Or as the underpinning for cheese or charcuterie.
One thing is certain: toasted bread makes one of the best chassis for almost anything. Long beloved by chefs as a base for sweet and savory preparations, toast is undergoing somewhat of a renaissance in the gastronomic world ─ and with good reason. It is a healthy and delicious way to quickly turn a piece of bread into a satisfying meal.
POLL RESULTS
A couple of months ago, I took a poll at the end of one of my blog posts and asked for suggestions as to what kind of recipe readers would like to see here. The response landed in favor of toast toppings.
Now, as I'm sure you can imagine, I couldn't merely provide a list of quick and easy ideas for sprucing up your morning toast. Those tasty (yet predictable) combinations like Nutella and sea salt, almond butter/ banana/ honey/ sesame seeds, or the ever-present avocado/ olive oil/ cherry tomato/ sea salt/ black pepper. No, I wanted to do one better. A restaurant-worthy brunch dish that could be done at your house, this weekend, from readily available ingredients that could be pulled together in under 20 minutes. Paired with a salad, it could also be the perfect autumn dinner in front of the fire.

I wanted toast that ate like a steak. Rich, satisfying and incredibly comforting. Toast that requires a knife and fork. The result was Balsamic Glazed Mushroom Toast with Boursin and Poached Eggs. Otherwise known as: Toast 2.0.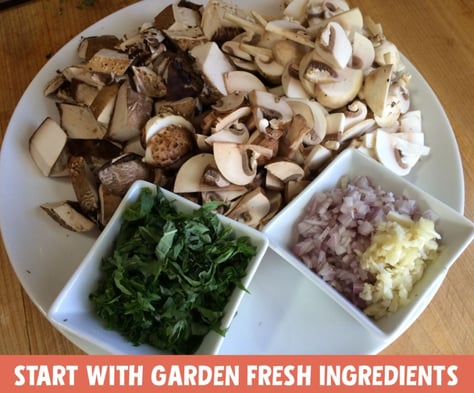 This dish works on so many levels. Rich mushrooms tamed by the bright sweetness of balsamic vinegar, the crisp toast undercarriage to sop up all the creamy yolk, and a fresh kiss of garden herbs.
"I just made this, devoured it, and decided it ranks with some of the best things I have eaten all year."
Of course, it helps that I collected the eggs from my chicken coop this morning and picked the herbs from the backyard. If you have never tried Boursin Cheese before, go out and buy some right now for slathering on warm bread whether you plan on making this dish right away or not. You can thank me (or hate me for your new addiction) later…



Balsamic Glazed Mushroom Toast with Boursin and Poached Eggs
Makes 4 "toasts"
Ingredients
1 tablespoon extra-virgin olive oil
4 cups assorted sliced mushrooms such as portobello, cremini, and white button
Kosher salt and fresh ground pepper
2 teaspoons butter, unsalted
1 shallot, minced
1 clove garlic, minced
2 tablespoons balsamic vinegar
2 tablespoons chopped fresh herbs (parsley, basil, marjoram, thyme, etc.)
2-3 ounces Boursin cheese, room temperature
4 slices bread
4 poached eggs

Method
In a small sauté or sauce pan, heat several inches of water over a medium flame until barely simmering.
Pour olive oil into a hot cast iron skillet set over medium heat. Add mushrooms in an even layer, sprinkle with salt and pepper and cook undisturbed to encourage browning, about 4 minutes. Stir mushrooms slightly to expose others to the bottom of the pan. Avoid over-stirring until the mushrooms are evenly browned and cooked down.

Move the mushrooms to one side of the skillet and add butter, shallots, and garlic to the void. Cook while stirring until lightly sweated and combine with mushrooms. Add the balsamic and stir to deglaze, reducing until the liquid is almost gone and mushrooms are glossy. Add half of the chopped herbs and stir to combine. Reserve warm.
Crack four eggs into the simmering water and poach until the whites are barely set and the yolk is still runny. Meanwhile, toast the slices of bread, slather them in Boursin cheese and arrange on plates or platter. Spoon mushroom mixture evenly on the toasts, top each with a poached egg and sprinkle with remaining fresh herbs. Finish with a touch of cracked pepper and a few flakes of salt on each egg. Drizzle with a touch more balsamic, if desired.

Let me know how it goes for you. Have a great suggestion for a future recipe? Submit your idea in the comments.
Need some 4th level bread to make your Toast 2.0? Stop in to Great Harvest:
Encourage your gourmet toast habit with these other tasty recipes: