If you really want to know where your food comes from, what could be better than growing it yourself?
I have been obsessed with gardening since I was a young teenager. Soon after I started working at a local French bistro (freshman year in high school), I was in the walk-in cooler staring at the lettuce section. I marveled at the colors and textures before me.
The Chef came and asked what I was doing. "What is all this?," I asked in reply, having never seen the exotic dark green points of arugula or the wispy, two-toned, almost alien (to a 14 year old) beauty of frisée. Mache, sorrel, red oak, watercress, mizuna, baby mustard greens – I was blown away by the variety. This was 1994.
Hard to believe, but outside of nicer restaurants it was a romaine-iceberg-green leaf lettuce kind of world in most Midwestern supermarkets and households in those days. We had a salad every night for dinner growing up, but it would be assembled from one of the aforementioned "big three" plus whatever random vegetables happened to be in the crisper drawer. These salads were merely a vehicle for the choice-of-six-flavors of Wishbone dressing on the table (anyone remember Catalina?).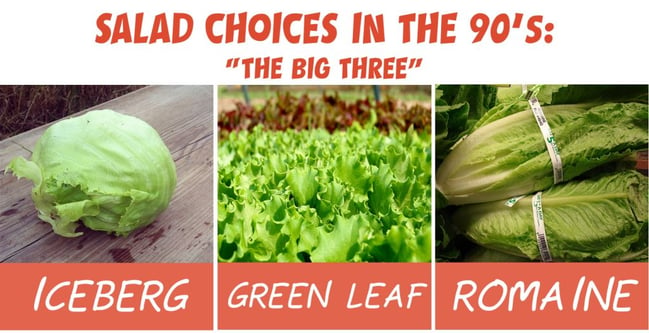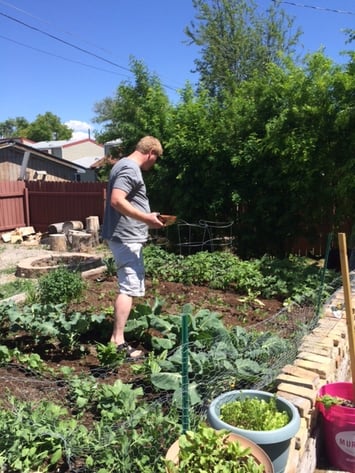 On that fateful day, I proceeded to taste the greens in the cooler ─ and was blown away by the range of flavors, from peppery to bitter, sour and sweet, earthy and rich. This was what salad had been missing!
I went home and told my mother that me and my little brother would be digging up a third of the sunniest part of the backyard and putting in a garden. A hobby gardener before the craziness of career and kids, (to be clear, I remember no such garden but she assures me she had one…) she immediately agreed. While we struggled that first year, I learned a lot and soon was growing so many chili peppers that I was smoke-drying them for powder.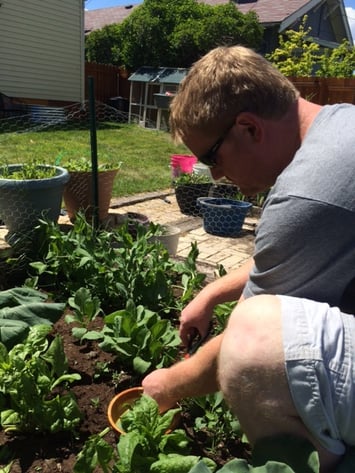 Now, people are able to have a salad every night for dinner without having to lean on the "big three" ─ even in the Midwest. We may spend a lot on what specialty greens ARE available at our small-town supermarket, but we now have access to them year round. Still, as soon as spring is upon us here in Montana, I am out there planting the seeds of what will become my salad bowl – along with many other vegetables – all summer long.
It is a short season here, so after a few years of planting in Montana I have learned to gamble and planted early this year. It is only the first week in June and I am already harvesting greens and radishes as fast as I can before they go to seed.
In addition to many other delcious vegetables I grow four different kinds of kale, arugula, frisée, collard greens (harvested young, an amazing salad inclusion) radishes, and Swiss chard (if you haven't tried thin strips of raw Swiss chard in a salad before, you're missing out). Every couple of nights I'm out there with a pair of shears and a bowl – truly garden-to-plate.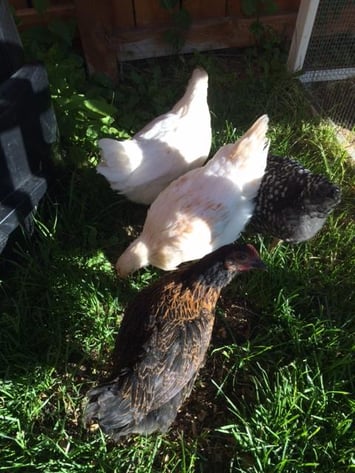 This year, I even added four chickens to the mix (to provide eggs, of course) but they are also amazing weed and bug eaters, and their poop goes right in to the compost bin!
I encourage everyone to try their hand at growing their own vegetables in a garden. It is incredibly rewarding, tasty and super healthy. You don't even need a plot of ground to do it in. I have nowhere near enough garden room (in four beds – it's an addiction…) so I re-purpose the five gallon plastic buckets that our wheat comes in and grow all sorts of things!
One could easily grow enough backyard baby greens for dinner every night in just a few of these buckets. I am even trying out the use of black plastic milk crates lined with landscaping cloth as containers, something I learned from Chef Tom Colicchio's rooftop farm in NYC.
So grab yourself some buckets, crates, or dig up a part of your yard and grow your own salad. Nothing can be more satisfying than picking some dinner straight from the ground. I think I'll grab my shears and head out there now – my beloved arugula is begging to be tossed with lemon, olive oil, shaved Pecorino cheese and a healthy dose of cracked black pepper…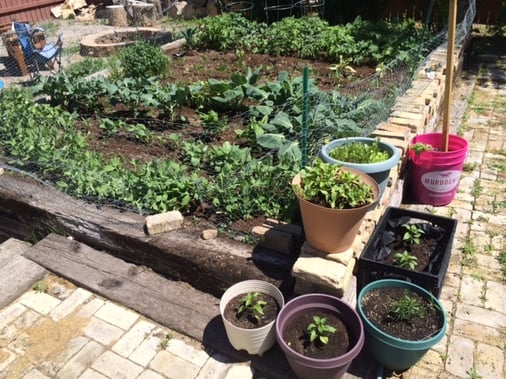 Wondering what to plant? Compare nutritional information for some varieties of lettuce and see flavor profiles of common salad greens here from Colorado State University Extension.
Tell Me What I Should Cook Next!
Liked this post about backyard salad greens? Here are some others you may enjoy:
Image credits for the "big three" lettuce: