Continuing our theme of
summer ingredient ideas
from my last post, I thought I should just say it.
I love salads
. I really really do. Kind of like bread in our family, salad is pretty much on the table every night no matter what is served for dinner.
I remember the first time I had what I would call a real salad – I was 12. In our house in those days (like most households) salad usually consisted of iceberg lettuce with wedges of tomato, some sliced carrots or other "refrigerator vegetables" like bell peppers or cucumbers, boxed croutons, and when it was time for dinner someone would go to the fridge and gather up the six or so various store-bought dressings that always lived on the door shelf. My younger brother, Wes, was partial to something sweetly disgusting called Catalina. If I recall he even put it on his baked potatoes; of course we had "Italian," whatever that meant (this often doubled as an all-purpose meat marinade). Even dining out back then usually consisted of a house salad with choice of dressings or the ubiquitous salad bar.
At that age I was a budding young culinarian, obsessed with watching the various PBS cooking personalities like Julia Child and Jeff Smith (The Food Network wasn't even on then). I was too young for my first job in a restaurant - that would have to wait a couple of years when I would let Kent Buell assume that I was sixteen and he gave me my first kitchen job in the summer of 1994 – but I did already know that the only thing I wanted to be when I grew up was a chef.

Prior to departing from a traditional path that in our family usually consisted of athletic teams and some sort of liberal arts higher education, my mom found out that one of the culinary schools in Chicago, Kendall College, offered up a week long camp for adolescents, complete with living in the dorm, dining in the college's student run restaurant, and producing a culminating dinner for our families. Perhaps I could try it out before already deciding that I was going to the Culinary Institute of America (CIA) in six years instead of to traditional college.
It was at my first lunch in that restaurant that I had what I would call my first Real Salad. When the plate arrived it was a bountiful pile of different varieties of leaves in a stunning array of shapes and colors. It was drizzled with a bright green herbaceous vinaigrette and topped with a toasted crostini, still slightly warm and slathered in goat cheese. I will never forget that salad because it forever changed what I thought salad could (and later – should) be. Not unlike what happens when people try their first warm slice of Great Harvest bread in one of our bakeries.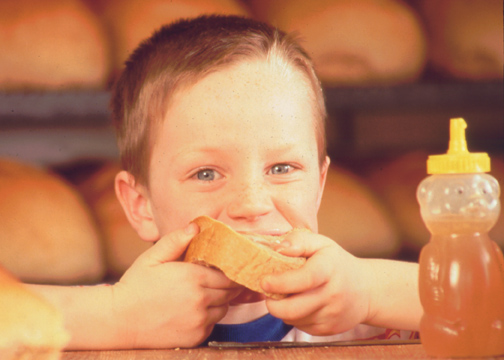 In those days in the supermarket it was hard to even find a bag of the now commonplace field greens much less find arugula and watercress, frisee and mizuna, or even the different varieties of kale that I can now find at Safeway here in small town Dillon, MT. From that moment on I have been obsessed with salads in all their various forms and have produced many meals where salad becomes the unexpected star.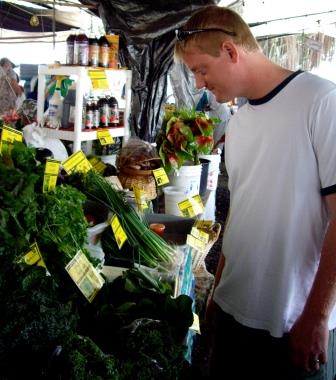 As we head into the peak of summer and there is an amazing assortment of lettuces and greens available from the garden,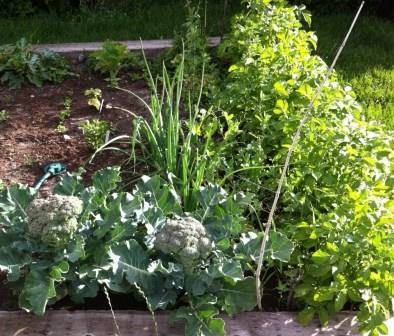 the farmer's market, and even the grocery store it struck me as the perfect time to share what some of my favorite salads are and encourage those that are still in the romaine or iceberg lettuce with ranch dressing rut to branch out and try some new things. They are deliciously good and good for you.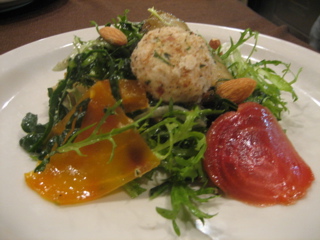 Last year I published a recipe for a kale salad which can be found on our website: Scott's Gourmet Kale Salad. Take particular note of the vinaigrette as that is my go to basic dressing. It can be made up and stored in the fridge in a mason jar for about a week – a serious upgrade from store bought "Italian." Just shake it up and drizzle as you need it!
Here are some other summer salad combos I like:
Arugula, charred corn (grill lightly oiled ears seasoned with kosher salt and black pepper, grill until lightly blackened, cut off cob and use while still warm), halved grape tomatoes, fresh torn basil leaves, and goat cheese tossed with lemon juice and extra virgin olive oil.

Roasted beets of various colors (really one of the simplest things to make: place trimmed unpeeled beets on a sheet of aluminum foil, drizzle with some canola or vegetable oil, sprinkle liberally with kosher salt and wrap tightly – roast 400 degrees until easily pierced with a knife, cool, peel, and slice), with greens of your choice (I like frisée, endive, or watercress here – something assertive to stand up to the sweetness of the beets and strawberries) crumbled Gorgonzola or Roquefort cheese, toasted walnuts, and sliced ripe strawberries. Toss with the above described vinaigrette and plenty of cracked black pepper.

Grilled summer melon (lightly drizzle slices of cantaloupe or honeydew with olive oil, sprinkle with kosher salt and black pepper and grill lightly over a hot fire) torn fresh basil and mint leaves, crumbled feta cheese, shaved fennel, and baby spinach tossed with balsamic vinegar and olive oil
What is the single most important companion to any of these salads? A fresh loaf of Great Harvest whole wheat bread, served warm at the table with a dish of softened high quality butter for the slathering. That is a complete and heart healthy summer meal.
Do you remember when you had your first "real salad?"
Click on the button below to see more recipes from Scott: