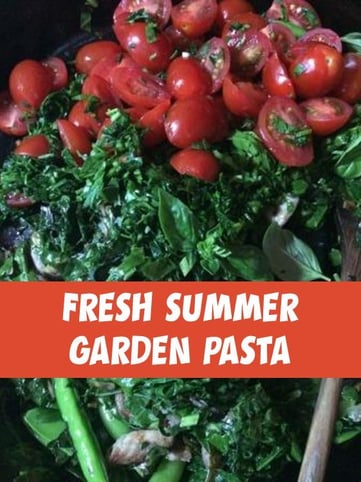 It is the official heart of summer here in Montana and the garden is kicking out fresh produce daily. One of my favorite go-to dinners this time of year is pasta loaded with fresh vegetables that I have just picked outside. If you don't have a garden, fresh produce from your local farmer's market works great as well.
Pasta is a really great vehicle for all sorts of ingredients, so I make variations of this recipe as different vegetables come into season. I started this version with a bountiful harvest of sugar snap and snow peas, an assortment of kale, baby collard greens, cherry tomatoes, and fresh basil. Zucchini, green and yellow beans and asparagus are also all great candidates for this dish. I love the meaty bite from a nice Italian sausage, but you could certainly omit it to make this dish vegetarian.
These simple steps walk you through the fundamentals of making any great pasta dish: starting with a large hot skillet, fresh vegetables and aromatics, a high quality noodle, and reserving some of the starchy pasta cooking water to finish the job. Using the meat as a garnish for the dish rather than as the main event is healthy, economical and good for the environment.
This is an adaptable weeknight dinner that can be thrown together in a matter of minutes and is sure to please. Of course, alongside this we had toasted bread rubbed with a raw garlic clove and drizzled with a fruity olive oil to complete the package…
---
Summer Garden Pasta with Italian Sausage, Greens and Pecorino
Serves 4 as a main course
Ingredients
½ lb. hot or mild Italian sausage, casing removed if necessary
2 shallots, chopped
4 cloves of garlic, minced
Extra virgin olive oil as needed
Crushed red chili pepper (optional)
1 ½ cups sugar snap or snow peas
4 cups assorted summer greens, stemmed and roughly chopped (such as kale, collards, Swiss chard, spinach or arugula)
1 ½ cups cherry or grape tomatoes, halved
½ cup fresh basil leaves, torn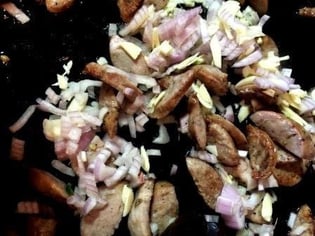 1 lb. pasta, such as tagliatelli, fettucine, bucatini or spaghetti
Pecorino or Parmesan cheese, as needed (about ½ cup plus garnish)
Method
Set a large covered pot of water to boil.
Meanwhile, heat a large cast iron or stainless steel skillet over medium heat and brown the sausage in 1 tablespoon of olive oil.
Add shallot, garlic and crushed red pepper ─ if using ─ and sauté for a minute or two until just beginning to brown.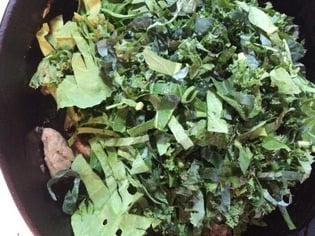 At the same time, add a couple teaspoons of kosher salt to the boiling water, drop the pasta and cook until al dente (reserve 1 cup of the pasta cooking liquid).
Add another tablespoon of olive oil to the skillet along with peas and greens. Season with salt and pepper. Stir and cook for a few minutes until just barely wilted but still vibrant.
Add tomatoes and basil and just warm through.
Add drained pasta, reserved cooking water and a drizzle of olive oil and
toss with tongs over medium heat until pasta is glossy and evenly coated.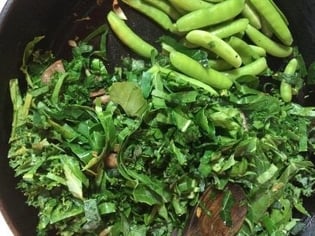 Using a microplane, grate pecorino or Parmesan cheese directly into skillet (about ½ cup) and toss again.
Remove to a platter or plates for service, grating additional cheese on top and sprinkling with more torn basil leaves.
---
Here is the result: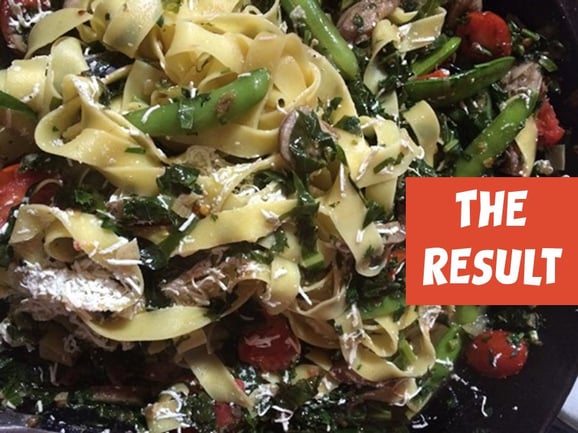 Get more great garden fresh veggie recipe ideas here, including:
For those of you waiting for the results of our reader survey on what the next recipe should be, the votes have been tallied! Toast toppings was the category winner and will be covered in the next recipe post. Stay tuned . . .
Don't miss the next recipe! Subscribe to The Bread Business Blog: