I have written about making soup before (see Chicken Soup for the Heart & Soul), but I was having a conversation recently with a group of Great Harvest owners about how easy it is to make soup once you know how, and it suddenly struck me that this is really the best of times and the worst of times when it comes to soup-making.
I think soup truly is one of the most basic of all foods to make at home but can be intimidating to the un-initiated and it seems like something to turn to only when the weather is chilly and damp. Just because it is getting warmer outside does not mean there is no place in the weekly menu for delicious soup to dunk your Great Harvest bread in.
Soups Are Not Strictly Fall and Winter Fare
The fact of the matter is that some of the best ingredients for vegetable-based soups are at their peak in the warmer months. This time of year, I just shift my thinking from thick & hearty soups to light purees made from spring and summer vegetables.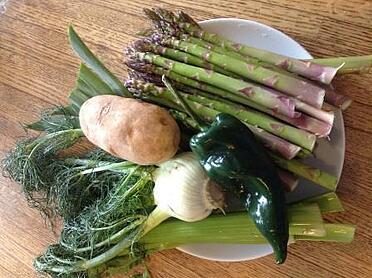 I will never forget my true introduction to the art of soup-making. I was 19 years old and completing my 5-month internship at the renowned Elderberry House in Oakhurst, CA. Ken, the morning cook, took his job of making the day's soup for the restaurant's lunch and dinner services very seriously. He is the one that really taught me the true art and alchemy of light and healthy vegetable-based soup making.
Spring's Bounty of Vegetables Give Rise to GREAT Soups
It was California, it was the middle of the summer and it was 1999. Butter and cream were dirty words, as was anything too heavy and filling— it seemed like towers of salmon, sprouts, and salsify were all anyone wanted. The chef, James Overbough was famous for saying about our guests "feed 'em, Scotty — don't fill 'em." What I learned about soup that summer was that with very similar concepts and technique you can make an amazingly creamy soup out of almost any vegetable— without adding any cream at all.
Asparagus, green peas, roasted artichokes, grilled endive and fennel, roasted carrots, sweet potatoes, broccoli, roasted zucchini and crookneck yellow squash still warm from the restaurant's garden— even certain lettuces, greens, cucumbers, and avocados can all be made into fantastic spring and summer soups. I honestly think one of the best things I created that summer was a chilled avocado and lemon soup flecked with toasted coriander and cumin with a tangle of sweet Dungeness crab and mango floating right in the middle.
Rethink Soup as One of the Healthiest and Freshest Things on YOUR Table This Spring and Summer.
The right balance is important for soups, almost like making a fabulous sauce— after all, what else is soup except a sauce that you want to eat an entire bowl of! Having the right notes of acidity, richness, salt, spice, and that almost-indescribable-but-you-know-it-when-it's-missing umami quality that makes food delicious is incredibly important.
You know when you have a bowl of soup so good that the last thing you hear is your spoon scraping the bottom of the bowl because you want every last drop? That is what I really took away from that summer — it is the hidden, unexpected ingredients in a soup that sets it apart. The hint of ginger, lemongrass, and galangal root complementing a carrot and yam puree. The Granny Smith apples, lemon juice, and Parmigiano Reggiano rind hiding in a grilled Belgian endive soup that take it to the next level.
With the Perfect Balance of Flavors, No Need for Cream
A sprinkle of dry or sweet vermouth, a dash of balsamic vinegar, a squeeze of lime, a touch of hot Madras curry powder, a few drops of Tabasco or sherry— these were the weapons Ken the mad soup scientist used like they were in a hip holster. This was "The Soup Nazi" from Seinfeld in flesh and blood – and he was only there from 7:00-4:00!
I have never made soup the same way since – and hopefully you never will either.
Spring in a Bowl
This soup literally is a taste of spring in a bowl, offering a fresh take on the classic cold weather meal of vegetable soup and bread. It is bright green, herbaceous, redolent of sunny gardens and damp dewy backyards as the weather starts to increase in temperature. This can all be done in one pot and cooks quick on weeknight after work. Leftovers freeze beautifully for a fresh taste of spring anytime. The trick of adding the fresh herbs at the last minute before pureeing ensures a beautiful green color and provides a punch of herbaceous flavor.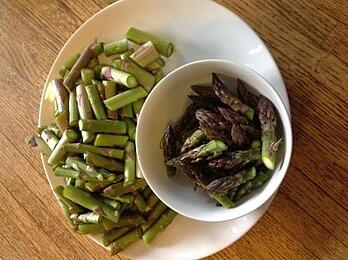 Be sure to reserve the tips of the asparagus for garnish. Don't worry about chopping anything too fine, it is all getting pureed.
Ingredients
1 small bulb of fennel
3 stalk celery, sliced
2 leeks, cleaned and sliced (about 1 C)
½ onion, sliced
1 poblano pepper, seeds removed and sliced
4 cloves garlic, sliced
1 bunch fresh asparagus, about 2 #, ends trimmed, tips reserved, cut in inch pieces
1 small Idaho Potato, peeled and cubed
1 T olive oil
1 T unsalted butter
1 quart chicken stock (see our recipe for homemade chicken stock here)
1 C fresh Italian flat leaf parsley (large stems removed)
½ C fresh basil leaves
½ C Greek Yogurt (0%)

Method
In large saucepan, melt butter in olive oil until foaming.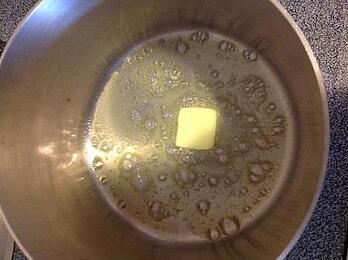 Add first six ingredients and sweat until slightly softened.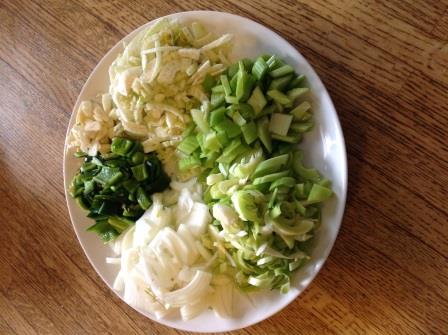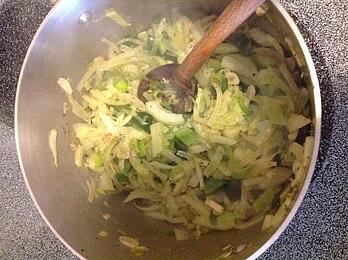 Add stock, asparagus (minus the tips) and potato.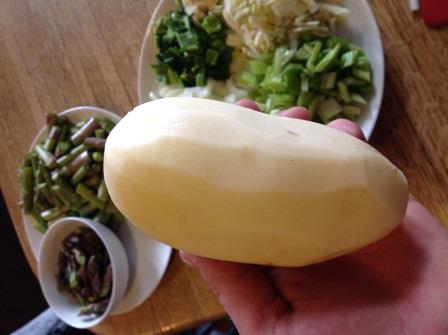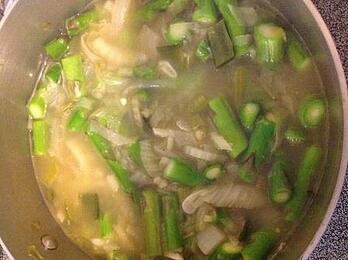 Season with salt and pepper (about 1 tsp. of each, taste for seasoning at the end) and simmer about 20 minutes until asparagus and potatoes are soft but not mushy.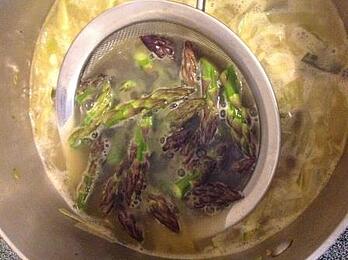 While it is simmering, blanch the tips of the asparagus in boiling salted water or in a strainer set directly in the simmering soup just until bright green (30 seconds). Shock in cold water and reserve.
Add herbs and immediately puree in a blender (I love my Vitamix) in batches. Soup should be smooth and bright green.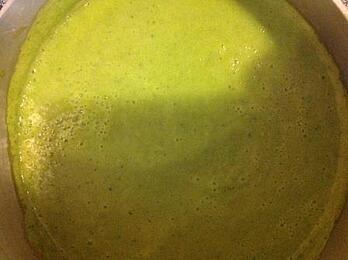 Pour into bowls and garnish with a dollop of Greek Yogurt, a sprinkle of paprika, and fresh pea shoots (if available – some sliced scallions works nicely as well).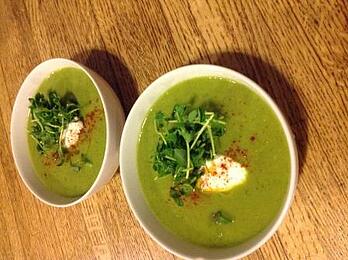 Make a meal of it! Serve with plenty of fresh whole grain bread or crostini for dipping.
You may want to pick up a fresh loaf at your local Great Harvest Bakery.
Find your closest store here:
If you enjoyed this recipe, you might like some of these other pairings of our delicious bread with the best in-season fresh vegetables: