This post is about soup, but it really must start with the chicken.
So just like the age-old question of what came first, the chicken or the egg; I ask what came first, the chicken or the soup?
In this case it absolutely has to be the chicken.
Folks that know me pretty well know that I am a little bit obsessed with chicken. Sure, juicy rare steak is fantastic and grilled pork chops are divine – I buy my half pigs from a lady here in the office that feeds them the leftover whole grain bread from trainings here at headquarters (if you have never tasted a pig fattened on leftover Nine Grain loaves you are missing out) – but chicken is one of the most perfect foods for a myriad of reasons. Chicken has replaced beef as the number one consumed protein in the United States and for good reason. It is relatively inexpensive, it has a variety of parts that are usable in a myriad of ways, and it is probably most useful as leftovers. How many foods can you confidently say that about?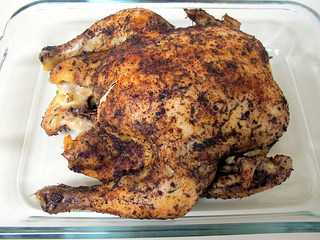 I roast a whole chicken at my house almost once a week and absolutely love that first night when the skin is golden brown and crackly, the meat is warm, juicy, and tender and the entire house smells like absolute food heaven.
But what do I look forward to almost more than the roasted bird itself? Utilizing the carcass and trimmings for soup stock a couple days later. It is one of the absolute most economical ways to eat imaginable – as my frugal mom is famous for saying "We can get at least 4 meals out of one chicken." It is the frigid days of January in most parts of the country and there are few foods more comforting than roasted chicken and its resulting soup.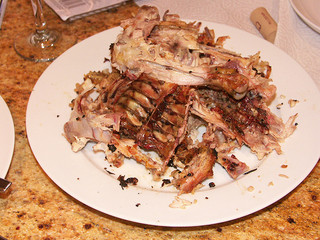 I have blogged about soup before as has Melissa our nutritionist, with good reason. Homemade soup is incredibly healthy (packaged soups are loaded with sodium and preservatives), comforting, and is the absolute perfect complement to fresh whole grain bread.
The culinary world lost two of its most influential people this past year, Judy Rogers and Charlie Trotter. Charlie hardly needs any introduction as a paradigm shifting four-star chef who was an idol of mine, grew up in my hometown of Wilmette, IL and was a big reason that I became a chef. Judy Rogers, the queen of simple comfort food, singlehandedly transformed the roasting of chicken. You can roast them straight from the grocery store, you can soak them in a messy and fridge-hogging brine bucket if you want to, but her simple days-long salt rubbed version made famous at LA's Zuni Café is the best. I could tell you how to roast a chicken, but following this recipe is perfect. Enjoy the roasted chicken in all its comforting lip smacking glory. Then get down to the real reason you roasted a chicken in the first place – the stock and soup made from its carcass.
As a chef, one of the first things to be learned is the power of stock. I am talking culinary school 101 here. It is the foundation of absolutely everything so sometimes I take for granted that folks know how to make it. I get questions from friends, family, and co-workers and once they do it they are hooked. You don't even have to roast the chicken if you don't want to – next time you buy a rotisserie chicken from the grocery store don't even think about discarding that carcass! Stock can also be made in the same way if you roast a Thanksgiving turkey or a Christmas duck. It is also a magnet for vegetable scraps in your fridge (think herb stems, leek tops, mushroom stems, scallion ends, fennel tops, etc.) I often keep a Ziploc bag for this right on the door – you can also keep it on the freezer door if you roast chicken less often than I do.
Chicken Stock
It is essential that this slowly simmers for at least 4 hours. We are trying to coax the collagen and gelatin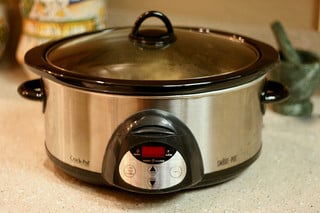 out of these bones as well as flavor and that takes time. My favorite way to do it? A crock pot/slow cooker bubbling away while I am either sleeping or at work. This is magical kitchen alchemy if there ever was some…
1 roasted chicken carcass
1 large onion, rough chopped
2 ribs of celery, rough chopped
2 carrots, rough chopped
4 whole cloves of garlic
1 bay leaf
1 tsp black peppercorns
Several sprigs of fresh thyme
Accumulated vegetable scraps (herb stems, leek tops, mushroom stems, scallion ends, fennel tops, etc.)
1 tsp Kosher Salt
Cold water, to cover
Place chicken carcass and all other ingredients in pot. Cover with cold water by one inch and bring to a boil, skimming off the fat and any included foam that rises to the top. Simmer at a very lazy bubble for a minimum of four hours. Strain carefully through a fine mesh strainer and chill in the refrigerator in an uncovered container until cool, ideally overnight to allow any residual fat to accumulate on top. Skim fat and reserve if desired for sautéing vegetables.
At this point the stock can be used in your favorite soup or sauce recipe or to cook rice, orzo, quinoa, etc. It will keep in the refrigerator in an airtight container for 4-5 days or it freezes beautifully until ready to use.
What are some of you favorite ways to use chicken stock?
Coming up in my next post: My ultimate chicken soup for the soul. Stay tuned!
Photo credits:
roasted chicken: I Believe I Can Fry via photopin cc
chicken carcass: bwideen via photopin cc
crock pot: Bunches and Bits {Karina} via photopin cc