It has been frigidly cold here in Dillon, Montana as of recent. I'm talking 27 below zero as our low for the day – before the wind chill!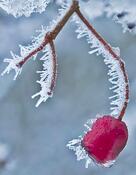 When your thermometer drops like that, soup sounds more appetizing than it ever has before. The good thing about soup is that it can warm you from within, and offers itself as a low calorie meal that happens to be very filling!
Now don't get me wrong, not all soups are going to be a low calorie, healthy option. For example, a bacon cream cheese soup is probably going to be loaded with calories and saturated fat. But if you choose the right soups or decide to make your own from scratch, you can create a meal that is a wealth of nutrition.
Choosing soups that are broth based is the best starting point. Broth essentially translates into lower calories and fat because it is primarily water. Often times though, it can also mean high sodium. So when you are cooking your own soups at home, try making your own broth, such as this broth recipe from Eating Well. If you are in a hurry, look for Pacific Organic Free Range Low Sodium Chicken Broth at the grocery store (it only has 70 mg of sodium per cup of broth.)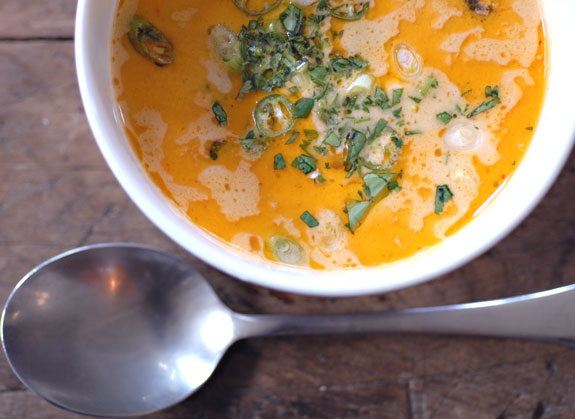 Some of the best ingredients to toss into your pot of soup include:
herbs to add flavor without all of the sodium,
diced veggies and beans to increase fiber, micronutrient, and antioxidant content,
lean protein such as chicken or turkey for protein and to promote satiety while keeping saturated fat at a minimum, and
whole grain rice or noodles to increase antioxidants, micronutrients, and fiber.
Another deliciously healthy option is to make a blended vegetable soup such as this Butternut Squash Leek Soup or this Roasted Corn, Pepper and Tomato Chowder. This is an excellent option if you are fan of the creamy soups, but are still trying to keep calories and fat under control. Essentially, what you do is sauté vegetables or beans with garlic and herbs in olive oil, add broth, bring to a boil, and blend using a blender (regular or immersion.)
The result is similar to how blending juice and fruit will give you a nice creamy smoothie -- blending up broth and veggies or beans will give you a savory cream soup without all of the extra calories and fat.
Soup can be used as the main dish or as a 'starter' to your meal. Here's a great tip: If you are planning to eat an entree high in calories, try having a cup of soup prior to the main dish. This will make you feel fuller faster, causing you to stop eating that favorite, high calorie dish earlier.
What are your favorite soups to make during the winter?
New to our blog? Subscribe to get 2 posts emailed to you each week:
Photo credits:
Ice cold: Feggy Art via photopin cc
Soup: elana's pantry via photopin cc