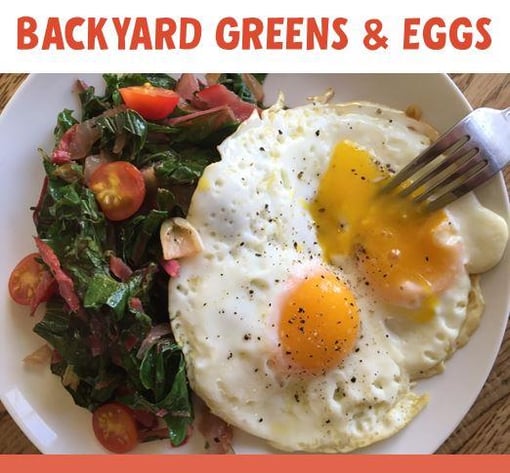 Everyone remembers the Dr. Seuss poem "Green Eggs and Ham." I have discovered that my favorite breakfast alongside my daily slice of whole grain toast is Greens and Eggs.
I don't know what it is about this time of year; perhaps it is the sun rising earlier, but I tend to wake up and jump out of bed sooner. After that first cup of coffee, I am just totally starving and craving something wholesome and healthy.
With six chickens and a bountiful backyard garden with greens that seem to multiply, on most days, I find myself whipping up a quick dish of sautéed greens and eggs in no time at all. There really couldn't be a more satisfying and energy-filled way to start the day than eating a plate of Greens and Eggs fresh from your own backyard.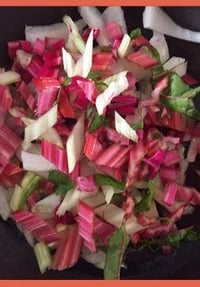 I can't get enough of these protein-packed fresh eggs that come with a built-in, creamy sauce from their just-set yolk. Paired with softened, hearty greens flecked with bits of onion and garlic, then splashed with just a bit of hot sauce—eating Greens and Eggs sets my day off in the best way possible. And it's super-fast, uses just one small pan, and has a great nutritional profile.
I love Swiss chard or kale for this— and don't be afraid to use the stems if you slice them nice and thin. You can see from my pictures that I have the stems from my Swiss chard in the pan with the onions. Stems from greens, when utilized properly, are one of the best-kept secrets of the kitchen. How do I do it?
Scott's Backyard Greens & Eggs
Set a nonstick skillet over medium heat, drizzle in just a touch of olive oil and add a bit of sliced onion (or shallot or scallion). I like a crushed garlic clove in there for a touch of flavor (crushed vs. minced so I can pull it out) and a touch of Aleppo pepper or crushed red pepper for a kiss of heat. Sprinkle with some kosher salt and sauté for a few minutes until the onions are softened slightly and you can smell the fragrance of the garlic and pepper.
Add your cleaned and torn/chopped greens (you want to keep them pretty big – the texture from the big folds is really nice on the plate) and let them wilt slightly. Toss lightly with tongs or a wooden spoon until just wilted. I love to add a splash of probiotic-loaded Bragg's cider vinegar or a squeeze of fresh lemon juice for a kiss of acidity. A few halved cherry tomatoes straight from the garden is a great addition at this point too. Remove to a plate and keep warm (covering with a piece of foil works great).
Return the skillet to the burner, add a touch of olive oil and a small pat of butter. Crack one or two eggs into the pan and cook to desired doneness. Some folks like over easy, over medium, or sunny side up. I have even done this with poached eggs if I don't have to run off to work right away.
When the eggs are done, remove them to the plate with the greens and prepare to enter food nirvana. A splash of hot sauce really rounds it out for me. I know Greens and Eggs might sound like a weird thing to eat in the morning— but trust me on this. I have never felt better since I started eating this a few times a week in the morning.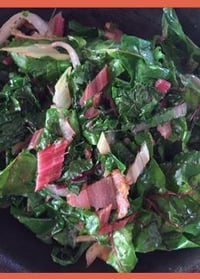 Prefer a heartier, meatier version? Add some diced ham to the pan with the onions. Voila! Greens, Eggs & Ham.
You might not have a prolific garden or a flock of laying hens in your backyard, but you don't need them to enjoy this simple meal. I am confident if you try this for breakfast (or lunch, or dinner) this week you will love it.
If you do try it, let me know what you think!
You may also be interested in these posts: