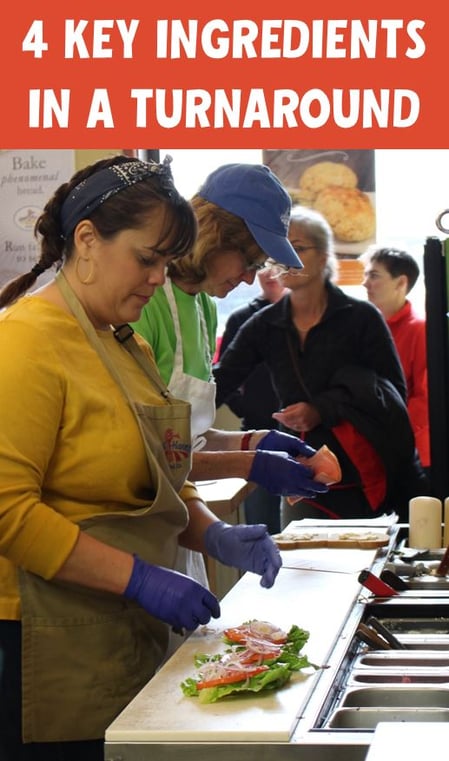 This is a question that we at Great Harvest Franchising now get to answer in real time. Earlier this year, we broke a long-standing policy of having no company-owned stores when we took over our Bozeman location. We did this for a few reasons. We need a place where we can test new products and technology in a real retail environment. We also need more room for training new franchisees.
A mid-sized college town just two hours from our Dillon headquarters, Bozeman is in many ways a logical location for our company-owned store. That said, Bozeman has been an interesting tale for us. The store has struggled for many years. Ever since I joined the company, I've heard from everyone, everywhere that it was in a crappy location and could never survive. What?! It is at one of the most recognizable intersections in the state so that explanation never resonated with me. The question is— why has it struggled? And what can be done about it?
Before I answer that, let me recognize that according to every franchisee, every franchisor has no idea what they are doing. I get that. But it doesn't mean our systems don't work. They do. With Bozeman, now we have the opportunity to show proof.
Four Key Steps
What makes a turnaround work? Without giving away our entire training plan here, it comes down to four broad steps:
1. Get the right people in place.
2. Get the right products in place.
3. Get your customer service right.
4. Advertise.
If there is a fifth step, it is to repeat.
The legend around taking over an existing store is they are all different (which is true) so you can't really develop a system (which is not true). I do think, at the 100,000-foot level, that each of the four steps matter and they need to be done in order. They still apply to all stores. Sure, some aspects of a certain store may be better than others, so you might not need to do as much work matching your inherited team to an ideal one, and you might not need to blow up your menu vs. alter it— but those things still need to be addressed. And it is important to do them in the correct sequence. Adding new products to a crew with holes in it is a mistake. As is advertising before you get your service correct.
That doesn't mean you should use not being done with one step as an excuse to avoid the next one, but it does mean remember the order…
Stay Tuned
We are in the process of working through our turnaround steps in Bozeman and are excited about the challenge of transforming this once-struggling store into a leader for our franchise system. We'll be sharing more of what we learn here on the blog and with our franchise owners in the future.
Thank you for reading.
Learn About the Great Harvest Franchise:
Read More: