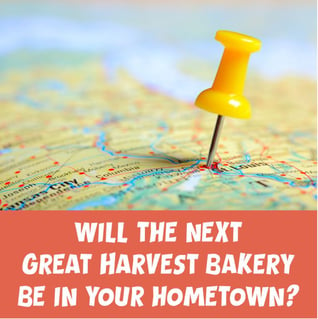 Have you ever wondered whether your hometown can support a Great Harvest bakery? If the population of your community is at least 30,000, chances are very good that it could make a perfect home for your future Great Harvest bakery.
We consider communities of 30,000 to 200,000 people to be small to mid-size markets. And we have a proven track record in markets that fit this profile. In fact, small to mid-size communities helped build Great Harvest, starting with the very first store in Great Falls, MT. Communities of this size tend to embrace new businesses that are locally-owned and operated ─ as every Great Harvest bakery is!
What's Your Local Flavor?
Of course, Great Harvest bakeries have the added benefit of delivering an incredible product line that tastes amazing and is made with high quality, fresh, and simple ingredients.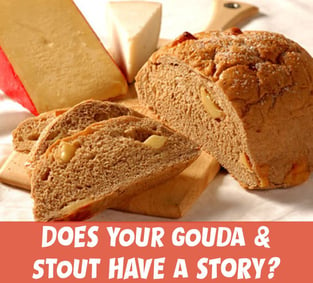 Our bakery owners often incorporate local ingredients and promote locally sourced products into their merchandising as well. This local-orientation helps build relationships and generate interest.
Examples of local items that may be part of your favorite "homegrown" Great Harvest product:
Local Stout Ale
Local Cheese
Local Strawberries
Local Blueberries
Local Eggs
Local Honey
What Images Come to Mind When You Think About Community?
At Great Harvest, we welcome every customer as if they are home from the moment they enter the door. We hand them a warm slice of a favorite bread to eat while they engage with the owner (or, maybe a friendly staff member) who is happy to answer any questions about sandwiches, goodies, or breads that pique the customer's interest.
Our stores surprise and delight, regardless of the size of the community in which they are located, but in small to mid-size markets, they can really stand out as the favorite food business in town.

Owner and Community: The Two Best Indicators of Success
I am often asked if stores in specific regions of the country outperform stores in other regions. In reality, our model is so owner and community driven, that we find those factors to be a much stronger indicator of success than a particular geographic location.
Our two top award winners for Great Harvest's Top Sales for Young Stores in 2014 were both located in smaller communities in two very different parts of the country.
Taking top honors in this category were the team from Goldsboro, NC. Melissa & Tim Taylor and Michele & Bryan Jones are co-owners of the Goldsboro store, where former school teachers Melissa and Michele have created a fun and welcoming, community-driven and successful operation since opening their doors in November of 2013.
Another example of owner and community driven success in this category are Tony Skaf, his wife Karine Amour, and his brother Michel Skaf, who own the bakery in Casper, WY and have made it a key attraction in the community since opening their doors in August of 2013.
Sized-Just-Right Comes With Some Serious Benefits
Owners in small to mid-size markets have several advantages that can be harder to realize in larger metro areas.
A few of these advantages include:
• typically lower rental rates
• higher visibility
• less competition
Many of our owners also appreciate that these communities are great places for families to live, work, and play.
The Next Great Bakery Locations
We have identified 35 Hot Markets where we would like to see a Great Harvest bakery open up in the near future, based on our research indicating these markets are poised to show a lot of love to their local neighborhood bakery.
Download our list of 35 Hot Small to Mid-Size Markets
Ready for a Great Harvest Bakery:


Wait until you see what these communities have to offer!
If your town isn't listed, but you believe it shares some of the same benefits and demographics that the communities on this list offer, please contact us and we will be glad to run some initial reporting to determine the viability of your community for a Great Harvest bakery.
Read more about locally-owned, community-centric businesses:
Image credit: Thumbtack © Can Stock Photo