A little over a year ago, Melissa Taylor and Michele Jones were saying goodbye to teaching careers and preparing to open a new local business, their own Great Harvest bakery cafe in Goldsboro, North Carolina. Before they knew it, they were celebrating their one-year anniversary.
Looking back, Melissa says she was never nervous about opening. "I was just excited to see the hard work pay off."

Michele says "Melissa and I had done our homework. I knew that Great Harvest products would be loved by Goldsboro." She was right.
Thanking the Community for Helping to Make Their Great Harvest a Success
The bakery cafe just celebrated their one year anniversary with a week-long party that included everything from amazing specials to grand prizes. The ladies own the business along with their husbands Tim and Bryan and, like the business, the celebration was a family affair. Kids and grown-ups alike joined in, even on the face painting.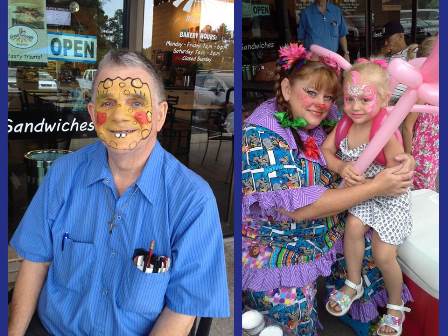 While they expected a fun week and knew they'd be baking some extra products and serving more sandwiches, they had no idea how truly successful the event would actually be.

"It was HUGE because of our awesome customers," Michele says. "They supported us throughout the whole week, with some coming every day. Many were spreading the word for us to family and friends."

Melissa added, "Our community definitely supports local ownership. I also think because we are two women operating the business each day they love hearing our story. Our community LOVES Great Harvest and they showed us that with the great response at our anniversary and throughout the past year."
Repaying Community Support with Excellent Service and 'Scary Good' Treats
The two are proud that they have made a difference in their community. "We give back whenever possible and strive to give the best customer service in town which builds comradery with our customers and makes them feel at home every time they visit," Michele says.

Melissa says, "Some of the first-time responses have been really memorable. One that stands out for me is a couple who tasted our Apple Scrapple with the Bumble Berry Whipped Honey. As they walked toward the register eating their slice they kept oohing and ahhing about it. Finally the lady said, 'This is good…scary good!!!' Priceless!"

They both admit the work can be challenging. For Michele the most difficult part was learning all the facets of owning a successful business - accounting, marketing, sales, managing inventory and cash reconciliations – all of which were new to her. And she adds, "Getting up at 3:00 a.m. to bake bread is not easy either."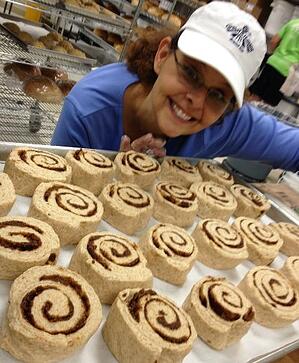 At the same time, she is able to laugh about mistakes made during their first year. "One day we forgot to attach the flour brute to the mill when we were grinding the wheat. There was nothing to contain it, so flour was everywhere!"
And the Best Part About Owning Their Great Harvest?
For Michele, "It's the flexibility. We have flexibility in our schedules, the products we choose to bake, and the way we meet our customers' needs."
For Melissa, "it is pleasing the customer and trying to provide 100% satisfaction. I love having the 'power to please!'"
Opening a Great Harvest bakery cafe allowed them the flexibility to build a business they love that is loved by their community.
Read more about this dynamic duo of women bakery operators here.
Read stories from other amazing people
behind Great Harvest's locally-owned bakeries across the country: