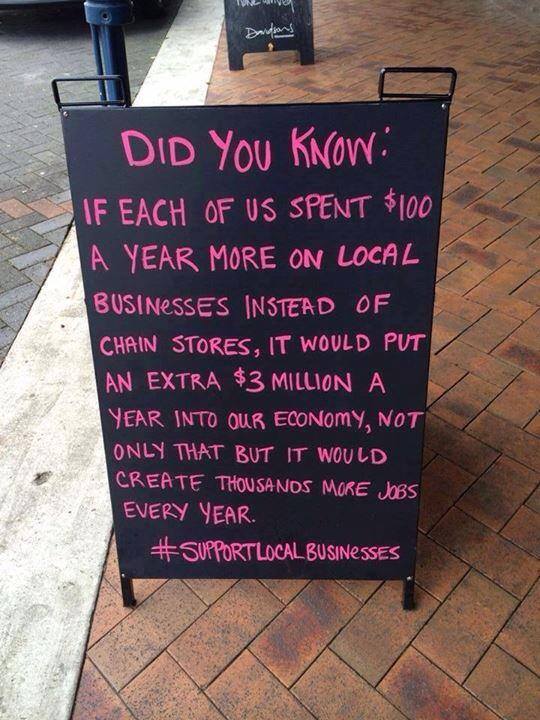 Yes, it does. This picture was making its way around the internet and it sure has an appeal to most of us that are focused on business trends. Since I run a hybrid business I decided to do some research and see if the claim is true.
First, what do I mean by hybrid business? We are a national franchise company but all of our stores are locally owned. That is to say all profits stay in the town where the store is located. From a bottom line perspective, we are local. From a legal perspective, we are not entirely. Unquestionably, our loyalties lie with small, locally owned businesses.
Do You Stop to Think About Which Stores You'll Support?
There have been numerous studies that prove local businesses recirculate more of their dollars back into the local economy. The most accepted number is the one that is quoted in the picture: 3-to-1 (vs. a national or global company). It is really impossible to generalize because all businesses are different and food businesses such as ours tend to leave more dollars locally than others. That is because labor is such a big component of what food businesses do and that definitely stays local.
But what about a hybrid like ours? A very small percentage of revenue (five on average) leaves the local economy in the form of franchise fees but in all other respects we function just like any other local business that leaves three times more money in your hometown.
Where Will You Get the Most Value For Your Money?
I tend to not believe most of what I see on the internet —like most people— but this one is true. If you want to support your local economy, shop at a locally owned business such as ours. All of the profits stay local. Most of the expenses do. It is good for your neighborhood, if you support that.
Contrast that with a company which many people (including me) admire, like Chipotle. There is a huge difference. They get most things right but they are a publicly-traded company and their profits go to Wall Street. Not much of what they do stays in their neighborhoods. And, most franchises that specialize in having their franchisees own multiple stores in areas where the owners don't even live —like Panera— do the same thing. They take money out of a community without putting it back in. In our franchise model, where each store is individually and locally owned and operated, that just isn't the case.
You do have choices about how you spend your money. If you want to support your local economy, do it by shopping at locally owned businesses like Great Harvest.
Read more posts about Great Harvest in the community here.
Do you think it's important to shop locally, at locally owned businesses? Or does it take a back seat to other considerations? We'd love to know your thoughts; let us know in the comments.