How do you find and keep good employees?
It's one of the biggest challenges facing small businesses and Great Harvest Bread stores are no exception.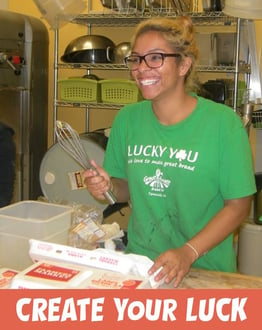 Great Harvest bakery owners often tell me they are so "lucky" to have good people, but I see their "luck" springing from how they treat their crew and the work environment they've created. Of course, it's important to hire people who have the potential for the skills you need, but that's the starting point.
Stack the odds in your favor
The best business owners seem to understand the importance of a symbiotic relationship between employee and employer as well as the relationship they build with customers; they attract good people because they appreciate, mentor and empower them. Yes, there is luck involved when your labor pool is good, but the other kind of "luck" involves creating a space where people feel valued, enjoy what they do, learn, grow and develop valuable skills.
Entry-level workers can bring a lot to the table
Paying higher wages may help attract good people, but it's often not an option if you're on a tight budget. Plus, people with experience may not be what you need most to benefit your business. My father, who ran a ranch for over 60 years, liked to hire young people who were "teachable" and not set in their ways. People with passion and desire to grow personally are the ones who can help your business grow. And they'll often turn into employees you can afford to pay more because they bring needed value to your business.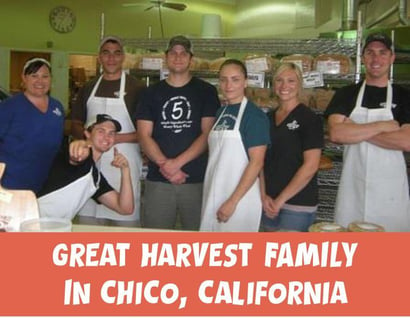 Giving your employees space to learn and support to grow creates a symbiotic relationship. They gain valuable life and work skills and you gain not only good employees but also the satisfaction of mentoring and helping them. And if they move on to other careers, you've both benefited from the experience of working together.
Provide work they enjoy
Good work environment, the sense of being part of a family, and the potential to develop skills are major attractions for many people. Have you ever asked a checker at a grocery store how they're doing, and the response is how glad they'll be to get off work in an hour? On the other hand, I've seen Great Harvest employees hang out after their shift is done (and after they've clocked out) because the environment benefits them in more ways than a paycheck.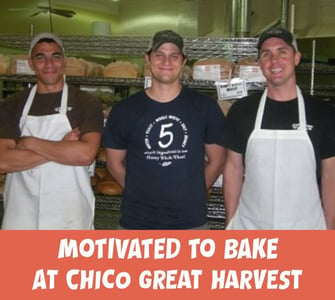 How do you mentor people? Motivation is intrinsic. You can't motivate someone. Motivation comes from within. A number of successful Great Harvest owners have told me they hire for passion and attitude, for the potential to learn skills, not just for the skills people currently have. Years ago, I heard a bakery owner comment that he could teach people skills, but he couldn't teach them to be "happy campers."
Skills are taught, attitudes are not
Another step in successful mentoring is matching people with jobs where they can excel. Everyone has different strengths and areas where they'll flourish. It may involve some trial and error, but giving people the opportunity to play to their strengths will benefit everyone. Good training and tools are paramount. There's little that is more stressful on a job than being thrown into a position without adequate training and direction.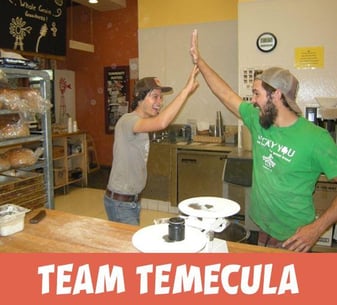 There are a plethora of philosophies, styles, tips and books on how to manage people. Where the rubber meets the road is in the relationship between employer and employee. Are people allowed to take responsibility, learn from mistakes, build their confidence and develop both work and life skills? Does the owner work side by side with the crew as part of the team? Is there support and appreciation?
Grow with your team
I just visited two Great Harvest bakeries that recently were purchased by new owners, Chico and Temecula, CA. I am so impressed with how the new owners are managing the transition, working with and empowering their crews, continuing a great work environment and infusing it with their new energy.
Keeping a work environment steady and productive is a delicate balance. It's like a living organism. Change in general isn't easy for people, and particularly change in management. These new owners are pouring their own caring, passion, skills and experience into the mix. True to Great Harvest culture, they are creating their own very cool unique neighborhood bakeries.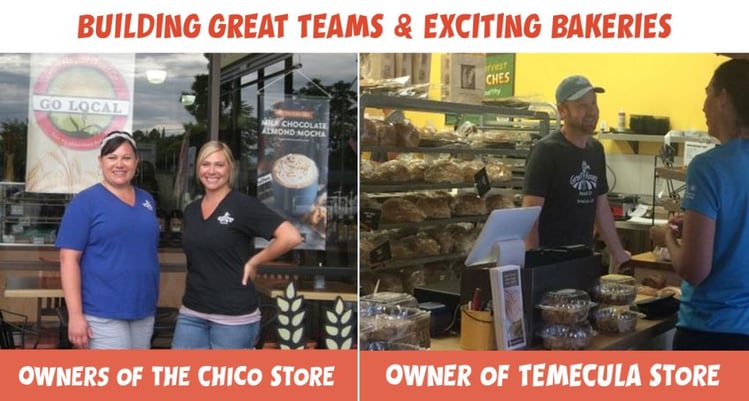 Chico and Temecula were both purchased as existing bakeries for sale. If the idea of purchasing an existing bakery intrigues you, get more information about the benefits and options of this route.
If you are interested in reading more about bakery employees, start here: