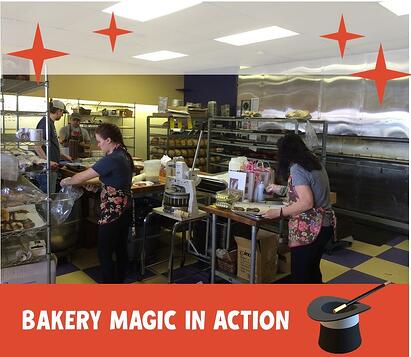 It happened again. I had walked into pure bakery magic. Music thumping, bread dough flying, line clear out the door magic. From the moment I walked into the Owensboro, Kentucky Great Harvest last week until the moment I left — two days later — the buzz never stopped. It was Great Harvest the way it should be.
Owner Greg Garrard has an absolutely unbelievable operation that is beloved by the residents of Owensboro – and for good reason. The bakery really serves as the heartbeat of the community, providing a morning gathering place over delicious goodies, coffee, breakfast sandwiches…and of course, free hot slices dealt out like cards at a Vegas poker table! The fresh hot bread continues to come out of the oven throughout the morning, filling the air with the aroma of fresh baked, homemade goodness. Greg and his crew seem to know nearly every customer by name, always making time for a quick chat even while moving customers efficiently through the purchasing process.
Like all the best Great Harvest owners, Greg is in the thick of things all day long, directing traffic and leading his dedicated crew like a championship NFL quarterback — never stopping, always forward, better, faster, stronger, tighter. His hands are on the dough, in the oven, on the breadboard cutting free slices for customers, counting catering orders for the day, tasting products. This is what we call owner horsepower and there is no substitute for it.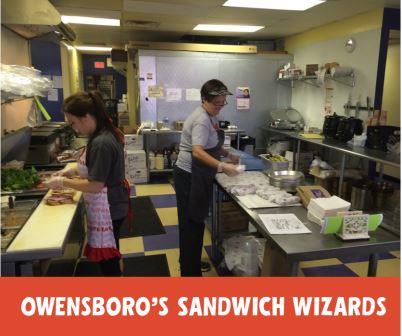 At the Owensboro Great Harvest sandwiches are treated like a religion. They start early and they start fast. The first sandwich employee comes in at 5:00 AM to begin the day's prep — and she doesn't stop hustling until after 1:00 in the afternoon, when finally she has to go pick up her grandkids. Their sandwich assembly team is a well-oiled machine. I have been to Great Harvest bakeries all over the country and I have never seen a faster sandwich crew. Ever. They communicate constantly; reaching over one another and grabbing ingredients for the same sandwich intuitively, functioning as one almost like a giant octopus.
There is virtually no wait time for the customers, and the line is to the door. Cold and toasted sandwiches, Panini, soup, salads — this is the hot spot for lunch in Owensboro. On the days I was there we did close to 400 sandwiches — and they made it seem easy.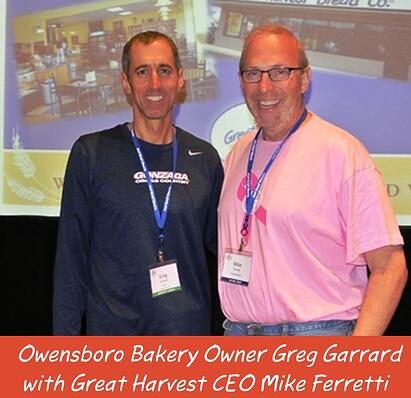 As Greg says, "My daily lunch sales are not limited by what we can produce, they are limited only by my seats and my parking lot." I was incredibly impressed with his crew in the time I was there. They move fast, they think quickly, and their personality and customer service skills are nothing short of electric. I asked Greg how he finds and hires such great people. His response? "I hire athletes. I'm an athlete, and I think you need an element of that to survive here." This is the bakery business as a competitive sport.
Greg is no stranger to competition. He is constantly looking for products to add and ways to make the bakery better and increase sales. One of his business tenets is never say no. I have blogged about the power of starting with yes before, and I firmly believe the best food service businesses function in this way.
One of my heroes is restauranteur Danny Meyer (you may recognize his name from the recent Shake Shack IPO — he is now worth $400 million after turning a NYC burger stand into a global empire) who runs ten restaurants in New York in addition to the Shake Shack. Danny preaches exceeding guests expectations at every corner. The "enlightened hospitality" philosophy that he preaches is paramount to his success. Greg embodies this philosophy to a tee. As Danny's philosophy goes: It is not only the actual delivery of the product to a customer that matters, but how that delivery feels to them that really matters and guarantees repeat business.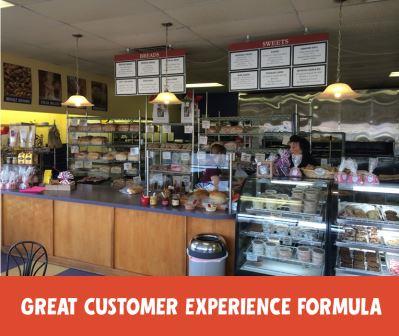 At the Owensboro Great Harvest this is evident every moment — employees are having a blast, customers are receiving amazing service and products, and there is a line out the door. When Greg purchased the bakery at the end of 2000, it did a low six figures a year in sales, and over the past 14 years he's transformed it into a dynamic seven figure business that continues to grow. In fact, the main reason for my visit last week was to help Greg prepare for his second location that is slated to open in late May on the other side of town.
During my visit the news of the new bakery went public — and it made the front page of the local newspaper and the 5:00 local news. Countless customers came in super-excited that Greg was expanding. All of which is a testament to the powerful brand the Owensboro Great Harvest has built in a town that loves them. True bakery magic!
How would you like the opportunity to make your own bakery magic?
With the Great Harvest bakery franchise you control your earning potential.
If you enjoyed this post, here are some others that you may be interested in: