In Franchise Development we are frequently asked, "What characteristics are common amongst your most successful bakery owners?" In a Freedom Franchise system where we value individuality, this is sometimes a challenging question to answer. When I am asked this question, I immediately reflect on the most successful owners I know personally and realize that as people, they are very different. This indicates to me that you can have a variety of skill sets and diverse backgrounds, and still be successful. However; upon further reflection, I recognize common characteristics that each of these owners — either as individuals, or within their owner partnership — possess.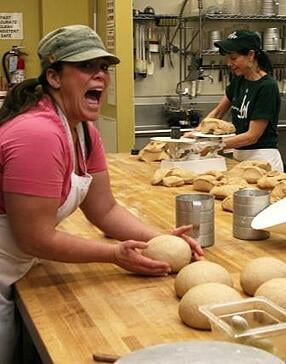 I recently turned to our Franchise Field Teams, the individuals who work most closely with our bakery owners, and asked them to share the common characteristics that they identify with successful ownership in our system. The six team members who provided feedback for this list represent over 90 years of combined experience working with — and in support of — our bakery owners.
Here are our Top 10 Characteristics of Successful Great Harvest Bakery Owners:
1. Passionate: This encompasses passion for your business and passion for and within your life. Mark Peterson, our Director of Bakery Support & Services shared the following regarding the importance of passion for your business, "The successful [bakery owners] are passionate about running a small biz and making customers happy. They enjoy creating an inviting atmosphere and serving others." Lauren Johnson, Tracker & Trainer, expanded on the significance of having passion beyond and outside of the bakery, "They need to be passionate about the business, but also about other things in life. Without a hobby, the bakery will consume someone. They need to make time for their passion and bring that passion into the bakery."

2. Open-minded: Our model is designed for bakery owners to put their own spin on the business, but building on over 30 years of running strong and exciting bakeries, we have developed a model that works and is continuously being evolved through best practices to adjust to changing market conditions. We do know what works and if you want to do everything your way (rather than following franchise recommendations) you might find yourself struggling. Mike Ferretti, CEO of Great Harvest, shares his observations along these lines, "The stores that struggle the most are the ones that are not open to suggestions and change. People that reinvent the wheel are the ones most likely to fail."

3. Ability to Focus & Prioritize: In a busy retail environment, where all of the products are made from scratch with fresh ingredients, things don't always go as planned. It is easy for owners to get sidetracked and caught up in the day-to-day activities. Renea Martinson, Post Tracker, commented on this, "Some of the best owners I know are able to prioritize their time and focus on the top priorities for the day, week, month, etc. The struggling owners that I work with have a tough time focusing on what needs to get done."
4. Flexible & Nimble: Although it is critical to stay focused on a general plan to meet goals and business objectives, a bakery owner must remain flexible and nimble. Mike Ferretti explains this: "One has to be able to adapt one's work day, or night, or both, when a small business owner. You can't be locked in on 'this is what will get done today.' The ability to improvise is critical." Lauren provides a real life example for us, "If something doesn't go as planned, they need to be able to be flexible and try something different. The cheddar garlic gets ruined and there is no savory bread for the day? They'll look at the ingredients on hand and make something else rather than giving up."

5. Balance of Entrepreneurial Spirit + Willing & Able to Take Advice: The Freedom Franchise model is definitely unique, and does require balance between entrepreneurial spirit and following structured processes and advice from the franchise and other bakery owners. Bonnie Harry, who recently celebrated her 26th anniversary here at the franchise office, has seen nearly every success and failure within the system. She says, "Sometimes the people who want us to tell them what to do every step of the way aren't willing to take responsibility to actually make it happen in their stores. People need enough "ego" to take charge but the humility to listen to good advice."

6. Proud, Yet Humble: It is difficult to be successful without having pride in what you do. Success should be recognized and celebrated. It is just as important to accept responsibility when something doesn't go well. Careful analysis of what went wrong, the strength to accept responsibility, and the humility to ask for help when needed are critical to bakery owner success. Kayla Conner, who provides ongoing support for our bakery owners, sums up successful owners this way, "Sort of a weird combination, but I think someone with a real passion for what they do, the determination to succeed and pride in the big and small accomplishments along the way can truly be successful in this business. But they also have to accept responsibility for the setbacks, and be willing to learn from their mistakes while keeping the business moving forward. That means honestly communicating with their families, their crews, and us at the franchise about their weaknesses and strengths so others can help them make progress towards the goals they have for themselves and the business."

7. Determined: Successful bakery owners are persistent and not easily deterred. They recognize success isn't always immediate. After experiencing many openings, and tracking owners through the early stages of owning their bakeries, Lauren knows this first hand, "Things won't go well the first day in a bakery. A recipe won't come out; a new hire will make a mistake; a marketing campaign won't quickly deliver; a product won't sell well initially. But it doesn't mean those things are wrong — they just need a little time to develop and a persistent owner to see them through to success."

8. Intuitive & Personable with a Positive Attitude: We have successful owners who are extroverts and successful owners who are introverts. What they share is the ability to read, connect with, and understand people. Bonnie explains those characteristics in this manner, "I feel like owners need to have a certain amount of "emotional intelligence" to be able to hire, train, delegate and interact with employees and customers." Mark expands on how much a bakery owner's attitude can also impact his/her relationship with employees and customers, "[They] must be positive, upbeat and magnetic, most of the time. (We all have our moments, but…). Employees, customers, neighboring businesses all react to one's attitude. It needs to be consistent and upbeat. Owners with poor/negative attitudes struggle to get a team to follow and execute on a consistent basis."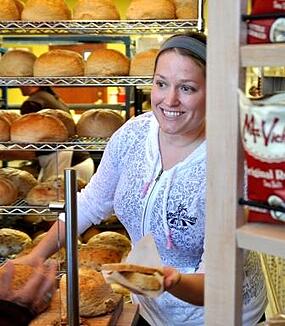 9. Lead by Example: Successful bakery owners are willing to do the dirty work when needed. They are experts in their craft and can handle production when their baker doesn't show up for a scheduled shift. They recognize their customers by name and pitch in at the front counter during a rush. As Mark explains, "Owners that work shoulder to shoulder with employees starting during the orientation and beyond seem to thrive. Owners that don't orientate, train, work shoulder to shoulder seem to struggle. If the owner doesn't really understand the biz and [it shows], it's hard to gain the respect and drive of the crew. (I'm speaking mostly in terms of newer owners here. Once they've done the above, they can then step back and delegate to people that will lead in their way)."

10. Understand You Are the Leader: It is critical for successful bakery owners to recognize that they do need to distinguish themselves as the leader for the overall health of their business. If they spend all of their time doing the jobs that they have hired others to do, they will lose sight of the bigger picture and run out of time to do the jobs that only they can do. Lauren makes the distinction between working side by side with your employees and doing the work for your employees, "They are the face of their bakery. They must delegate things to their employees and not get caught sweeping the floors at the end of the day when it's someone else's job. But they also need to be able to sweep the floors, clean the toilets and do any job in the bakery – leading by example."
Mark, meanwhile, explains some of the critical jobs that fall to the owner and must be prioritized within the hours available, "The owner must be able to stay organized and [be] on top of many things. Ability to multi-task without bogging down in the small details. This is critical for all aspects if the biz. Staying on top of numbers, marketing, etc. If you are organized and timely it also allows you to step back, take time off and see the big picture of the business."
Does this sound like you (or a combination of you and your business partner)? If so, You may be destined for bakery cafe success!