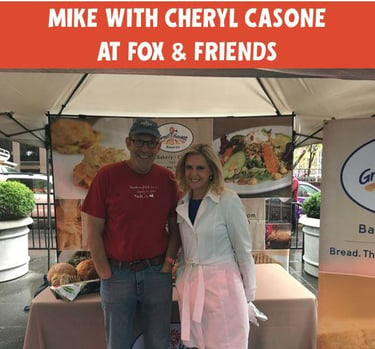 Last weekend, Great Harvest was part of a feature on Fox & Friends. The piece was on seasonal job hiring, but the larger purpose was to tell people about Great Harvest and raise our profile to help our stores sell more product. Mission accomplished.
For me, it was an experience worth talking about. There is a whole lot more going on behind the scenes at those shows than you might think. And the people at Fox could not have been nicer. The show's producer and the reporter, Cheryl Casone, were both amazingly kind and calming. Everyone was.
The classic coaching comment is "even though there are 1.5 million people watching, don't be nervous." Okay. There may be that many people watching, but it really is just a simple chat with Cheryl Casone. You don't see the audience, so it seems like they aren't there.
Watch the clip:
The real takeaway from this experience isn't what was captured on camera. It occurs to me the best part of the story is appreciating what's special about Great Harvest through the eyes of someone getting to know us for the first time.
I do a fair amount of public speaking about Great Harvest, as one would expect, and the experience is generally the same. People love our products. People love our story. People love our commitment to our communities and family farms.
Introducing people to Great Harvest is always a treat
I always take bread and goodies with me for the audience, wherever I go. I feel like a kid on Christmas watching people experience what we do for the first time. The star flavor with the Fox crew was Pumpkin Chocolate Chip. No surprise there. But to watch them smile as they took their first bites was really fun.
Other companies don't give their teams that thrill. I am not saying we are the only fun product in the world, but I will say that it is rare to have a business that makes people smile. That has a model that works. That has people who are fun. That has a bunch of people who genuinely enjoy working together. Lots of businesses may have one of those appeal factors. Or two. Some do three. But not many do all four. We do.
As I said on Fox & Friends this past Saturday, we are looking to add 60 stores in the northeast in the next five years. If the idea of having a business that touches on all four "appeal factors" sounds good to you, give us a call….
Learn about bakery cafe ownership with Great Harvest:
Read more: