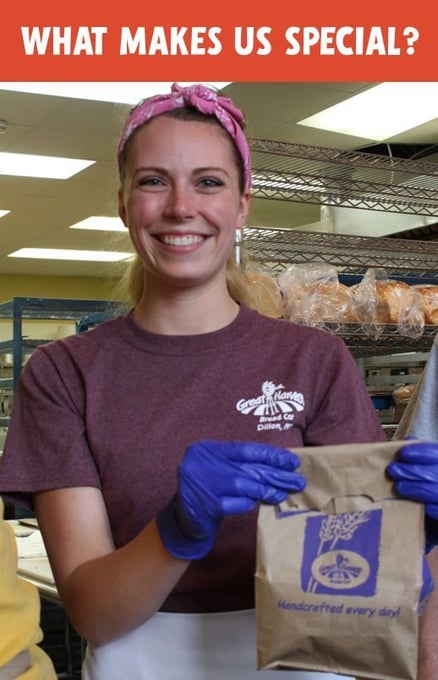 There was a lively discussion last week as we considered the question, "What does Great Harvest stand for in terms of food philosophy?" More on that another day in another blog from another author. For now, here are my thoughts on why Great Harvest is in a class of its own.
What makes Great Harvest special? Our approach to food, people, and business.
From about 100,000 feet, we believe in using simple, quality, fresh ingredients to hand craft (when possible) products with phenomenal taste. We want to do as much as we can from scratch. We want our labels as clean as possible. Our freshly milled whole wheat flour is free of preservatives, conditioners, and other additives. We want healthy food but don't see ourselves as a health food store. We are more than a bread store. Or a sandwich shop. We believe in providing meals and solutions. Not just bread and sandwiches.
We also believe in entrepreneurship. We buy our wheat only from family-owned farms. We believe our relationships with these family-owned farms allow the best control over the quality of our wheat — so we can be sure you know where your bread comes from. We, with a lone exception, believe in local ownership of our stores. We believe this local ownership gives you, the customer, the best chance to have your needs met every time you walk into a Great Harvest.
In the end, it is all pretty simple. Make a phenomenal product (from scratch as much as possible) and keep the label clean. Have people we know and trust do that for you. Family farmers and local owners. It really is that simple.
Read more about what makes Great Harvest special: