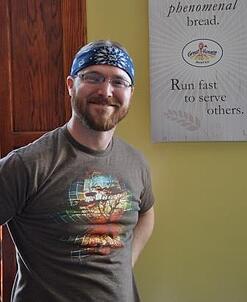 There's no doubt that Brent Felchlin, new owner of Great Harvest De Pere, WI, is a quintessential example of the local Great Harvest bakery owner, not to mention a wonderful human being. Brent grew up in a small town ten miles from the bakery, so many of his customers have been friends and neighbors all his life. He remembers getting awesome homemade cookies from the local bakery at his school. Deb, former owner of the store with her husband John, was a guidance counselor at the school. She provided Great Harvest cookies to kids for good deeds done.
All Signs Point to Bakery Ownership
A few years later, Brent encountered Great Harvest again when they did a Baker of the Day event for the Cerebral Palsy Center at which he provided music and gardening therapy for the clients. At another health care benefit, he recalls seeing a lady giving out slices of fresh baked bread, and on her t-shirt were the words, "All We Knead is Love." At a fundraiser, Great Harvest raised $4K for a gardening project Brent was involved in (raising beds in community gardens so those with wheelchairs could participate). Each time he bumped into Great Harvest, he felt the core values of this bread bakery business resonate with his own values.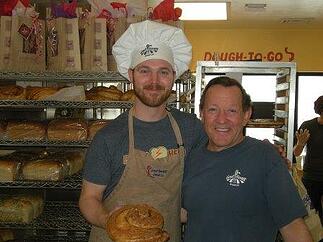 When Brent got involved with Great Harvest through Farmer's Markets, John Skyrms, then owner of the DePere store, saw a great opportunity to bring this young man into the business. It wasn't too long before Brent became manager of the store, and they started talking about a buyout where Brent could be sole owner. Six years later, those talks have come to fruition.
Brent comes to bakery ownership with lots of customer experience and, more importantly, the understanding of what it means to serve and connect with people. He genuinely wants to make the world a happier place. Kahlil Gibran's quote graces the store's breadboard: "There are those that give with joy, and that joy is their reward." Another favorite Kahlil Gibran quote…"Bread baked without love is a bitter bread that feeds but half a man's hunger." Brent not only cares about providing good food, but strives to feed the souls of employees and customers alike.
Their Motto On Bread Baking? Bake It With Love, and Seal It With a Hug.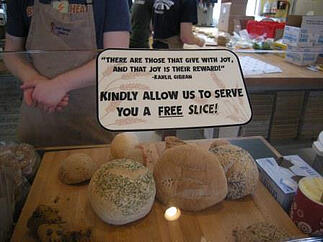 Part of Brent's road map for success revolves around cultivating community, using gardening as a perfect analogy for people management. Create fertile soil, provide the right nutrients, enough water, and make sure the right person is in the right spot. When all that is provided, people will root deep. Sometimes you have to pull weeds, but the benefits of a healthy work environment far outweigh the task of occasional weeding.
Brent described how they work on "alchemy of attitude," transforming the way one looks at things, turning what could be perceived as negative into a positive. In his words, the "crew is amazing," and he "feels such gratitude toward them."
Cultivating Community and Positivity to Bake Up Success
Another part of his road map for success is to reinvest, keep up with the times, update, and don't become stagnant. Even as a manager working toward ownership, he took charge of refreshing the lobby and making sure that customer service and quality were up to par.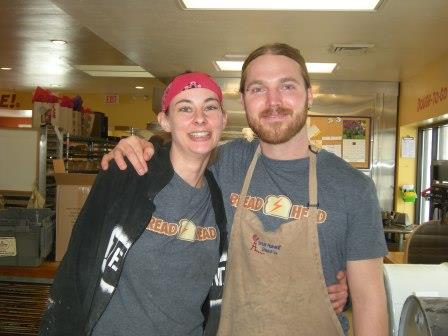 Brent says he is in this for the journey. He's an artist, a musician, a baker, a gardener, and most of all, a compassionate human being. And now he is a small business owner. His energy, enthusiasm and caring are contagious. When he talks about his work…service to people, caring for people through food, it's coming from the heart. He exemplifies that subtle, yet powerful, quality of passion that leads to success.
Whenever we talk (and having seen his words in action in his store), I'm struck with how much one individual can positively influence those around him. I look forward to watching and learning from Brent as he leaves his mark on this business, community, and on the world.
Room to Do What You Love and Live With Meaning
Do you care about doing good and want to make a real living without having to compromise your values and principles?
Find out how local bakery ownership can fit perfectly with your goals and community values. Idealists and creatives welcome.
If you enjoyed this, you may also be interested in: