How do you stay engaged in your business, and (more importantly) engaged in life? I recently had the chance to learn about this very subject from Bill and Peggy Dial, long-time owners of the Albuquerque, New Mexico Great Harvest. The Dials recently sold their Great Harvest Bread store after 25 years in the business.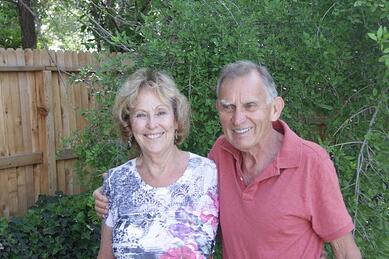 These two defy time with their youthfulness; no one would guess they have seven to eight decades of life experience! Just last year, Bill told me he was ready to go another five years in the bakery business, but after switching gears and deciding to sell, he's been excited at the prospect of having more time to do the other things he loves − like rock climbing, reading, traveling, and exploring life.
My path first crossed with theirs over 20 years ago as a field consultant supporting bakery owners in the Great Harvest Community, and it has resulted not only in a business association, but a life-long friendship. When we last spoke, I asked about their history, their lives before Great Harvest, the things that shaped their lives and their business.
Peggy and Bill grew up in West Virginia. Peggy was a teacher until she had their three kids: Ann, Jim and Rebecca. Bill worked in the chemical industry, selling chemicals for industrial water treatment. Service and quality were important in his business, but there was no emotional appeal like providing good food; doing something that related emotionally to peoples' needs and desires. As Bill described, "You couldn't hug a barrel of chemicals and get a nice warm feeling from it!"
Bill told a touching story of businesses he observed in his community as a young man, with owners (including his father) that made it a point to embrace all people — customers and employees — without discrimination. At a time of great social unrest and civil rights distress, that was not an easy thing to do. The unbiased, fair and caring actions they observed in these courageous people impacted their future decisions and their own business model.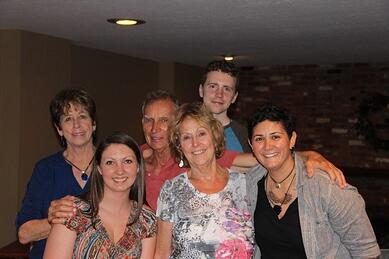 Bill's job took the family around the country. When they lived in Kansas City, MO, they frequented the Great Harvest Bread store owned at the time by Vic and Linda Hannick. They became intrigued with the idea of opening their own Great Harvest. In October of 1988, they signed a franchise agreement for Albuquerque, NM, and opened their store in June the following year. True to the Great Harvest model, the Dials created their own bakery vision: a neighborhood bread store with a beautiful variety of excellent breads and delicious sweets to delight the palette.
Over the 25 years they owned the business, they had a lot of fun developing a diverse product line, getting to know customers, working with employees and creating a wonderful neighborhood bread store that's now an icon in Albuquerque. They explained that the three cornerstones of their business were: equal concern for employees, customers, and the health of the business itself. They found their unique avenue to give back to the community, connect with people and make a difference in lives, and provide great food in the process.
Years ago, Peggy had taken culinary courses and done her own share of creative cooking. She had the drive and innovation to try new things. Bill had his own food passions, like the artisan breads. I remember Bill commenting to me years ago how fun the business was! Over time, and with the help and creativity from their kids, grandkids, and crew, they kept the business strong and always fresh.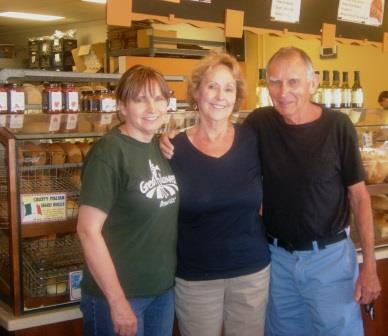 It became a family-run bread business with their daughter Ann managing as well as working shifts, Jim doing top-notch customer service and filling in wherever needed in production, and grandkids working when they could. Their grandson, Ryan, developed an entire line of products made from gluten-free ingredients for customers looking for that option. Bill and Peggy valued having a business that could have a positive impact on the community. Their employees really liked working there. It wasn't about the money. It was about being part of a caring community.
When I asked about their youthful appearance and attitude, Bill's response was that people can deliberately mold their outlook in life, and foster the desire to be youthful both in terms of the physical and the emotional. He and Peggy both read a lot, they exercise, they stay mentally capable and search for things they think would be exciting and interesting. He wanted to take me climbing at the new gym but we ran out of time! Next visit, it's sure to be on the agenda.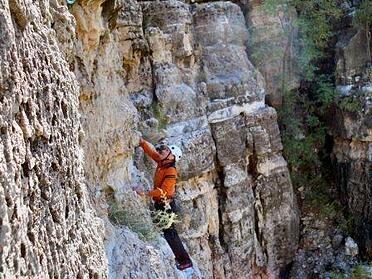 They're looking forward to seeing what the new owner, Jim Guthrie, will do with the business. They see his passion and excitement, his desire to leave behind the corporate life (much like they did 25 years ago), and to leave a meaningful mark on the community and on the lives of customers and employees.
What a pleasure and inspiration to know these two. Thank you, Bill and Peggy, for truly living your lives, and mentoring us all to be the best we can be.
You can read more about the Dials' family-run bakery in this blog post.
Want to Learn More About Bakery cafe Ownership with great harvest?