Bill and Peggy Dial listed backpacking, hiking and motorcycling as some of their current hobbies when they opened their Albuquerque Great Harvest Bread Co® in 1989. Now Bill is a rock climber and Peggy an avid tennis player. That may not seem like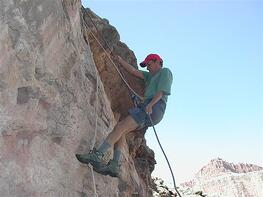 such a big deal except when they opened their store, they were close to the 50 year mark. Twenty one years later, they have not slowed down and continue to be an inspiration. Last year, Bill had to cancel his Grand Canyon trek with friend and fellow bakery owner Scott Creevy because he had so many rock climbing dates set up!
This soft-spoken and gentile couple hails from West VA originally. Their quiet demeanors belie the depth and strength of their characters. Peggy's beautiful smile and gentle persona and Bill's warm smile and twinkle in his eye reflect their gentleness and humor. But at their depth also lies a core of integrity, tenacity and wisdom.
Their Great Harvest bakery, located at the corner of Montgomery and Juan Tabo, has been a wonderful family business for the Dials. Their daughter Ann, with the bakery since 1998, is the store manager. Ann's four children, Ryan, Chris, Kelley and Rebecca all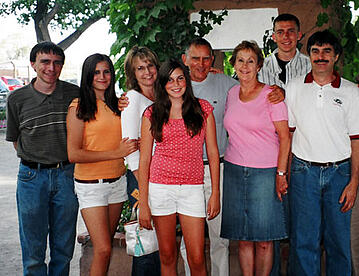 have worked in the store (Kelley and Rebecca still do – the boys are on to other careers). Ryan, currently a teacher and grad student, developed a gluten-free line of products, including configuring the recipes and connecting to Celiac organizations in Albuquerque. Jim, Ann's brother, recently joined them and helps with customer service and heads up a Farmer's Market.
Bill and Peggy still work five days a week and do behind-the-scenes work including bookwork and equipment maintenance as well as waiting on customers, helping with the day-to-day decisions and operations, and backing Ann up when needed. And best of all, they help brainstorm new ideas on how to keep the business relevant and exciting for their customers.
The Dial's Albuquerque Great Harvest is one of the most successful stores in the system. What are some of their "secrets" to running this business together as a family? Discussions among them are respectful. One of their rules of thumb is to have an open mind in discussions, to look at all sides of a situation. Some of this scientific and methodical aspect may come from Bill's work in the industrial chemical field, but the respect and integrity comes from a deeper and natural place. It's simply part of who they are.
When I asked Ann how it was working with her parents, she said "wonderful" and Bill and Peggy have the same sentiments. They're all good at separating personal life from business life. Business decisions are made in the interest of the business. They have a clear vision of that. And the best thing is, when any one of them needs back-up, the others are there.
Great Harvest, as a Freedom Franchise, has been a good match for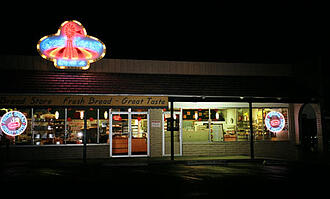 the Dial's entrepreneurial spirits. They've led many firsts, including the addition of gluten-free products, and a hard crust line-up of breads. Not to mention they have the only twinkly neon Great Harvest logo sign in the system! They're always willing to test things out, whether it's a new labeling program or a prediction and pricing system. Ann told me there is always support among them for trying new things – and it's OK if something doesn't stick. You just try something else. In addition to their innovations, they are more than generous in sharing time and information with the other people in the Great Harvest system.
When I asked if they were glad they did this bread business, the reply was an immediate "yes". While the last few years have been challenging, Bill pointed out life always has its challenges. Doing something they enjoy with their family, making great friends in the process, and still having time to enjoy and stay youthful and active, they are great mentors on how to live life.
Have any of you been in the Great Harvest in Albuquerque? What did you think?