Work-Life Balance is Our Recipe
Staying fresh, creative and engaged is a challenge most of us face in our lives at one time or another. That challenge is a particular nemesis for the small business owner. Being your own boss has lots of perks, but it's tempting to lean too far one way or the other - to either dis-engage or over-engage in the business. At Great Harvest, we've always encouraged bakery owners to maintain a work-life balance. "Be Loose and Have Fun" is the first line of our Mission Statement with good reason. If you're not enjoying what you're doing ─ at least a lot of the time ─ life and work will wear you down, and leave you feeling tired, blah, defeated, and unhappy.
To stay fresh and creative you must have a positive attitude and a clear mind. How do you achieve that? It certainly helps to break your routine from the daily grind and spend time doing things you enjoy. When your mind is constantly engaged in work ─ even if it's enjoyable ─ you may not notice when things start to erode, simply because you're not fresh enough to meet daily challenges. Experience proves that interrupting mental fixation on a problem can lead to insight, that pivotal "aha" moment that yields a clear solution to the problem at hand. This is part of working smart, not just working hard. Working smart requires taking breaks.
Reflecting on Our 2015 Great Harvest Convention in Palm Desert, CA
Our annual Great Harvest Convention strives to reinvigorate owners and employees by infusing the business with fun. The recent meeting in Palm Desert, CA was no exception. Who doesn't love taking a break from the daily grind in a beautiful setting? Not to mention the added benefits of hanging out with a great group of people, floating the "Lazy River" together, dancing the night away, picking up fresh ideas for your business, and reviving your energy and passion for what you do. This meeting was as close to perfect as you can get. Veteran bakery owners commented that it was the "best ever." Clear, innovative direction from headquarters combined with opportunities to have fun together and share our ideas and challenges; all to create a successful sabbatical in the desert.
No matter the structure and setting, the success of a meeting depends on the people. Great Harvesters are a remarkable bunch that make these get-togethers magical. Most were drawn to this particular franchise because their passions and values aligned with those of the Mission Statement. "Give generously to others" is well exemplified in their relationships not only with customers and local communities, but with their greater community of Great Harvest owners and employees across the country. They're a caring and supporting group.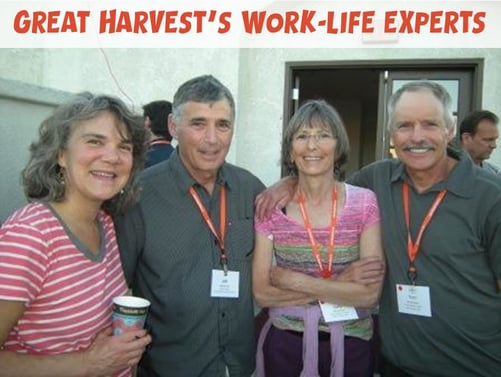 This year at the convention, we honored and welcomed to the Great Harvest Hall of Fame three couples who recently sold their bakeries after 20-30+ years in the business. This group of owners exemplify the heart of Great Harvest with their caring, passion and commitment to their customers, employees and community. Each of them had figured out how to achieve work-life balance, how to stay fresh and creative in their businesses and lives ─ for decades. They pass on to the new generation their wisdom and experience, and a beautiful standard for life and business "well done." Thank you to Tom and Sally (Minneapolis, MN), Bill and Peggy (Albuquerque, NM) and Jeff and Maggie (Seattle, WA). Bon voyage as you embark on your next adventures!
Wondering how you can get in on this sweet deal?
Read More About Work-Life Balance in the Great Harvest Franchise: