Note: This is part one of a two-post series.

The start of a new year is a time when many people consider opening a new business. During the resolution-making process, as we reflect on our past year and our goals for the coming year, sometimes we realize we want more from our work. That may be more flexibility, more control, greater meaning, greater earning potential . . . Whatever that looks like for you, a new year is the perfect time to explore a change. If you've always been curious about owning a Great Harvest, what are you waiting for? Get out and visit some stores and talk to other people who are doing it.
Question: I want to really experience Great Harvest. Where do I go?
There are many good and equally correct answers to that but for me the first answer is Michigan. We regularly answer this question for people interested in buying a franchise, and this is my answer.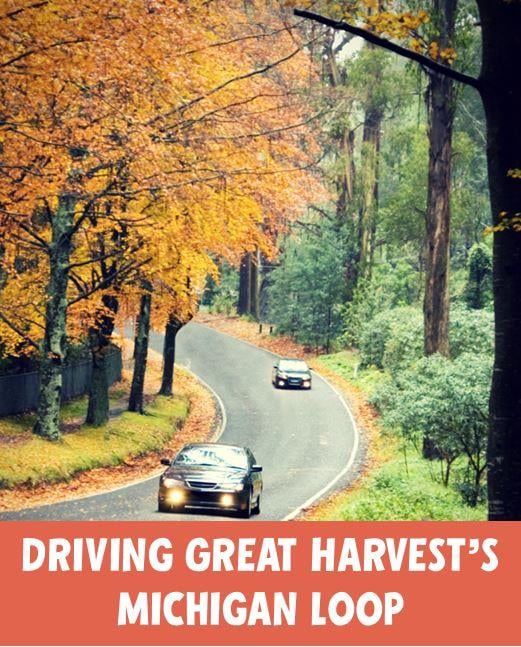 Why? With two days in Michigan, I can see the entire spectrum of Great Harvest with outstanding execution and a lot of diversity. Each of the seven stores in my two-day trip has its own story and its own vibe. That is why I love this loop.
The Michigan Loop
When people consider becoming a Great Harvest franchisee, we ask them to visit a variety of bakeries as part of their due diligence process. Michigan is certainly not the only place you can go to see a variety of fun bakeries, but it is the one I find easiest for seeing just about the entire spectrum of Great Harvest with easy ingress and egress. There are many awesome ways to experience Great Harvest and I am not implying anything negative about other stores by choosing this group. This loop just works for me.

First Stop: Birmingham, Michigan
My loop splits into two days to give me plenty of time in each location. I start in Birmingham, which is one of my favorite stores in the entire system. This old school bread store is an iconic Great Harvest bakery, originally built by one of our Hall of Fame owners. The store is a machine; it is production efficiency at its finest. But it is much more than that.
Birmingham Great Harvest's current owners have implemented beautiful updates. When you walk in the door, you are overpowered by a sense of peace and calm. The store speaks wheat and bread with a very strong voice. And like our whole wheat bread, it is full of good stuff. This store does not want for things to show you. The lobby is bountiful. And, the business continues to morph into new and fun things. The owners' current project is to grow their catering business, and I have no doubt that they will do it because everything they do here works and is done very well.
Second Stop: Shelby Township, Michigan
After that, I drive up to Shelby Township. This is another store that I absolutely love, though for completely different reasons. The product is very good. It has a strong Michigan focus (shoot, all of the Michigan stores do a great job of using local products in many fun ways) and is a store that easily could have struggled. The owners did a phenomenal job of working the business to grow it and make it successful. The old-fashioned way: with a good product and good service. If I am not mistaken, I believe they've won awards from us at least twice for being in the top of our system for
growth rate.
Third Stop: Lake Orion, Michigan
From there I go to Lake Orion. This is one of our newer stores and closely reflects what we are trying to do today. It is a full, abundant store that tells the story of whole wheat bread made from scratch by hand by local owners very well. Starting with a nice note on the front door naming the local owners.

The Lake Orion store is full of great local products and offers a full line of sandwiches. It also has a nice area to relax with big comfy chairs and plenty of seats to enjoy relaxing. There is always some debate in food retail about whether comfy adult lounging spaces work or if they just give people a reason to sit for a long time. I think they work and I love the one in Lake Orion.

Lake Orion also does some fun things bread-wise. When they first opened up, I kept hearing about "Dragon Bread" in Lake Orion and wondered what it could be. I finally asked. ;) The local high school mascot is the Dragon, which is represented with a red and green dragon logo. Dragon Bread is made with red (peppers) and green (spinach) and is beloved by the locals. Call it by any other name and it's flavored bread. Call it "Dragon Bread" and the town owns it. Needless to say, it is about their number one seller. That attention to local detail is one of the many things that make this store great.
The End of Day One
That ends my first day, and I am normally tired by then. My routine is to fly in during the morning and do this part of the loop over lunch and the afternoon. Each visit takes a couple of hours, and I always leave wanting more time. And with an arm full of goodies from each store…
Read part two of this post here.
What's your favorite "tour de Great Harvest"? Let us know in the comments. A future franchise owner may thank you!
Want to know more about ownership with Great Harvest?
Similar posts you may enjoy: