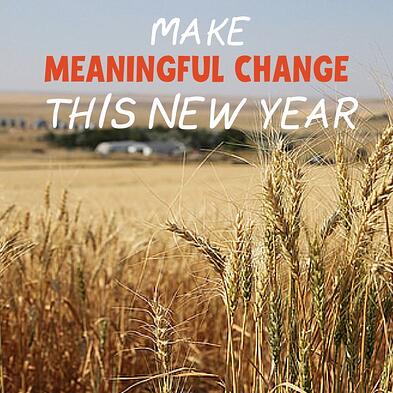 In this season of New Year's Resolutions, are you tired of hearing about SMART (Specific, Measurable, Achievable, Results-focused and Time-bound) goals?
I am.
No matter how SMART my resolutions are, I still struggle to make progress on all of them. And I know I'm not alone — odds are good that you've already given up on one of your well-meaning 2015 New Year's Resolutions. (See PsychologyToday.com).
Why does this happen? Because it's not enough to set a goal, we have to know why the goal is important. When push comes to shove and you want to give up on a goal – when you need to overcome the resistance – your deadlines and flow charts and lists won't be enough to get you through. What you need is the compelling WHY to motivate you to keep working.
Take Time to Discover Your Deepest Desire
Before you set your New Year's Resolutions, take a few minutes to think about what is really important to you. Here are a couple key questions to help you get started:
Are you going to regret it if you don't do it?
At Great Harvest, I get to work with people who are starting their own businesses — which for them is the realization of a huge, life-changing goal. I'm always inspired by their stories about what led them to make the leap to opening a small business. Here's one of my favorites: Secret to a Healthy Bakery in 5 Questions.

Maybe you have always had a dream to start your own business, run a marathon, write a book or some other compelling goal — but the fear of failing holds you back. Keep digging by asking yourself:
Is it worse to keep doing what I'm doing even if I don't enjoy it? Am I just going through the motions?
Are there things I don't get to do that are really important to me and will help me feel fulfilled?
Am I really OK with the status quo? Do I want to stay "vaguely dissatisfied"?
Am I postponing for a valid reason? Or is it simply fear? (Hint: fear can disguise itself as a "good" reason.)
This can be a difficult and uncomfortable process, but worth the effort.
Use FUD as the Driving Acronym, Not SMART
If your goal doesn't generate FUD — Fear, Uncertainty and Doubt — it's not big enough and not compelling enough to carry you through the times when you want to quit.
Do I feel scared?
Do I feel uncertainty?
Do I feel doubt?
Use FUD like a compass to confirm the goal is compelling enough. That will guide you to a meaningful "why?" A goal that you are going to have to work hard to achieve is more likely to make a real difference in your life and you'll feel absolutely amazing when you achieve it. Even if you don't reach your goal, you will learn valuable lessons in the process that yield new insights and will help you in the long run.
Revisit SMART After You Know Your WHY
Once you are crystal clear on WHY this is the right goal for you, for this year, then you are more likely to succeed with your SMART goals.
As a reminder, SMART goals are Specific, Measurable, Achievable, Results-focused and Time-bound.
Be SPECIFIC. "Lose weight" isn't going to help you stay focused like "running up the hill behind my house 10 times every day."
Make it MEASURABLE. My favorite Peter Drucker quote is "What's measured improves." Have you noticed that yourself in your own life or business?
Break big goals down into ACHIEVABLE sections. Don't set yourself up for failure from the beginning by setting a goal to run in the Boston Marathon if you have never owned a pair of running shoes.
Remember that "making 5 phone calls" isn't an effective goal, but defining the resulting sales from those calls — "2 signed deals next month" — is a RESULTS-FOCUSED goal.
Make it TIME-BOUND. Deadlines are motivating and can definitely help us get things done. And setting short-term deadlines helps us obtain some quick wins to keep us motivated over time. The Boulder, CO Great Harvest bakery owner, Kevin, set a 2015 resolution to get back in shape and then registered for a Half Ironman in June to give himself a deadline.
The combination of an emotionally powerful, FUD-informed WHY supported by action-oriented SMART goals can set you up for successful implementation of life-changing New Year's resolutions. And aren't those the only kind that matter?
Let us know in the comments what your goals are and how you are making them "stick."
Read more about how people like you reached their goals through bakery ownership with Great Harvest: