This is the second post in a two-part series highlighting the Great Harvest bakery cafes along "The Michigan Loop." Read the first part here.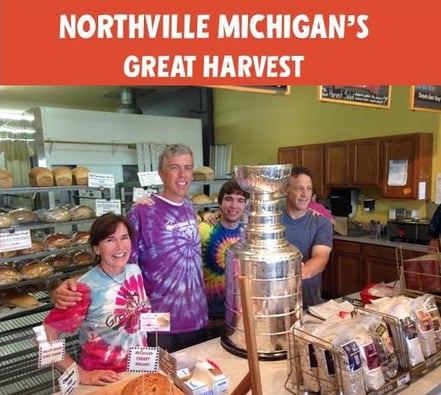 Day two of the loop takes a different path with four stores and a lot of driving. I start in Northville. Not only is this one of the iconic stores in our system, but it is also one of the staples of downtown Northville. This is a town that I just love. It is an old school town with a Main Street and a downtown and homes within walking distance with nice big porches suitable for relaxing post-work moments. I like that. And our bakery fits there perfectly. The owners live within walking distance and are very much a part of the community. The store fits Northville like a glove and has become a landmark. Though it has been around for most of the history of Great Harvest it keeps current with the addition of new product lines and remodels. This is a stop you won't regret.
Old School To New, And All Is Done Right
Speaking of old school, the next stop is Commerce Township. If you want to know what Great Harvest was all about 15 years ago, this is your place. And I say that in a very supportive and proud way. This is a no-pretenses old school bread store. They bake a great product and are all about bread. It is also full of Detroit memorabilia that is fascinating. And very personal to the store. A huge part of the appeal is the fact that I know for certain one thing will happen when I go there. I will leave with a smile on my face. I have no idea what will be for sale or what new bread I'll discover. But I know that what I do see will be good. That is the essence of our Bread Business. Whatever it is, it will be good.
Neighborhood Stores Where Everyone Knows Your Name
From there we go to Brighton, MI. Food as theatre has been a trend for a while (think of all of the open kitchens you see now) but Brighton does it better than most. Like Northville, it has a classic Main Street-focused downtown that is very walkable. Again, like Northville, this is a "Cheers" type of place. Walk in and they know your name. Walk in and you get to see what baking is all about. Walk in and you can get bread, goodies, a sandwich, and a cup of coffee. All with a smile.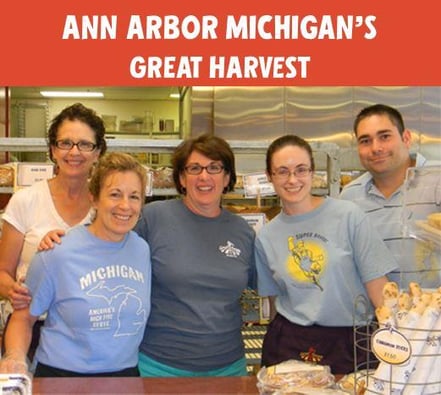 Last but not least, we go to Ann Arbor. I love this store. It is on its second owner and, like Birmingham, was originally built by a Great Harvest Hall of Fame member. This store was a pioneer in many aspects of what we do. It was an early leader in modern merchandising for us. It was an early leader in gifting as a product line. Like, Birmingham, it was an example of production systems at their finest. That is all wonderful but do you know why it is on this stop (other than it's on the way from Brighton to the airport ;) )?
Second Generation Successes: What Peak?
Here's what makes the Ann Arbor store stand out. It was thought to have peaked under its original owner, but that couldn't be further from the truth. The store has been reborn and is thriving. And you know what? I never really connected these dots until I started outlining this blog, but that is true of most of the stores on this trip. Birmingham, Northville, Brighton and Ann Arbor all were founded by iconic Great Harvest figures who "knew" their stores had peaked. Well, no. As it turns out, each one of these stores has never been better, thanks to the second generation of ownership in each location who continue to raise the bar. And, that might be why I enjoy this loop so much.
Want to do the ultimate bakery visit marathon in two days? Go to Michigan. You will see stores that are older but couldn't be more current and vibrant. You will see one of the best new stores we have opened recently. You will see our heritage. You won't be sorry you did it.
If you have another recommended loop, don't keep it to yourself! Share it in the comments.
Read More About Second Generation Owners in the Great Harvest System: