Have you ever unwittingly projected your preferences onto customers, only to be rudely awakened by the reality that what you like is an acquired taste that others don't necessarily care to acquire? Maybe it was an experimental specialty bread that you *just knew* everyone would love. Maybe it was hesitating to incorporate a popular new sandwich because it didn't really appeal to your taste buds. It's happened to the best of us. It's human to expect others to think and do roughly as we would do ourselves. When they don't, we may wonder, "What the heck made them choose that?!" But, after all, why should we expect such a diverse world to be of similar mind and palate?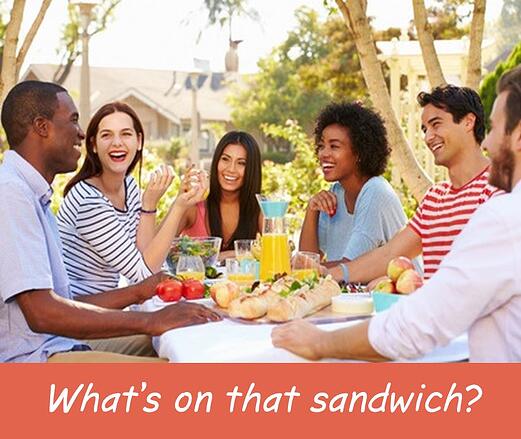 Assumptions are easy but can have serious consequences. As a small business owner, it's downright dangerous to assume that your customers will think like you. That can lead to business choices that make a small group happy but exclude many more potential customers. In fact, one of the reasons I enjoy reading industry reports is that it challenges my assumption that everyone thinks like me. A very good reminder!
So what did I learn from a recent Mintel report about consumers' decision-making process related to restaurant choices?
In the U.S., about half of the money we spend on food each year is spent in restaurants. Where is this $427 billion spent? Much has been made about the growth of fast casual recently, but the market is still split about 50/50 between limited-service (including fast casual and fast food) and full-service restaurants.
With half of Americans' food money being spent in restaurants, it's not surprising that 94% of the people surveyed by Mintel had bought food from a fast-food or fast-casual restaurant in the last 30 days. Breaking down the restaurants by type, the most frequented category was "Burger & Chicken," which had been visited by 81% of the survey pool. The second most frequented restaurant category was "Sandwich," visited by 77% of those surveyed.
Of course, I was most curious about what is going on with the sandwich shops.
Here's what I discovered about sandwich shop customers:
Age. Among those aged 18-44, sandwich shops enjoy above average usage (but below average among those 45+).
Gender. Consumers skew a bit male: 79% are male and 75% are female (for 77% combined total of those surveyed).
Income. Once above $25K/year, sandwich shop usage doesn't vary much by household income.
Higher usage among certain groups. Though the combined total across all groups was 77%, some were more likely to have recently visited a sandwich shop, including 85% of Asian/Pacific Islanders, 83% of respondents identified as "other race," and 82% of Hispanic-identified survey respondents.
How they order and eat. Most consumers surveyed had ordered their sandwiches to go, and the rest ate their sandwiches on the premises. Very few used delivery or drive-thru.
How are customers ordering and eating?
Across all restaurant types, the trend is consistent with how customers order their sandwiches. Most people patronizing limited-service restaurants buy their food to go (#1) or dine-in (#2). Delivery is important for pizza places, but not for any other segment of limited-service restaurants. Drive-thru is more of a mixed bag – it's tied with dine-in at number two for the "Burger & Chicken" category and is the third most popular option (for 15% of users) in the "Ethnic Food" category.
What do people look for on a menu?
Consumers have more choices than ever when it comes to picking a restaurant. According the National Restaurant Association, there are roughly 980,000 restaurants in the U.S., or 1 for every 32 people.
Many people, especially Millennials, are going to start their decision-making process online, so having an easy to find and read menu online is critical.
Here's what the report found: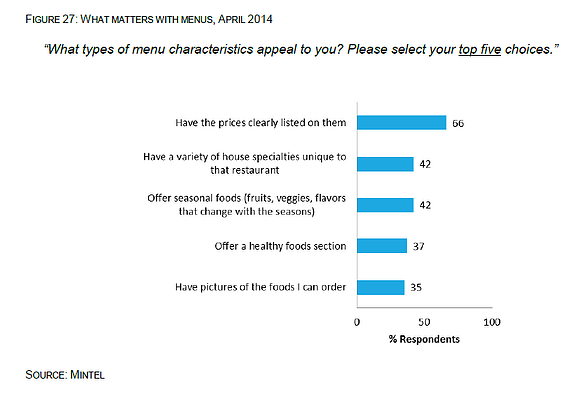 When these answers are broken out by age, you can see that people aged 45 and up care the most about having prices clearly listed, but younger consumers are the ones who really want to see photos of the menu options.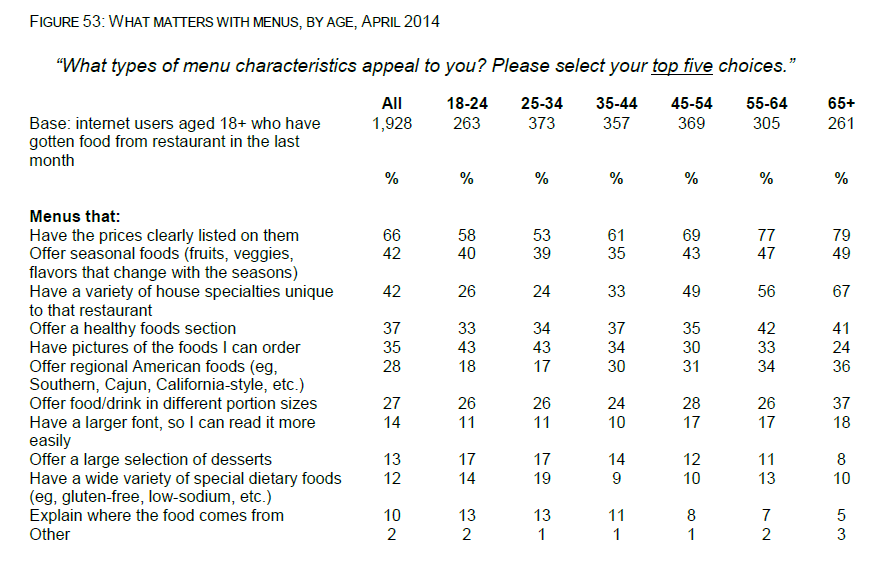 What makes someone try a new restaurant?
Not surprisingly, a recommendation by someone we know is the most important influencing factor here.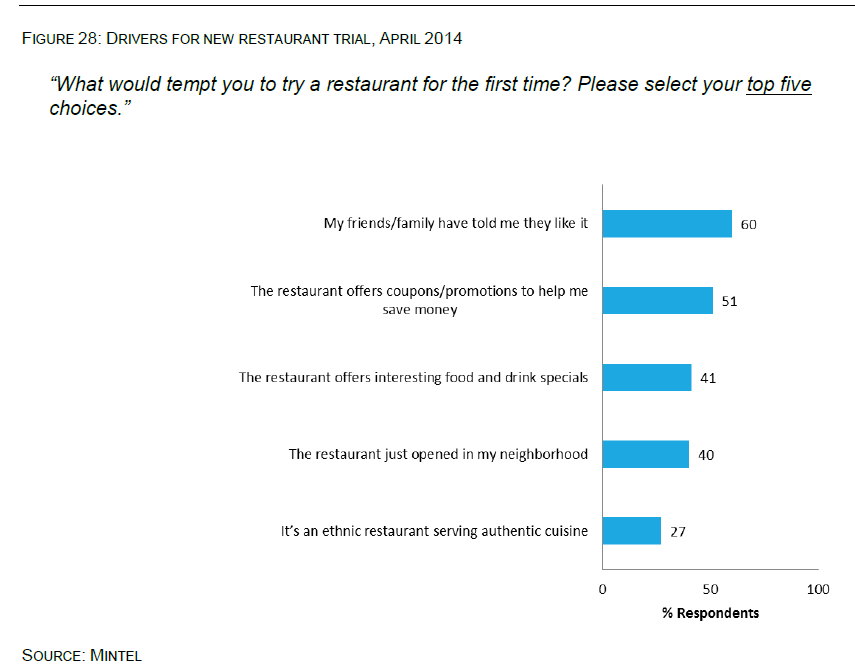 When looking at how these reasons vary across age groups, the two that varied the most were:
1) "The restaurant offers coupons/promotions to help me save money."
2) "The restaurant just opened in my neighborhood."
In both cases, these reasons were important to older consumers but much less important to younger people.
Comparing male and female responses for the same question, men were less influenced by coupons and friends' recommendations than the women were.
Other interesting tidbits:
Men spent 20-27% more than women at all types of restaurants in the last month and were more likely to have eaten in a full-service restaurant.
Those in households earning $100K+ annually spent roughly 13-38% more than average at limited-service restaurants in the previous month (note that they aren't skewing toward full-service restaurants).
Survey respondents identified as Hispanic or Asian are the most likely overall to have eaten at a limited-service restaurant in the last 30 days.
Restaurant menus making geographical claims (ex: Italian, Cajun, California-style) have increased 12% since 2010.
Geographical claims appeal to 28% of all consumers, but appeal even more to men (32%) and affluent consumers earning 100K+ (31-33%).
72% of consumers say the availability of nutritional information influences their restaurant choice.
What do you think? Did any of these results surprise you? Do you see trends locally that suggest a pattern other than what Mintel found in their national survey?
Read our earlier posts on industry trends here:
Looking for a new business?
Get in on America's love of sandwich shops with Great Harvest.