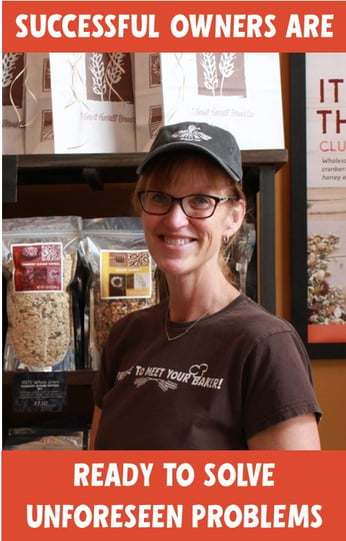 Last week, a new Great Harvest owner in Illinois was deluged with problems —relatively serious ones— not the least of which was a mill that stopped working. When you're in a business that depends on freshly milled flour to make phenomenal products, the mill not working is a big deal. It's a rare occurrence, but when it happens, it's all hands on deck across the franchise to figure out how to solve the problem.
The owner handled the problems with grace, a wonderful attitude, and tenacity. In fact, I would say tenacity is one of the most important characteristics an owner can have to make a small business successful.
I was reminded of a recent movie, The Martian. I loved that movie, maybe because I like to solve problems; it was a clear example of the value of tenacity and problem solving.
In it, Mark Watney (played by Matt Damon) tells the new crop of space cadets:
"This is space. It does not cooperate. At some point everything is going to go south on you. Everything is going to go south, and you're going to say 'This is it. This is how I end.' Now you can either accept that, or you can get to work. That's all it is. You just begin. You do the math; you solve one problem. Then you solve the next one, and then the next, and if you solve enough problems you get to come home."
Fortunately, small business is not such a dire situation as being stuck on Mars, but the principle of taking responsibility for your own success, getting to work and solving problems, is the same. You see the business is in trouble, not growing, and you get to work. You begin. Sometimes just beginning is the hardest part. You focus on the most important things that need to be done, you problem solve how to fix them, and then you fix them. It's a valid mantra, not only for work and business but for life.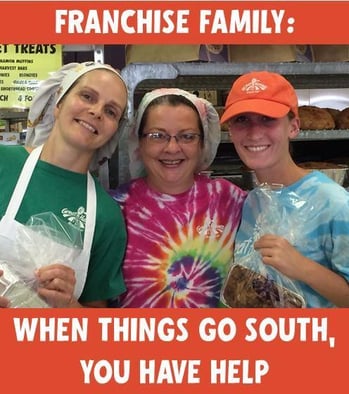 Belonging to a community like Great Harvest is a huge advantage in this scenario. You're not stuck on Mars by yourself. You have resources and neighbors and people you can reach out to and depend on. In this case, the bakery with the broken mill got fresh milled flour from their supportive and generous Great Harvest neighbors in the next town. The Great Harvest field team got them the part they needed and connected them to the expert who could help them fix the mill. That's the advantage of having "franchise family" support from a team that spans the country.
Problem-solving and tenacity boil down to self-responsibility. Even with all of our resources and a strong support system, the responsibility still rests with the individual owner to reach out and take the steps necessary to fix things. As I think about the best Great Harvest owners I've known, this ability to take things in stride, get to work and solve problems is a common thread. That includes being able to reach out and ask for help and expertise, which is part of problem solving.
True to its nature, Great Harvest is a community filled with people who have experience and who want to help and support. It's part of our culture and part of what makes us a very special and unique franchise.
Learn more about the Great Harvest Franchise:
What else do you need to be a good Great Harvest bakery cafe owner?