I spent two full days last week in meetings – it was lots of sitting. I have to admit I wasn't looking forward to it, just because I was thinking of all the tasks on my to-do list that weren't going to get checked off (yes – I LOVE to check things off a list.) But I should've known better, because the meetings turned out to be a great chance to get feedback, contemplate the big picture and return to my check list refreshed.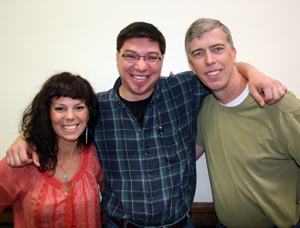 The meetings were with the Great Harvest Advisory Council. This is a group of bakery owners elected by their peers to advise us at the franchise office. The topics are wide ranging and include items that both the franchisor and franchisees add to the agenda. From the franchisor perspective, we value this group for the constructive feedback on the services and tools we offer to our customers – and the council members represent a diverse group of our customers.
Looking around the conference room table, it struck me that I had first met seven of the nine advisors in this very room. As part of the application process to receive a Great Harvest franchise, each candidate attends a day of interviews at the home office. We call this "Discovery Day" and it's an important part of the due diligence process for us and for the future bakery owners. Toward the end of the day, we do a panel interview in the conference room. Some of their Discovery Days were only a few years ago – and some were more than that, I must admit.
So what characteristics do these bakery owners share? What made them stand out at Discovery Day and what contributes to their current success? I'd say they are all:
Self-motivated. They are driven to succeed.
Action-oriented. It looks painful for them to sit all day – sometimes one of them just has to jump to the white board to be moving.
Enthusiastic. They are passionate about their businesses and products.
Confident. They are sharing their success stories, but also asking for help or admitting weaknesses.
Creative. At every break, there are multiple side conversations about new products.
Adaptable. Wendy Scheel owns the Bellevue, WA, Great Harvest. Over thirty years as a Great Harvest franchisee she has successfully changed with her market and her customers' expectations.
Independent. We definitely hear lots of different opinions from this group!
And they are all generous -- with their time (by taking 4 days away from their businesses), with their knowledge (helping us and each other) and locally in their communities (with the products they give away and the local organizations they support.)
What characteristics do you think make a successful small business owner?