I never imagined that quoting a line from Caddyshack would relate to how you can succeed in marketing— but somehow it works for me. Let me tell you how. This is the scene from the movie when Chevy Chase is instructing on how to succeed in golf. "Stop thinking…and be the ball," meaning become the ball, and focus on hitting the cup. Remember this?
There is a force in the universe that makes things happen, and —when you are in touch with it— the things you want will happen. That is true for Great Harvest. In our case, through being true to our brand and making a superior product, we've been able to get closer to the cup.
For us, that universal force is called great taste!! In the end, it is a great tasting product that will succeed; one that will draw customers in and keep them coming back. We make products (be it a Superfood bread or Three Seed Veggie Hummus sandwich) that simply taste amazing! Sure, our products are healthier because they are made from simple, easy to understand, healthier ingredients. But if they don't taste great, customers won't buy them again. Healthy people want to enjoy what they eat as much as anyone else…

When you focus on the customer— be the customer— and don't stop experimenting until you deliver a product that they love, you win. For marketers, that's the cup. And that is what each and every one of our bakery owners are empowered to do. The Freedom Franchise encourages owners to refine their menus to meet the tastes of the customers who visit their stores; making fresh, local, farm to table products for customers to enjoy every day.
One of our roles here at franchise headquarters is to provide local Great Harvest bakery owners with the best tasting wheat berries from the Golden Triangle in Montana (the Napa Valley of wheat, I like to say). This way, each bakery starts with a huge advantage by stone milling the best tasting wheat in the world— onsite, fresh, every day. Just like it was done in biblical times. Bread. The way it ought to be.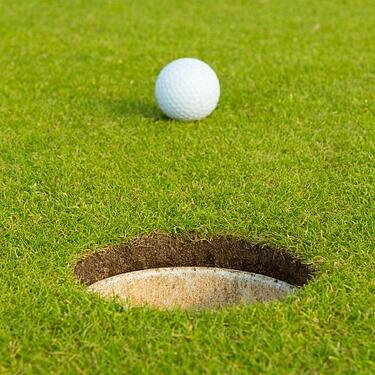 Our Dillon, Montana bakery is also fortunate to have the best chef in the world (I may be biased) who is relentless about creating new recipes and products that will bring customers to our door and keep them coming back— with every bakery owner free to choose what they create or adapt to fit the tastes of their local customers. So it's not what we like— or what we want to sell— that keeps customers coming back. It's what our customers love and crave that matters most, which is what we create every day.

Our way of "being the ball" is simply to be the customer, which drives our relentless pursuit of great taste. Our products— created from scratch every day with simple, high-quality ingredients— are what makes Great Harvest great and keeps customers coming back. Once you taste our food, you won't want to settle for anything less than that — from a super (?) market. That's the hole in one we go after every day. What's yours?
Read more about marketing and meeting customer needs on The Bread Business Blog:
• Opening Day Marketing is Crucial for a Local Retail Business
• Is Digital Marketing Necessary for a Local Small Business?
• Sweet Facts About Social Media Marketing
• Great Bakeries Are Always Serving Customers' Unmet Needs
• For Bakery-Cafés, Customer Service is King