The Freedom Franchise comes with a simple promise. Follow the few basic rules in the franchise agreement and the rest is at your beck and call. But, that does not mean you have a totally blank sheet of paper. Ultimately, no retail business is truly free. Not even the Freedom Franchise. The reason is that customers are the ultimate judge of your choices. They are free to vote with their feet and not shop with you if they so choose.
The Freedom Franchise gives you freedom relative to other franchises, but any business owner can tell you that true freedom is the domain of consumers.
What does that mean in terms of the Freedom Franchise? Customers have expectations and they should be met within the confines of your choices. They expect Great Harvest to be genuine. They expect the product to taste great. They require outstanding service and community involvement. They also expect our product to be as natural as possible. Those expectations are not unreasonable and we do a good job of meeting them.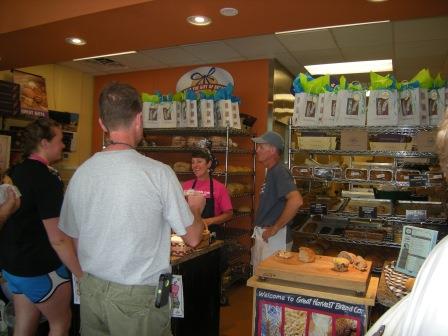 Someone recently asked me, "Doesn't it drive you nuts that store X sells Y or that Store R doesn't sell S?" NO! That is exactly the point. Stores should get to sell what sells best for them. How can we possibly know that from afar? That said, I do think that sometimes we sell what we want rather than what the market is asking for. Or don't have enough variety of products available for sale. Those may not reflect the choices I would make, but again, that is the point. Those choices get to be made on the local level by the business owner.
The Freedom Franchise gives you the tools you need for success, while still allowing you room to define your own path.
If you meet the expectations in the Freedom Franchise, then you really are free to do what you want. Each market grows its own fan base from the products they love and excel with. Stores reflect the personalities of the owners in the Freedom Franchise. Customers like that unique format. Great Harvest bakery owners create service excellence in different ways, but they all do it. We make sure the wheat our franchise owners have to bake with is the most natural and tastiest top-shelf wheat we can find. Put all of those things together and you have a business model where owners are free to choose how they support their home town, what hours they are open, and what they put on their menu. And you also have a brand promise of genuine people baking great products with friendly service. That is a dynamic combination.


Find out how Great Harvest gives you the freedom to succeed:

Read more about business ownership with the Freedom Franchise here: