Michelle and JP MacFadyen own a Great Harvest bakery in Lafayette, LA. They are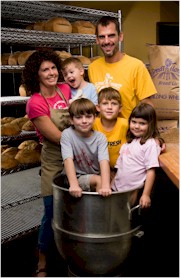 successful and beloved by their customers. Executing the fundamentals, including marketing, is a strength of the MacFadyens, so I recently asked Michelle to share some words of wisdom for any local small business owners about online marketing:
Why does a local small business need to add digital to their marketing mix?
Michelle: I think using digital marketing relays the message to our community that we are keeping things "fresh"; "we're on top of things". It tells our customers that we are willing to meet them where they are (Facebook, Twitter) and we want to join into a conversation with them. It is a great way to set our small business apart from our competition by making our online presence unique (using video, contests, etc). Digital marketing is more about the branding aspect of our business. Branding is about being authentic and telling our story rather than the more traditional print advertisement. It's easy & less expensive to do that through digital means.
Has digital replaced any off-line marketing tactics for you? Or just augmented?
Michelle: It has replaced our off-line marketing. We have not advertised in print for a full year now. We haven't seen any indication that removing our ads (biweekly) in the local weekly paper has affected our sales.
What's been most effective for you?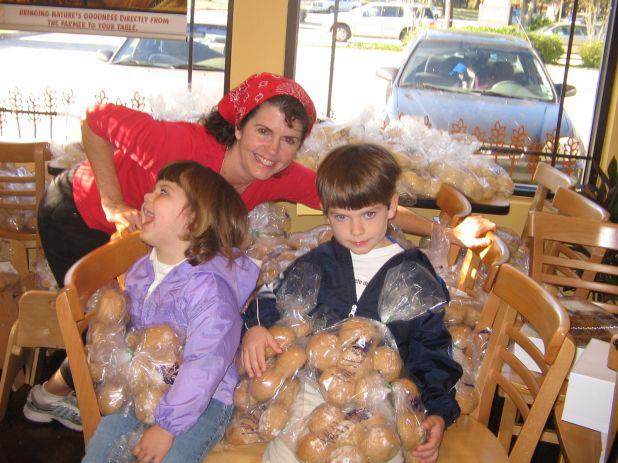 Michelle: Email marketing has worked best for us and our customers. I've gathered 8000 addresses by having people sign up in our store or on our web site or Facebook page. We have to coordinate our production schedules to bake more of whatever whole grain product we are featuring in our bi-weekly email. We see some of our customers sharing our emails via Facebook and Twitter. We also have a Facebook page and a Twitter profile.
We keep our web site updated. Our site covers the basics (how to find us and what we do), but we also try to share information so that our customers and potential customers can get a feel for who we are too. Facebook and Twitter help us share more of our personalities with people. In the future, we hope to use more video clips in our blog. Videos of different aspects of the bakery (behind the scenes) would keep the website interesting revealing more of the bakery's personality, as well.
On the social sites, we like to share photos as much as possible. We are lucky in that our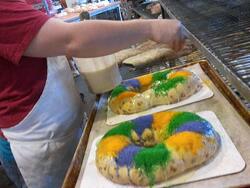 product (like these king cakes!) lends itself well to photo sharing.
What have you tried that hasn't work?
Michelle: Yelp. We really encouraged our customers to review us with in-store signage, but still only have 3 reviews of our whole wheat bakery. We're a small city (Lafayette, LA) and I don't think Yelp is used as much here as "off-line" word of mouth. When I inquire about a customer using Yelp, they are from another city & have used it to locate the nearest restaurants.
How much time does it take you?
Michelle: I spend about 2 hours/month updating my web site with our new whole grain products and events. It takes me about 30 minutes to prepare and send each email. I use HootSuite to help post and monitor Facebook and Twitter and it takes about 15-30 minutes/day.
QR codes seem to be a hot topic right now. Have you used them?
Michelle: We had a QR code when Yahoo first offered them for free. Only a handful of people responded, when we put the code in our ads. They don't seem that popular in our market yet.
How about you, readers? What's been your experience with digital marketing?