How do I market a retail bread business with social media tools?
I had a chance to attend an excellent
social media conference
in early February, looking for the answer to this and other questions.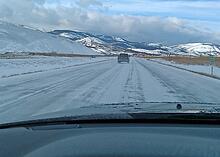 February in Montana is usually cold and snowy (it was -9 F when I got to the airport to leave!) so I was really looking forward to some warm weather in Texas. Unfortunately my timing was off – I was there right before Super Bowl and Texas wasn't much warmer than Montana.
But that's OK, because my days were packed with great sessions and learning opportunities all day. Here are a few of my key take-aways:
Don't limit yourself to on-line tools. I got on an airplane and attended sessions and met new people. Yes, there was a twitter stream with the hashtag for the event (#mpforum), but that's not the same as being there. In addition to general networking, I had a chance to do some one-on-one peer sessions, which were basically free consulting. Sean McDonald pointed me toward one of his recent blog posts that shares a tip about a great way to remind your customers to give you referrals and discusses ways to thank the ones who do – in addition to what you may do on-line with Yelp or other review sites.
Email marketing is not going to be replaced by social media marketing. From Jay Baer: "It's crazy to think that social media will kill email, considering that you need an email address to set up a social media account!"
Creating a blog post each day is hard. Writing five at a time & scheduling for the week is easier. Also, posts where you compile links to great information are easy to write and helpful for readers.
"Nobody cares about your products, they care about what your products can do for them."
I had unsure expectations of a keynote address by a Michael Wesch, a Professor of Anthropology. I thought, "What does anthropology have to do with marketing?" It was an eye-opening and mind-expanding presentation! He talked about one of his videos about web 2.0, but the rest of his videos are impressive as well. Definitely check them out on his YouTube channel.
I had to laugh at this great quote from the Marketing VP for Threadless, who traveled from Chicago to Austin but was delayed a day because of snow storms across the country. "The only thing that you Texans don't pull off in a King Size way is a snowstorm." Austin was almost at a stand-still with the bit of snow they had.
Users of location-based services (Foursquare, Gowalla, Facebook Places, etc.) are growing rapidly, and 80% of the users are male. Why is that? Possibly because of security concerns of revealing exactly where you are to your network and others on-line.

There was so much more too. I have lists of things I'm excited to implement over the next few months. The people at MarketingProfs and all of the speakers did a great job. The event content was as exceptional as their site content – a great resource if you want to learn more about social media.
What social media tools and tips would you like to share?